"Love, Simplified" is Now Free on Amazon for 5 Days (until 3/27/2020)
Pasadena, CA –
WEBWIRE
–
Monday, March 23, 2020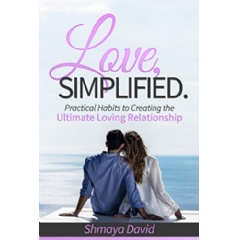 Best Seller Publishing announces the release of Shmaya David'snew book, "Love, Simplified: Practical Habits to Creating the Ultimate Loving Relationship." It will be available for free download in the Amazon Kindle Store on March 23rd.

Love should have been easy enough. All humans are born with the capacity to love, and we all crave it. Yet so many fails at love. Why? Why so many unhappy marriages and divorces? More important – what should one do to beat the statistics and succeed?

This book will give you both answers. In this book you will find a new understanding of what love really is, and a set of practical, simple steps to make love bloom in your life and your relationship, now and forever.

"People tend to think of love as an emotion, and thus not governed by logic and rational choice," says Shmaya. "This may be true of falling in love, but mature love is more than just an emotion, and it can and should be approached with deliberate thought and purposeful intentions." This book is all about teaching you how to do that. 

Having enjoyed unusual level of love and happiness in his own life, Shmaya always believed that his approach to love could be beneficial to others as well, but until recently, he lacked the framework, the underlying theory necessary to translate his personal experience into a universal one. 

"The breakthrough came when I had an epiphany" Shmaya explains. "I suddenly realized that the same principles that creates olympic athletes, high flying CEOs, world renowned artists and self-made millionaires govern your success in love and your ability to create and maintain long-lasting happy relationships."

In this book, Shmaya translated these principles into ten simple 'Love Habits' that anyone can replicate to win the ultimate prize – a happy, stable, fulfilling loving relationship. The book is accompanied with thought provoking little exercises that will lead you to adapt your thinking and mindset to become a 'High Performance Loving Person', one that other can't help but love back.

"Love, Simplified" by Shmaya Davidwill be free and available for download on Amazon for 5 days (3/23/2020 – 3/27/2020) at: https://www.amazon.com/dp/B085F2Y63Y.

"Love, Simplified" has a 5.0-star rating on Amazon.com. Here's what some people had to say:

"As usual, Shmaya delivers in his amazingly direct and easy to understand style. Do not take this to mean that it is droning and boring -- far from it -- he brings the understanding of the habits of real love down to earth; no airy fairy castles in the sky here.

He weaves his love/life story about Limor his first wife who has passed on to Marina, his current wife, so delicately yet plainly it is hard to miss what he means and what he is teaching. He is a supreme (yes, supreme) communicator. He talks to you through his book as if he is talking to only you. He is writing only for you. There isn't one person that will not benefit from reading this insightful book. If you are in a relationship, whether it is great, good, mediocre or bad, this book will help you clarify what it is that you are looking for and then make the changes that you need to make in order to greatly improve what you have OR to move on.

Shmaya has also provided resources for you to consolidate your thoughts on what your relationship looks like and could look like.

It would truly be a mistake to bypass the opportunity to own this book. Thank you again, Shmaya!" –Trish Tagle 

"Easy to read, short and great ideas to easily implement!" – Jacobo Gelman 

For More Information: For more questions or to schedule an interview about this press release please contact us at (626) 765-9750 or email info@bestsellerpublishing.org. 

Best Seller Publishing is a Los Angeles Publishing Company dedicated to helping business owners and entrepreneurs become "the hunted" with their best-selling books. 
 
About the Author:

Shmaya David is the author of eight books, mostly in the self-help, coaching and business categories. 

Once an Engineer, turned into a Master Life and Executive Coach (MCI/EMCI) and Business Consultant with over 19 years of experience, Shmaya's mission is to contribute to human success and happiness in the most practical manner. 

Shmaya's 'Superpower' is that of the Teacher. Shmaya's is exceptionally good at integrating information into knowledge and passing it onward to his students in a most effective and engaging manner.

Shmaya was married for 29 wonderful years to his high school love, Limor, better known to her many friends as 'The Practical Fairy'. The couple would often joke that if they could only extract and bottle the essence of their love; they could sell it and get rich. However, the couple was hesitant to let outsiders into their privacy, and never developed this idea.

After losing Limor to cancer in January 2016, Shmaya vowed to go on and never give up on happiness. It proved a powerful commitment that lead to a new relationship, a new love and a happy fulfilling marriage to Marina. "It is quite amazing" said Shmaya in a recent interview "that we managed to build such a wonderful relationship from nothing, at the age of 52. Especially so since we come from vastly different backgrounds, and that Marina is different from Limor in almost any conceivable comparison."

The experience convinced Shmaya that the way he goes about relationship and love has universal applicability. This led to his 8th book – "Love, Simplified. Practical Habits to Creating the Ultimate Loving Relationship", of which Shmaya say "I feel that this is my most important contribution yet. If I am remembered at all in the future (which is not something I think about much), I suspect that it would be because of this book, these ideas."

Shmaya's experience ranges from Quality-Management positions in various industries to VP Operations of the Israeli Coaching Association – ICA. Shmaya held classes as a senior trainer and supervisor in coaching courses in the prestigious Israeli Technological Institute (the Technion) and other venues. Having personally taught over 1,000 coaches, Shmaya was also one of the top developers of coach-training materials for Israel's largest coaching school - IKA Coaching ltd. Among his coaching and consulting clients are managers and executives in leading Israeli organizations such as Iscar, The Phoenix, Taro Pharmaceutical, The Penitentiary Authority, The Diamond Exchange and numerous small-medium business owners. In 2011 Shmaya became the training partner in Israel of the renowned "Marketing Wizard", Jay Abraham. 

In recent years Shmaya shifted much of his focus to the internet. Shmaya is the founder of eCoachingSuccess, an enterprise dedicated to the creation and distribution of information products over the internet in Israel and elsewhere. Most of his programs are aimed at improved marketing abilities and better business processes building for small and medium businesses. The program he is most fond off is "Getting Published" - a coaching program for professionals wishing to write their hallmark book, one that will brand them as a leading expert in their field. Having shifted his focus to relationship coaching, Shmaya is now busy creating new programs based on the ideas from his newest book.
( Press Release Image: https://photos.webwire.com/prmedia/40662/256793/256793-1.jpg )
Related Links
WebWireID256793
Contact Information

Shmaya David
Author
Best Seller Publishing, LLC

This news content may be integrated into any legitimate news gathering and publishing effort. Linking is permitted.
News Release Distribution and Press Release Distribution Services Provided by WebWire.