H225: Maximum availability for utility work
WEBWIRE
–
Wednesday, March 11, 2020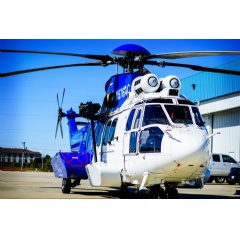 Dianne Bond (images)
ir Center Helicopters Inc (ACHI) purchased 17 H225 helicopters previously devoted to the oil & gas market. Following the necessary retrofit work, these helicopters are now performing transport and utility missions for the U.S. Government, with an HCare Smart contract signed in October 2019 to guarantee their maximum availability. We talk to John Bean, Chief Operations Officer of ACHI.
Why did ACHI decide at the time to purchase these 17 oil & gas H225s and repurpose them as utility helicopters?
Many of the contract opportunities we've been looking at had very old aircraft – around 30 or 40 years old. This was affecting their reliability and their ability to satisfy customer needs. We therefore decided to look for a modern aircraft that was easily supportable and that could carry even more payload, with greater range, because in the utility market, payload and range are the key to customer satisfaction. The H225 was rather unique in this sense.
Thanks to the availability of these aircraft due to the decline in the oil & gas sector, we were able to acquire a fairly significant number and convert them from an offshore configuration to one more suited to utility work, with capabilities such as external cargo hooks, an external hoist for human recovery, an NVG cockpit, etc. This conversion allowed our helicopters to fulfil a whole new range of missions that had previously only been possible for military customers of the H225.
Airbus had a lot of experience here because they were familiar with the military variant of the H225, but adapting them was a bit of an engineering challenge as we had a list of around 12 modifications! Fortunately, our partnership with Airbus has paid off, with them providing the engineering and technical support combined with the MRO facilities.
Why did you opt for an HCare Smart contract for maintenance of your H225s?
Because of the type of work we do and the remote areas we operate in… but Airbus had to work very closely with us to make adjustments to their service offer. Now, as a result, we have a programme where we can count on having spare parts in close proximity to the aircraft when we need them, so that we can guarantee the high mission availability rates that our contracts demand. We can easily achieve this 99 percent of the time. In addition, when we need parts because something has broken in the aircraft, we can get these very quickly.
The advantage of the HCare system is that I can predict exactly what the cost is going to be; this allows me to provide the most cost-effective solution to our customers, because I can be certain what my hour-cost will be on the aircraft. I can also be certain that I can have my parts when I need them.
And now… what does the future hold for ACHI?
ACHI's strategy for the future is to diversify. We want to make sure we are in at least five or six different markets in addition to the U.S. Navy maritime support roles. We are expanding into personnel recovery and casualty evacuation roles, firefighting utility roles, and construction operations. We want to make sure we have a wide footprint so that we have the ability to adapt quickly if the economy or policies change.
The H225 is a key player in this diversification. There aren't too many large heavy-lift aircraft like the H225 that are modern, have a good range and payload, and are sustainable. That is where the H225 is unique. We see it covering around 75 percent of the expansion into these new markets. 
Our company specialises in governmental missions that require the movement of passengers and cargo. The markets we operate in include the training of U.S. Government military personnel, transport of personnel and cargo, personnel recovery, casual evacuations, and many more. We can be deployed overseas in countries such as Afghanistan and South Africa, and can cover everything from Ecuador to the Poles. We even have a contract for five years in Antarctica!
H225 on the repurposing of 17 H225 helicopters for utility missions
( Press Release Image: https://photos.webwire.com/prmedia/7/256423/256423-1.jpg )
Related Links
WebWireID256423

This news content was configured by WebWire editorial staff. Linking is permitted.
News Release Distribution and Press Release Distribution Services Provided by WebWire.