Films in Progress 37 to present six films from Argentina, Brazil, Costa Rica and Mexico
The 37th edition will run on March 26 and 27 within the framework of Cinélatino, Rencontres de Toulouse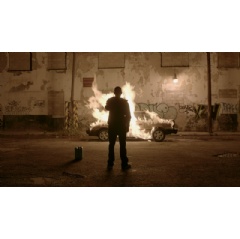 50 O DOS BALLENAS SE ENCUENTRAN EN LA PLAYA
Films in Progress is a professional platform which supports the production of Latin American feature films by contributing to their completion and international distribution. Organised jointly by the San Sebastian Festival and Cinélatino, Rencontres de Toulouse, Films in Progress fosters meeting, dialogue and interaction between Latin American and European film professionals, promoting the diversity and talent of independent moviemakers.

Films in Progress 37 will run on March 26 and 27 within the framework of Cinélatino, Rencontres de Toulouse Films in Progress 37 received the submission of 205 films from 18 countries.

The selection committee of the Toulouse and San Sebastian festivals have singled out six films:
50 O DOS BALLENAS SE ENCUENTRAN EN LA PLAYA
JORGE CUCHÍ  (MEXICO)
Félix, a 16-year-old boy, receives an invitation: Do you want to play the Blue Whale, the game with 50 challenges, the one where you've got to commit suicide at the end? Félix accepts. After completing 44, the Game Master (the anonymous person who sets the challenges) instructs him to meet another player, another blue whale. Félix goes along and meets Elisa. The couple start completing the challenges together.
DESASOSIEGO / RESTLESS
PAZ FÁBREGA  (COSTA RICA - MEXICO)
Luisa meets Yuliana when she comes across the girl attempting to abort. Frightened, she takes her to a doctor. She is 22 weeks into her gestation, and it is no longer possible to terminate the pregnancy. Moved by the situation, Luisa finds herself taking care of the girl, only to realise that Yuliana's dilemma conceals one of her own.
EL OTRO TOM
RODRIGO PLÁ  (MEXICO)
Elena is Tom's mother. The two have a tense relationship, plagued with trouble and conflict. She is a single mother, dependent on the welfare services, and he is a boy with serious behavioural difficulties. The father's absence is part of a painful construction of mutual bitterness.
KARNAWAL
JUAN PABLO FÉLIX  (ARGENTINA - BRAZIL - MEXICO - CHILE - BOLIVIA )
During the Carnival, on the border between Argentina and Bolivia, while preparing for the most important dance contest of her life, a young dancer is unexpectedly visited by her father, a recalcitrant thief who will put her dream in danger.
LA CHICA NUEVA
MICAELA GONZALO  (ARGENTINA - BRAZIL)
Having lost her home and her job, 22-year-old Jimena heads for Rio Grande in the Tierra del Fuego to find Mariano, the stepbrother she barely knows. The meeting doesn't go as expected; Mariano is involved in an illegal business of importing products from Chile. Even so, he helps Jimena to get a job in the SunTech Fueguina factory where he works making mobile phones and TV sets to meet the demand driven by the 2018 World Cup in Russia. First film.
MEMORY HOUSE
JOÃO PAULO MIRANDA  (BRAZIL - FRANCE)
Cristovam, a native from the Brazilian hinterland, works in a milk factory in a former Austrian colony in Brazil. He feels lonely, ostracised by cultural and ethnic differences. One day, he discovers an abandoned house filled with objects that remind him of his origins. He slowly settles in this house. Curiously, more objects start to appear without explanation, as if the place was alive. First film.
AWARDS
The following awards will be presented at Films in Progress 37:
TOULOUSE FILMS IN PROGRESS AWARD
Consisting of post-production services to be carried out in France provided by representatives of the following companies and organisations: Activités Sociales de l'energie (CCAS), Eaux Vives Productions, Firefly, Mactari, Titrafilm.
CINE + IN PROGRESS AWARD
Provided for the Ciné+ channel for the French distributor of the film.
EUROPEAN DISTRIBUTORS AND EXHIBITORS AWARD
Consisting of promoting the film through the Europa Distribution distributors' network and the CICAE (Confédération Internationale des Cinemas d'Art et d'Essai) exhibitors' network.
COLLABORATORS
Films in Progress 37 is supported by the following companies and institutions: Activités Sociales de l'energie (CCAS); Bureau des Tournages Toulouse; Centre National du Cinéma et de l'Image Animée (CNC); Cinéfondation; CINÉ +; Confédération Internationale des Cinémas d'Art et Essai (CICAE); Conseil Général de la Haute Garonne; Eaux Vives Productions; Europa Distribution; Firefly; Gaumont Wilson; Le-Lokal Production;  Mactari, Mairie de Toulouse; Producers Network (Marché du Film-Festival de Cannes); Région Occitanie / Pyrénées-Mediterranée; Signis; y Titrafilm y la colaboración de Europa Creativa MEDIA; Programa Ibermedia; Ad Hoc Estudios; Deluxe Spain; Dolby Iberia; Laserfilm Cine y Video; Nephilim producciones; No Problem Sonido; and Wanda Visión.
( Press Release Image: https://photos.webwire.com/prmedia/6/256281/256281-1.jpg )
Related Links
WebWireID256281

This news content was configured by WebWire editorial staff. Linking is permitted.
News Release Distribution and Press Release Distribution Services Provided by WebWire.