Natural History Exhibition Enlists Artists To Reflect on Humanity's Growing, Pervasive Role on Earth
Art Exhibition Is First-of-Its-Kind at National Museum of Natural History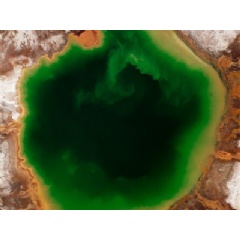 Title: "American Mine" Artist: David Maisel​ Credit information: © David Maisel/ Courtesy of Edwynn Houk Gallery.
The world is changing at a rapid pace. Scientists have documented enormous changes during the past century in climate, land-use and biodiversity that are proceeding at unprecedented rates. These changes are caused by and respond to rapid social, economic, political and technological transformation. Now, more than ever before, people are actively shaping the future of the planet everywhere.
To encourage visitors to consider their role on the rapidly changing planet, the Smithsonian's National Museum of Natural History will open a new exhibition March 18 that brings the enormity and pervasiveness of humanity's impact on the world into focus through the artwork of seven renowned and emerging artists. The exhibition will remain on view through April 21, 2021. "Unsettled Nature: Artists Reflect on the Age of Humans" will offer visitors the opportunity to explore the unparalleled, ubiquitous and still-growing mark that humanity is making on the world through 16 works of art, asking visitors to consider how they are shaping the planet and what world they envision for the future.
"For more than 40 years the scientific community has been saying that we humans are changing our planet's life-support systems in radical ways," said Scott Wing, the museum's co-curator for the exhibition. "Now the consequences are here, and we know they will continue for many generations to come. We live on a planet pervasively shaped by our own actions, but most of us are still searching for a hopeful path forward. I hope the works of these artists will help people reflect on what it means to live in the Age of Humans, to find a balance between concern and hope, responsibility and joy."
The exhibition will include a wide range of media and diverse artistic approaches, from the traditional to contemporary, including photography, sound-based installations, living pieces and textile and tapestry. The exhibition is organized in sections by artist, offering visitors the opportunity to view and compare each artist's works as they move through the 1,830-square-foot gallery.
The museum invited Joanna Marsh to co-curate the exhibition. Marsh is deputy education chair and head of interpretation and audience research at the Smithsonian American Art Museum. Marsh, Wing and a team of museum exhibition professionals collaborated to select and prepare displays of the artists and artworks featured in the exhibition, including installations from well-known artists like David Maisel and Edward Burtynsky as well as boundary-spanning, emerging artists like Andrew S. Yang and Jenny Kendler, among others.
Many of the artworks in the exhibition draw the eye with bright color and bold patterns that at first appear natural but on second glance reflect massive human alterations to the environment. Others invite visitors to consider the interconnectedness of life or the tough persistence of plants and animals that live among people without their help, even in the densest cities. Still others draw attention to what is lost when species go extinct.
"The scale of human-induced planetary change can be difficult to grasp," Marsh said. "For many, it feels remote, abstract and disconnected from pressing realities of day-to-day life. Art can offer an antidote to this distance, making environmental change feel more tangible and relatable. The artists in this exhibition offer a different way of seeing and understanding our relationship to the environment and each other." 
Whether through the inky ribbons of an oil spill in the Gulf of Mexico or music played on an antique ivory-keyed player piano interpreting predictive algorithms of elephant population decline, "Unsettled Nature" draws visitors into the disturbing, sometimes beautiful, sometimes horrible scenes that reflect humanity's expanding role in shaping Earth.
About the National Museum of Natural History
The National Museum of Natural History is connecting people everywhere with Earth's unfolding story. The museum is one of the most visited natural history museums in the world with approximately 7 million annual visitors from the U.S. and around the world. Opened in 1910, the museum is dedicated to maintaining and preserving the world's most extensive collection of natural history specimens and human artifacts. It is open daily from 10 a.m. to 5:30 p.m. (closed Dec. 25). Admission is free.
About the Smithsonian American Art Museum
The Smithsonian American Art Museum is the home to one of the largest and most inclusive collections of American art in the world. Its artworks reveal America's rich artistic and cultural history from the colonial period to today. The museum's main building is located at Eighth and F streets N.W., above the Gallery Place/Chinatown Metrorail station. Museum hours are 11:30 a.m. to 7 p.m. daily (closed Dec. 25). Its Renwick Gallery, a branch museum dedicated to contemporary craft and decorative arts, is located on Pennsylvania Avenue at 17th Street N.W. The Renwick is open from 10 a.m. to 5:30 p.m. daily (closed Dec. 25). Admission is free.
( Press Release Image: https://photos.webwire.com/prmedia/6/256270/256270-1.jpg )
Related Links
WebWireID256270

This news content was configured by WebWire editorial staff. Linking is permitted.
News Release Distribution and Press Release Distribution Services Provided by WebWire.