Helping children learn, be happy and thrive
New WHO guidelines highlight importance of early learning and responsive care in the critical first years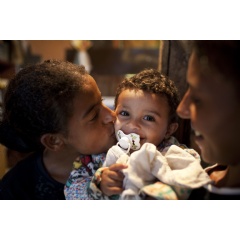 The first years of life are among the most important for a child's mental and physical development. In our earliest years, science shows that our brains build new connections at a rate that will never again be repeated – with over 80% of neural development happening by the time we reach three years of age.
In this brain-building process, it's not only physical needs that must be met. Babies and young children also require mental stimulation and close, loving interaction with those around them – starting from birth. These precious moments most often take place with family members, who are the focus of a baby's first, most treasured relationships.
According to a new guideline from WHO, the health sector can play an essential part in supporting families to provide this care, helping ensure every child gets the best possible start for their life ahead.
These are some highlights from this important new resource.
Every child should have responsive care
Responsive care means tuning into a child's signals and what they are telling us – whether they do this by facial expressions, crying, or making other sounds and movements - and then responding accordingly to their needs.
This process helps set up the basis for building secure and loving relationships, as well as early learning. It helps babies and young children feel safe, knowing they are protected by those they love, and that they can effectively communicate their needs.
Some of the things parents and caregivers can do to strengthen this bond include:
Frequent physical contact, like holding or cuddling.
Regular eye contact from a short distance away.
Talking and singing and responding to the noises the baby makes.
Children learn when we talk and engage with them
Learning happens constantly for a young child: when they move their body, hear and use language, experience new things or places, or interact with the people around them.
As such, every moment we have with a child is an opportunity for them to learn and develop, whether during play and feeding, or a part of regular day to day activities like doing household chores.
Play can take many different forms, helping children solve problems, express themselves, make decisions, practice skills and try new things – all critical components of our development.
For childhood learning, it is therefore important that play is built into daily routines, and that children have safe spaces in which to explore, engage and be creative.
Children's learning and development is not just something that happens. It requires constant attention - and much more investment. It also requires attention to the needs of caregivers, including their physical and mental health.
At the government level, this encompasses family friendly policies like paid parental leave, child benefits and affordable childcare, all of which help parents provide safe, stable and loving care for their children.
Health systems must also help families provide responsive care. Health workers, such as midwives, nurses, doctors and community health workers, can support parents to identify and respond to a baby's needs, while counselling on the importance of early play and communication. They can make sure that families are aware of relevant services and additional support, including maternal mental health care.
In the contexts of humanitarian emergencies or where there is poverty and deprivation, additional support systems will often be needed to help children develop to the best of their potential. 
Overall, early childhood development is one of the best investments governments can make in a society's future. It not only helps children and families thrive, it helps break cycles of poverty and inequity, and contributes to happier, healthier populations.
This is why WHO is prioritizing early childhood development as a core part of its commitment to delivering health for all, from the first moments of life.
More information
The new Guidelines focus on responsive care and early learning, as two of five essential components of early childhood development – responsive care, good health, adequate nutrition, early learning and security and safety.
( Press Release Image: https://photos.webwire.com/prmedia/6/256169/256169-1.jpg )
Related Links
WebWireID256169

This news content was configured by WebWire editorial staff. Linking is permitted.
News Release Distribution and Press Release Distribution Services Provided by WebWire.