Chrisco Discusses the Future of Boston's Fort Point and Seaport Neighborhoods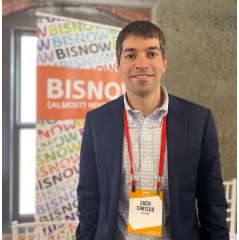 Sasaki principal Zachary Chrisco recently spoke with leaders in the CRE industry about the importance of resiliency planning
"The future of the Seaport needs to consider resilience."
Sasaki principal Zachary Chrisco, PE  is currently leading two Sasaki teams working with the Fort Point Channel neighborhood and the Boston Children Museum. These projects aim to activate the waterfront as a vibrant, resilient community amenity for all. Chrisco recently spoke on a panel hosted by Bisnow, sharing insights he's gained from working with members of the communities in this area.
Led by key tenants and individuals spanning the construction and real estate (CRE) industry, the panel discussion took on some of the hot-button issues facing the future development of Boston's Seaport and Fort Port Channel neighborhoods. Panelists unpacked a number of development challenges, including the need for placemaking throughout the development process, as well as the difficulties that crop up around poor public transit to the area, and continued high construction costs. Addressing a crucial need to diversify the CRE industry and the Fort Point neighborhood, the panel also highlighted how bringing black-owned developer firms into the process paves the way for black-owned professional services firms and contractors to be involved, which then makes the area more inclusive for end users of color.
While successful as a mixed-use district, the entire Seaport is highly susceptible to sea level rise and extreme weather events. Panelists delved into how best to prepare the Seaport neighborhood to withstand the effects of climate change for decades to come, relying on Sasaki's expertise in resilience planning and design to steer this conversation.
Chrisco pointed to the Boston Children's Museum as a community organization that is currently acting as a role model for environmental stewardship because they are considering how their resiliency approach could positively affect the general public, and not just museum visitors. "They're located across Fort Point Channel, but they also have two million people crossing in front of their building every year," explained Chrisco. "So, how can you incorporate resilient strategies and, at the same time, turn the waterfront into an amenity for those two million people?"
This same logic ought to be applied to the development underway in the Seaport as a whole. Finding the multi-benefit wins for developers, surrounding residents, local business owners, workers, and visitors from all ages and backgrounds will be important for ensuring the Seaport becomes a thriving, resilient neighborhood for the coming decades.
"The future of the Seaport needs to consider resilience. Of course, we're dealing with increased heat, increased rain, but we also need to address what's happening with our water systems and sea level rise. When designing for 24/7 programming, we can take the area's resilience challenges and turn them into opportunities."
Chrisco further elaborated on the importance of sea-level rise preparedness in Sasaki's ongoing project work in the area, as Sasaki is currently working on both the Fort Point 100 Acre Open Space Plan and Boston Children's Museum Waterfront Master Plan.
"I think it is interesting that for waterfronts along the Children's Museum and the Fort Point 100 Acres property, while we are thinking about issues of resilience, specifically sea level rise, we're also considering how that's impacting adjacent property owners," he explained. "When you talk about partnerships among stakeholders moving forward, you have public institutions as well as private and nonprofit groups that all need to start thinking about how to work together to protect themselves from sea level rise. There may be an owner located against the channel that ends up protecting owners further inland, creating an environment where they are equally protected. I think that as we move forward we are going to see some unique partnerships across that spectrum."
( Press Release Image: https://photos.webwire.com/prmedia/7/256068/256068-1.jpg )
Related Links
WebWireID256068

This news content was configured by WebWire editorial staff. Linking is permitted.
News Release Distribution and Press Release Distribution Services Provided by WebWire.