Stedelijk Museum Mourns Ulay
Exhibition That the Museum Prepared With Ulay Will Open November 2020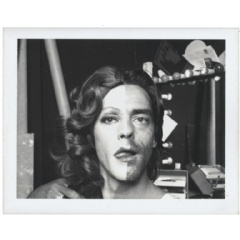 Ulay, S'he, 1973-74, Copyright The Artist, Courtesy of Ulay Foundation
"It is with deep regret that we learned of the news that Ulay has passed away."
The Stedelijk Museum is deeply saddened by the news that the German-Dutch artist Ulay has passed away.
Although Frank Uwe Laysiepen (Solingen, 30 November 1943 – Ljubljana, 2 March 2020) had been ill for some time, his death still comes as a shock. Over the past months, Rein Wolfs, director of the Stedelijk Museum, and Hripsimé Visser, curator, had been working closely with the artist on an upcoming show at the Stedelijk Museum, scheduled to open this November. Just a few weeks ago, in liaison with Ulay, they made a first choice of art works of the show. The Stedelijk Museum will finalise preparations for the exhibition in close cooperation with the Ulay Foundation.
"It is with deep regret that we learned today of the news that Ulay has passed away. Over the last few months, we had been in close contact concerning his upcoming show at the Stedelijk, and this news comes as an enormous shock. The art world has lost a pioneer in performance art, and Amsterdam has lost one of the driving forces in the city's artistic community since the 1970s. Ulay made a momentous contribution to the art world in Amsterdam. Our thoughts are with Lena, his wife. We will continue to work on the exhibition with her and the Ulay Foundation." — Rein Wolfs
Ulay was well known for his long term collaboration with his former partner Marina Abramović (1976-1988). In the years before and after, he created a profound and radical solo oeuvre. Key factors in his work are processes of (chemical) change, switching between identities, and embracing uncertainty and chance. From the outset of his artistic career, Ulay's work engaged with the world at large, articulating an intense and very immediate relationship with social change and with the unfolding of (recent) histories. Ulay settled in Amsterdam in the late nineteen sixties, when the city was a hotbed of experiment both socially and politically, and in the arena of the visual arts. Ulay's ties with Amsterdam remained; he spent part of his time living and working in the city. Over the years, the Stedelijk bought work by Ulay, as well as pieces that date from his collaboration with Marina Abramović.
Ulay was a pioneer of performance and body art, who used his identity and body as his medium. His work operates on the intersection of photography and the conceptually-focused approaches of performance and body art. Polaroid photos, unique objects and, in his case, often exceptionally large images, are fundamental to his oeuvre. The show at the Stedelijk will pivot around four themes that amplify the contemporary relevance of Ulay's work: his focus on performance and the performative aspects of photography; his research into gender identity and the body as a medium; his engagement with social and political issues and his relationship with Amsterdam.

Ulay and his work have had a huge influence on many artists, and will continue to be a source of inspiration for generations to come. All the more reason for the Stedelijk Museum, which has a long history and considerable expertise in the field of performance art, to stage an exhibition of his solo oeuvre this year.
( Press Release Image: https://photos.webwire.com/prmedia/7/255940/255940-1.jpg )
Related Links
WebWireID255940

This news content was configured by WebWire editorial staff. Linking is permitted.
News Release Distribution and Press Release Distribution Services Provided by WebWire.