UK choosing to boost fitness over careers - despite seven in ten admitting they want to change jobs
WEBWIRE
–
Thursday, February 27, 2020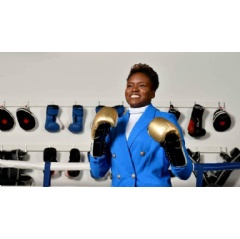 Workers think a gruelling workout is easier than tackling career development as a third would rather complete a circuits class than work on their CV
Fears of being 'past it' are holding many back – with today's up and coming workforce thinking they can't change career after 30
To kickstart the UK's career changing goals, LifeSkills created with Barclays has expanded its programme to help adults of all ages pursue their dream working lives
It has also teamed up with current career changer, Nicola Adams OBE as she moves on from the sporting world, to offer top tips for people who want to go for gold in their job hunt
Seven in ten workers are stuck in the wrong jobs as the prospect of making a career change seems so challenging that they would rather put themselves through a punishing workout, reveals new research from LifeSkills created with Barclays.
Just three in ten UK workers (30 per cent) want to stay in their current career for the long-term, yet the time and effort they think it will take to make a career switch – along with fears of being too old – mean that only a fifth (21 per cent) have ever taken any action to try and move into a job they truly want to do.
This is despite the fact that fewer than one in ten workers (9 per cent) can honestly say they are in their dream job.
In fact, the prospect of tackling their career development is so daunting that over a third of workers (34 per cent) say they would rather put themselves through a circuits class than work on their CV. Likewise, 33 per cent would rather go to a personal trainer than start to confront a job change with a careers advisor, with the majority of 25-54 year old workers (51 per cent) believing that improving their fitness is much easier than bettering their job satisfaction or career prospects.
Fears of being 'past it' holding Brits back from making career changes
Fears of being 'too old' to boost their careers are also holding many people back from a happier work life. Almost half (48 per cent) of workers think there is a cut off age to being able to make a career change.
Ironically, this feeling is particularly profound in the younger generation with more than one in ten Gen Z-ers* (13 per cent) thinking they won't be able to make a career change past the age of 30.
In reality, however, a successful career change can be made at any age. Looking at people over 55 that have made a change at some point in their career, more than four in ten (42 per cent) say they did so over the age of 45.
What's more, the vast majority of these career changers have reaped the benefits of their decision. In a vote of confidence for pushing yourself to make the switch, seven in ten (71 per cent) say that it led to them to be happy overall, while 60 per cent describe it as the "best thing they've ever done".
To get people moving and help them reach their career goals, LifeSkills created with Barclays has been extended to support everyone in the UK, across all ages. The programme will provide online advice and resources around the biggest areas of need for the workforce currently, such as introducing more workplace wellbeing, how to work flexibly, starting your own business and understanding the future workplace and some of the core skills needed.
LifeSkills has also partnered with Nicola Adams OBE, former Olympic boxer to offer some top tips for people looking to enter a new career arena.
Nicola Adams OBE, former Olympic boxer, said: "I've always made my own opportunities in life, whether that's pioneering women's boxing or starting out in a new field. To me, making a career change is all about that mindset: identifying what you want to do, and how to build on the skills you have to make it happen. That's why I'm getting involved in helping others understand their true potential and get the advice they need to make the most of their careers."
Kirstie Mackey, Head of LifeSkills created with Barclays said: "Whether entering a new industry, starting a business or building new skills to equip you for success in the workplace, making a career change can be a daunting process. However, taking the plunge needed to thrive in a rewarding and challenging career is one well worth doing; in fact, over half of career changers say it has improved their mental health. LifeSkills created with Barclays is committed to empowering adults of any age, through practical advice and resources on how to navigate any career move."
Baroness Karren Brady CBE, Chair of the LifeSkills Advisory Council, said: "I'm a huge believer in the value of making a career switch, and I've learnt something new from every change I've made along the way in my career. Not only is making a much-needed career change better for the individual, but having a workforce that feels motivated and rewarded can only bring benefits to UK businesses and the wider economy."
Karren's Top Tips:
1.      Take it one step at a time
Whether starting a new business, switching sectors or moving to flexible working, making a job switch can be daunting – there are new skills to learn, new people to meet and new routines to build. Keep yourself feeling excited about these changes, rather than overwhelmed, by making a plan of the steps you need to take and then addressing them one by one.
2.      Write yourself a mission statement
They might seem pretentious, touchy-feely and – frankly – a little bit boastful. But don't be put off: writing yourself a mission statement setting out what you want from your working life will help you stay focused, and therefore improve your chances of achieving your goals.
3.      Speak to someone that's done it already
From my experience, almost everyone is happy to go for a coffee and talk about how they've made it to where they are now. Speaking to someone about your career change can give you a valuable steer on what your next steps should be - whether it's through a formal mentoring scheme (such as through your local authority business support network) or just someone in your community that you admire.
4.      Build up your network
If you're stepping into a new industry and don't know many people, joining an online or social media networking group can be a great first step to building your own personal network. Or, if you're a small business owner starting out, you could raise your profile by joining your local Chambers of Commerce and meeting people there.
5.      Get to grips with the basics
Need to register for self-assessment tax returns? Create a business website? Or ask your employer for a job share? The LifeSkills website can help with this, offering practical advice and guidance on everything from marketing a new business to making a flexible working request.
Nicola Adams OBE gives her top tips for making a career change:
1.      Make your own opportunities
When I started out boxing, there were very few opportunities for women to train or compete, so I learned early on that I had to make my own. Embarking on a career change has been the same; opportunities aren't always handed to you on a plate, so I've needed to think about what I'm passionate about and go make it happen.
2.      Use your existing skills in a different way
TV presenting is a world away from boxing, but I've treated facing a teleprompter for presenting jobs like I would any opponent in the ring. When I thought about it, the core skills are the same for each: needing to apply yourself with discipline to the task at hand. That mindset has seen me through to where I am today.
3.      Do your research
I didn't plan on retiring from boxing when I did, so I had to take a step back to think through what I wanted to do next. My advice before starting a new career would be to spend some time working out what you like and what you're good at, and speak to as many people as you can about it, whether it's friends and family, or people already in the industry you're considering.
4.      Get the advice you need
I'm entrepreneurially minded, and plan to set up my own chain of gyms one day. I'm in the stages of sussing out business plans, locations and investors, so have needed to get advice on how to go about doing this. It's the same for any new business, whatever the size; make sure you're getting help on how to navigate the practical aspects of launching your idea.
5.      Don't let anything daunt you
The journey to success is never a straight line - there's bound to be ups and downs when making a new start. I've found that while things might not always go as expected, if you're staying focussed, open minded and optimistic, you'll get to where you want to be.
-- ENDS --
To help people of all ages boost their skills and make the career changes they want and deserve, LifeSkills created with Barclays offers free support through online tools and resources including articles, videos and case studies.
Case studies, images and further top tips are available on request.
About the research
This research was conducted by Opinium between 7th – 10th January 2020. It polled 2,000 UK adults (weighted to be nationally representative) alongside 2,000 adults who are working, looking for work or on a career break.
*Refers to 18-24 year olds
About LifeSkills created with Barclays
LifeSkills is giving millions of people the skills, knowledge and confidence they need to succeed in work, whether that's a young person preparing for their first job, to someone wanting to progress in their career, make changes to their working life or even start their own business. ​
Building on the extensive knowledge and experience we have gained in running LifeSkills since 2013 with young people, the programme has been extended to the whole of the UK workforce and across all ages. This will be aligned with current employment trends such as under-employment and an aging workforce and areas where individuals want to change their working lives, such as career progression, introducing more flexibility and wellbeing or starting a business. ​As well as helping people to gain the core, transferable skills needed now and in the future. LifeSkills is delivered by:
A website where people can access free interactive online tools and resources tailored to their stage in life.
Providing lesson plans, learning modules and interactive content for educators to use directly with both young people whilst in education and organisations such as charities, housing associations and local authorises to use with adult learners.
Working with charity delivery partners ensures we are also reaching those people in society who need the most support.
​For more information visit www.barclayslifeskills.com
( Press Release Image: https://photos.webwire.com/prmedia/6/255728/255728-1.jpg )
Related Links
WebWireID255728

This news content was configured by WebWire editorial staff. Linking is permitted.
News Release Distribution and Press Release Distribution Services Provided by WebWire.