The growing success of Ethics Day, an internal innovation at L'Oréal
On October 8, 2019, all the Group's employees were invited to take part in the 11th Ethics Day. Natacha Lesellier, VP - Ethics Programs, tells us more about this signature event in L'Oréal's corporate culture.
WEBWIRE
–
Monday, February 24, 2020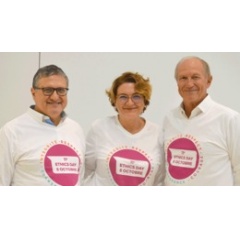 Where did the idea for a day dedicated to Ethics come from?
When Emmanuel Lulin,the Chief Ethics Officer was nominated in 2007, one of the first things we did was to update the Code of Ethics that had been drawn up in 2000. To do that, we consulted with more than 400 employees around the world.
After that, we wanted to find out how the new edition of the Code was being used on a daily basis. Did our teams have any questions about it? Did they see things we could do to improve it? That's how we had the idea – very innovative at the time – of allowing employees to talk directly to the CEO, on a particular day of the year. The Code of Ethics was one of the first international documents that Jean-Paul Agon signed as CEO. The first Ethics Day was held in 2009. As far as I know, L'Oréal is a pioneer in this field and we are often asked by other companies about how to organize similar events.
How is the event organized?
Starting two weeks before the day itself, employees have the opportunity to submit their questions online – anonymously, if they wish. Around a quarter of all the questions are received in advance, and the rest are asked live, on the day. For the questions received in advance, employees can vote for the ones they find most interesting. I am lucky enough to get to read all the questions submitted, including those sent during the live session, and to then sort them in a way that allows us to cover as many topics and countries as possible. It's really interesting to see our employees' commitment! On the day, Jean-Paul Agon responds live, from a webchat platform. This year, nearly 2,000 questions were asked. He managed to answer 150 - as some of the topics were repetitive, that covers a significant number of employee questions.
Has the concept evolved over time?
Given its success, this 'webchat model' has been replicated at various levels of the organization. Since 2012, all the country managers also do their own Ethics Day webchats. It's a way of covering a broader range of subjects, particularly local ones, which they are obviously well-informed about.
Two years ago, members of the Executive Committee also began organizing webchats with their international teams
Between the webchats featuring our CEO, the countries and the Executive Committee, more than 7,000 questions were asked around the world last year.
And every year, at the global level, we look for new ways to innovate within this format!
How would you describe the impact of this day?
It creates discussions that let us take the pulse of our organization. We answer all the standard questions about Ethics in our daily work, such as acknowledging and/or managing conflicts of interest, for example. But we also receive more strategic questions, such as 'What is L'Oréal's position on consumers' personal data, or on the choice of raw materials?'
For management, it's an exercise from which they learn a lot, as it identifies the areas where employees think we can improve. We can also see new expectations starting to emerge. This year, for example, we saw confirmation of the interest in including seniors within our diversity policy. In that sense, Ethics Day can accelerate the process of taking a position on an issue or making a decision.
An event like this is also a way to create discussions around Ethics at every level of the organization. It's not always easy, but we do everything we can to get all our employees involved – not only at corporate office locations, but also at our factories, our distribution centers, with the sales teams etc. In fact, it's one of the most popular events within the Group. Last year, we had a participation rate of nearly 70%, which is excellent. 
Aside from this particular day, when and where are ethical issues discussed at L'Oréal?
The aim is to communicate at least once a month about Ethics, across the Group. For example, last June we had the annual Ethics Treasure Hunt, organized with one of our brands. It's an opportunity for the brand to talk about the way it embraces Ethics in its activities – the way it communicates about its products with consumers, the ethical questions they might have or the causes they support. Employees can take part in short 3-question quizzes and win products from that particular brand. Every year, we have more people taking part in these events than in the previous year.
The Ethics Cafés, where we invite someone from outside the company to talk to our employees, also work quite well. In Greece, athletes were invited to talk about Integrity in sports, while in Germany, one of the journalists who revealed the Panama Papers discussed the topic of Courage, which is one of our flagship values.
There are also the Country visits by our Chief Ethics Officer, during which he meets and discusses Ethics with several hundreds of employees each year during round tables and townhall meetings.
Who do you rely on to make discussion of Ethics a lively one within the Group?
At headquarters, we have a small but effective team of nine people. The scope of the Office of the Chief Ethics Officer also includes Human Rights. We also have 74 Ethics Correspondents, at country level. These are local experts who can advise management or give guidance to employees. We work closely with the communications, human resources, risk management and compliance, sustainability and diversity teams, among others, because Ethics is a transversal subject and is built into every activity within the Group.
( Press Release Image: https://photos.webwire.com/prmedia/6/255531/255531-1.jpg )
Related Links
WebWireID255531

This news content was configured by WebWire editorial staff. Linking is permitted.
News Release Distribution and Press Release Distribution Services Provided by WebWire.