Meet the teens who are shaping the future of AI
WEBWIRE
–
Monday, February 24, 2020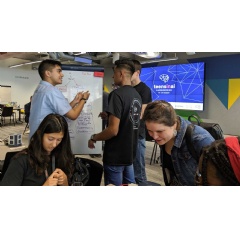 "I want to actually make a difference in the world"
What do the next generation of tech talent want from the world? The voices of the next generation are what will shape our future – and Teens in AI are speaking up. We tagged along on the annual Teens in AI hackathon to get a better idea of what Gen Z want from their workplaces and their tech, and how that fits in with what our very own Applied AI 1.0 cohort are doing.
Who are Teens in AI? 
Teens in AI has in the last 5 years engaged almost 5,000 children, arranged 20 hackathons, 4 accelerators and 3 bootcamps in locations like San Francisco, Seattle, New York, Chile, Denver, Texas, Afghanistan, Kenya and the UK. At the latest course, 25 teens met up to learn from Artificial Intelligence experts, and create solutions for real-world problems, tackling issues like carbon footprint reduction, road safety, cancer, education and mental health – not too dissimilar to the challenges our own Applied AI cohort are working to solve.
The teens have all shown exceptional talent to earn their place in the hackathon, are from different backgrounds and come from all over the country (and abroad) to attend. So what do young people want in the workplace, and what would make them stay in a role?
Making a difference
"I want to actually make a difference in the world" Hackathon participant Helisha Shah
Helisha's wish is to work on something that she finds interesting, and make a positive impact in the world while she's doing it.
This genuine wish to improve lives and help people is also strongly reflected in our own Applied AI 1.0 cohort, with healthtech one of the most well represented sub-sectors on the programme. Companies like CtheSigns and ClinSpex DX are working towards earlier detection of cancer, with the potential to save thousands of lives. Meanwhile BIOS are improving the quality of life for millions of people affected by chronic disease, Antiverse who are finding cheaper and quicker ways of discovering antibodies and ThinkSono who are preventing Deep Vein Thrombosis.
"AI is going to play a really big part in healthcare. It's spotting signs of illness earlier than doctors now!" said Nishka Malik, who has been inspired to pursue a tech career by the activities and what she's learned in the accelerator. "AI is really fun when you get into it. It allows you to work with something that is going to help make the world a better place" said Euan Cortes. His team is working on an app called S.H.O.W. It's aimed at ending bullying by breaking negative behavioural patterns and intervening at an early stage, powered off user data. 
Euan is on a similar wavelength to socially-conscious companies on the Applied AI programme including Bristol's Gapsquare and Bournemouth's PeopleMatter. Gapsquare track pay disparity, pay equality and pay gap data instantly, making it easier for companies to intervene. And People Matter is a safe online space that measures and improves mental wellness at work; their AI learns who you are and how your digital environment impacts you, reducing the risk of burnout and depression.
How do you envision your future workplace
Continuous learning
"I want to work on something that is constantly changing, I get really bored, really fast. It's important for me to have fun at work" Jarrishan Rajendran
"I believe we should be learning on a continuous and daily basis, so I'd choose to go somewhere I can improve myself," says Michael Adjei. "I love the idea of continuous learning, it's a very key thing," says Luca Choteborsky. His team is developing Hydroponics.AI, an AI solution that automatically regulates and optimises the conditions for farming without soil, a theme that is close to home for our cohort members Cervest, which helps businesses, governments and growers adapt to climate volatility and make more sustainable business choices.
How can companies attract diverse talent
Diversity
"Companies can reach out and put themselves out there to people our age." Euan Cortez
The accelerator is designed to engage young people from all backgrounds, and does fantastic work to make it available to those who wouldn't normally have the finances to attend. This is also reflected in the curriculum and the fact that the teens value diversity in a future workplace. With diversity a known challenge for the tech industry, we asked the teens for their suggestions on what to do about it? 
"Perhaps an interview robot that screens CVs?" says Nishka Malik. Her team is working on bikeOzone, a solution to get people biking and walking more, but also highlighting the safer options on where to do so, much like our cohort members Predina, which uses AI to build a dynamic risk map platform that predicts and prevents the risk of road crashes. 
"I feel they could go to different areas that have a more diverse population," says Luca, who also mentions that the accelerator, and working on developing Hydrophonics.AI, has inspired him to pursue a career in tech. 
"When companies are representing themselves to the public, I believe they should represent themselves using people who usually aren't represented in the sector, to show they are welcome and invited." Says Michael Adjei.
Where can AI make the biggest impact
"Outreach to state schools and bad areas is important. Because there are loads of kids that are smart, but not given the opportunity." Jarrishan Rajendran. 
Improving the everyday 
Jarrishan's team is developing Green Feast, an integrated web extension designed to give users more eco-friendly alternatives to the food they already buy in an easy and uncomplicated way. 
Our cohort members are also making complicated things easier with AI. Flexciton is optimising production schedules and minimising waste for manufacturers, DigitalBridge helps people design and buy their dream kitchens and Genie AI uses machine learning to analyse thousands of variations of the same legal clause, making sure the final contract is fully optimised. 
With the strength of impactful ideas and talent on display at Teens in AI, we figure it's just a matter of time before we see some of these companies join a Tech Nation Applied AI programme in the near future!
Become a mentor
Speaking to these teens, it's clear that the next generation of tech employees want to help the world improve through tech, keep learning new things and promote diversity in the workplace. If you want to help and support them with doing so, go to Teens in AI to read more or become a mentor. 
If you want to join the current generation of people disrupting and improving the world with AI, pre-register your interest to join our next Applied AI cohort below. 
( Press Release Image: https://photos.webwire.com/prmedia/7/255513/255513-1.jpg )
Related Links
WebWireID255513

This news content was configured by WebWire editorial staff. Linking is permitted.
News Release Distribution and Press Release Distribution Services Provided by WebWire.