Post-War to Present in New York
New York  –
WEBWIRE
–
Friday, February 21, 2020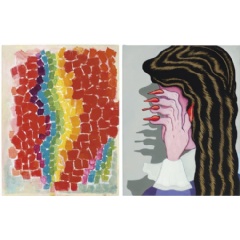 LEFT: Alma Thomas, Flash of Spring, 1968. $450,000 - $650,000; RIGHT: Julie Curtiss, Redfaced, 2016. $60,000-80,000
On March 5, running concurrently with the Armory and ADAA Art Fairs in New York, Christie's Post-War to Present auction will offer over 200 core-market works that fuse post-war masters with cutting-edge contemporary stars. By positioning key works by blue-chip artists such as Alma Thomas, Tom Wesselmann, Josef Albers, Robert Indiana and Andy Warhol within the same context as rising talent such as Julie Curtiss, Eddie Martinez, Shara Hughes, Nathaniel Mary Quinn and Nina Chanel Abney, this season seeks to highlight key dialogues spanning the 20th and 21st centuries and to connect collectors with the most desirable works at core-market price points.
Alma Thomas (1891-1978), Flash of Spring, 1968. Estimate $450,000 - $650,000
Painted in 1968, when the artist was seventy-seven years old, Alma Thomas's Flash of Spring ($450,000-650,000) is one of the artist's first fully abstract works, deploying her signature brushwork in response to the burgeoning energy of nature. Between her 1966 retrospective at Howard University, and her death at age eighty-six in 1978, Thomas created a staggering array of kaleidoscopic paintings, where bright, jewel-like colors, often arranged in vertical bands or concentric circles, are comprised of square dabs of paint that call to mind mosaics or stained glass. Painted at the height of her mature period, Flash of Spring epitomizes Thomas's best and most celebrated work. With its exuberant palette of bright, rainbow colors, the painting embodies the joie-de vivre for which she is best known.
Charles White (1918-1979), Brother John Sellers, 1954. Estimate: $80,000-120,000
Rendered with ink and graphite in Charles White's signature style, Brother John Sellers, 1954 (estimate: $80,000-120,000) – pictured left, demonstrates the artist's exquisite skill and technique as a draftsman. White was extremely passionate about the power of music and sought to imbue the same kind of emotive potency into his art. He portrayed a great number of African-American Musicians, and many of these drawings were used as album covers. In 1954, the Vanguard record label chose White to draw the cover art for their upcoming Brother John Sellers Sings Blues and Folk Songs album. The powerful image depicts a highly emotive singing man. The figure's face is filled with emotion and subtle power, which allows the viewer to imagine the songs of Brother John Sellers coming out of his mouth.
Property from the Estate of Robert Indiana
Leading the sale, are two 1967 canvases by Robert Indiana, both entitled LOVE (Estimate for each lot: $1-1.5 million) - both pictured right . Composed with vivid color and hard-edged contours, these two iconic paintings stand out as superlative and striking examples from the artist's personal collection. For decades, these paintings hung over the artist's bed following him from his years on Coenties Slip to Vinalhaven, a small, isolated island off the coast of Maine where he found shelter after years of city living. His intimate connection to 'LOVE' as both the predominant subject of his typeface and a concept, as well as its everlasting impact, is clearly evidenced in the artist's choice to keep these near and dear for decades.
Property from the Collection of Jon Gould
Highlighting the sale is Property from the Collection of Jon Gould. Twenty-five years the artist's junior, Jon Gould would be Andy Warhol's last romantic relationship. Gould was handsome, young and a vice president at Paramount Pictures when the two met in late 1980. Warhol was so smitten that at one point he had his Factory assistants silkscreen hearts as a Valentine's Day present for Jon. Together between the years of 1981 and 1985, the Hollywood denizen stayed with Warhol in the artist's Manhattan townhouse anytime he visited the city. Warhol even suggested that he would help Jon build a collection of his own, and Gould did in fact make a point of actively acquiring contemporary art, in addition to the work that Warhol gifted him. The present group encompasses two works by Warhol: a 1981 portrait of Jon Gould (estimate: $150,000-200,000) – pictured left, and one of the aforementioned valentines, Candy Box (Lamston's 85 cents), 1983 (estimate: $70,000-100,000). Also included is a dynamic work by Keith Haring, with whom the couple was very close and spent time with on Cape Cod . Haring is represented by Untitled, 1984 (estimate: $200,000-300,000) – pictured right.
Property From The Collection Of Courtney Sale Ross
Also among the several prestigious collections represented in the Post-War to Present sale, is Property From The Collection Of Courtney Sale Ross. This prestigious grouping includes artworks by Willem de Kooning, Josef Albers, Arnaldo Pomodoro and Susan Rothenberg. An educator and documentary filmmaker, Mrs. Ross became friends with de Kooning in the early 1980s after meeting him while producing her documentary Strokes of Genius: de Kooning on de Kooning. As a friend of the artist's wife, Elaine, Mrs. Ross portrayed de Kooning like no one else could, and began to assemble an exemplary collection of works from the early part of his career—works that illustrate the artist's transformation into one of most important figures in 20th century art. Highlighting the selection are three remarkable drawings by Willem de Kooning, led by Two Women, circa 1950 (estimate: $80,000 - 120,000) – pictured on page two, bottom left.
Artwork to Benefit: BOMB Magazine's Endowment Fund
For the second year, Christie's will offer a group of works to be sold to benefit BOMB Magazine's Endowment Fund. In 2018, BOMB Magazine announced that it had embarked on an endowment campaign partially supported by generous donations from today's most important contemporary artists and collectors. The sale of these artworks will directly fund BOMB Magazine's Future Fund, an endowment project that will formalize a safety-net for the publication, and assure the long-term survival of these essential primary-source, artists' conversation and their continuous creation in perpetuity.
Four works will be included in the selection, including Carroll Dunham's Leaf (Five), 2008-2009 (estimate: $70,000-90,000), donated courtesy of the artist and Gladstone Gallery, Pat Steir's Untitled, 2010 (estimate: $120,000-180,000) donated courtesy of the artist and Lévy Gorvy, Amy Sillman's Untitled, 2019 (estimate: $40,000-60,000), donated courtesy of the artist and Gladstone Gallery – pictured above, right, and Donald Judd's Untitled, 1978 (estimate: $50,000-70,000), donated courtesy of Agnes Gund – pictured right.
About Christie's
Christie's, the world's leading art business, had auction sales in the first half of 2019 that totalled £2.2 billion / $2.8 billion. Christie's is a name and place that speaks of extraordinary art, unparalleled service and international expertise. Christie's offers around 350 auctions annually in over 80 categories, including all areas of fine and decorative arts, jewellery, photographs, collectibles, wine, and more. Prices range from $200 to over $100 million. Christie's also has a long and successful history conducting private sales for its clients in all categories, with emphasis on Post-War & Contemporary, Impressionist & Modern, Old Masters and Jewellery.
Alongside regular sales online, Christie's has a global presence in 46 countries, with 10 salerooms around the world including in London, New York, Paris, Geneva, Milan, Amsterdam, Dubai, Zürich, Hong Kong, and Shanghai.
*Please note when quoting estimates above that other fees will apply in addition to the hammer price - see Section D of the Conditions of Sale at the back of the sale catalogue.
*Estimates do not include buyer's premium. Sales totals are hammer price plus buyer's premium and are reported net of applicable fees.
( Press Release Image: https://photos.webwire.com/prmedia/6/255446/255446-1.png )
Related Links
WebWireID255446

This news content was configured by WebWire editorial staff. Linking is permitted.
News Release Distribution and Press Release Distribution Services Provided by WebWire.