Pesticide giants make billions from bee-harming and other hazardous chemicals
London, UK –
WEBWIRE
–
Friday, February 21, 2020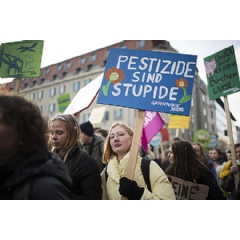 The world's five largest agrochemical companies are making billions by selling toxic pesticides posing serious threats to human health or wildlife, a joint investigation by Unearthed and the Swiss NGO Public Eye has revealed. 
The first major analysis of the global trade in highly hazardous pesticides also reveals that chemical giants are selling disproportionately more highly-hazardous products to low- and middle-income countries, where regulations are weaker.
Unearthed, Greenpeace UK's investigative unit, and Public Eye obtained $23.3bn of industry data from Phillips McDougall, a leading agribusiness intelligence firm, which details all leading-product sales in the world's most important pesticide markets in 2018.[1] This sales data, representing nearly half of the global pesticide market, was analysed using the Pesticide Action Network's 2019 list of highly hazardous pesticides.[2]
According to the analysis, Bayer, BASF, Syngenta, FMC and Corteva – the biggest five members of the powerful pesticide lobby group Croplife International – made over a third (35%) of their income in 2018 selling pesticides that are known or presumed to cause cancer, threaten fertility, or are decimating insect and aquatic wildlife across the world.[3] [4] This equates to about $4.8 billion of the $13.4bn of pesticide sales data obtained for these companies. 
Commenting on the findings, Juman Kubba, Greenpeace UK Policy Advisor, said: 
"Keeping the world hooked on an industrial farming model based on crops drenched in toxic pesticides is in these companies' interests. But this destructive agricultural system is wiping out forests, decimating bees and other pollinators, and contaminating rivers and soils. 
"Many of these pesticides are so toxic that the UK and the EU have banned them, but the industry has found new markets in countries with weaker regulations, especially in the Global South.
"Starving nature, the life support on which we all ultimately depend, to feed ourselves makes no sense. These dangerous chemicals have no place in a healthy food system and governments must ban them worldwide."   
Laurent Gaberell, Public Eye pesticides expert, said: 
"This investigation exposes the leading role that Croplife companies play in selling some of agriculture's most dangerous and controversial chemicals and contradicts their claims that such pesticides are mostly sold by local and generic producers." 
"The leading pesticide manufacturers pretend to be at the forefront of the transition towards more sustainable agriculture. But this research reveals that selling highly hazardous pesticides is at the core of their business model.
"If these chemical giants are serious about sustainability and social responsibility, they must stop exposing millions of people, especially in low- and middle-income countries, to highly toxic pesticides having underestimated negative health effects."
"As those companies have shown no willingness to act voluntarily, Switzerland, Germany and the USA – as their host countries – need to implement binding rules to ensure they respect human rights and the environment when operating abroad, and support international action to phase out highly hazardous pesticides globally."
------
[1] The Phillips McDougall market research dataset covers around 40% of the $57.6bn global market for agricultural pesticides sales in the 43 countries that represent the biggest markets for agrichemicals. Within each country the market researchers identify the most valuable "market segments" (broken down by "sector" of the market – herbicide, fungicide, or insecticide – and crop) and then attempt to collect full sales data for the leading products in those segments. It can therefore be understood as the most comprehensive guide to whom is selling the most popular products used in the most important markets, what is being spent on those products, and what chemicals they contain.
[2] Chemicals are only included on the PAN list if they are classified by a recognised authority as presenting at least one of three types of hazard: acute toxicity to humans, long-term health effects, and environmental toxicity. The PAN list was last updated in 2019 and includes 310 active ingredients.
[3] Sumitomo Chemical is also under the Croplife umbrella but is the eighth biggest agrochemical company. Unearthed and Public Eye excluded Sumitomo from their analysis because they judged the data sample of the company's sales to be too small to be representative. For all the other Croplife Companies, the AgrAspire data represents between 23% and 48% of full global sales – for Sumitomo it represents just 4%.
[4] Members of the croplife lobby group can be seen here.
( Press Release Image: https://photos.webwire.com/prmedia/6/255436/255436-1.jpg )
Related Links
WebWireID255436

This news content was configured by WebWire editorial staff. Linking is permitted.
News Release Distribution and Press Release Distribution Services Provided by WebWire.