Top 10 Storm Costumes
Check out our picks for the Mistress of the Elements, all in Marvel Unlimited!
WEBWIRE
–
Friday, February 21, 2020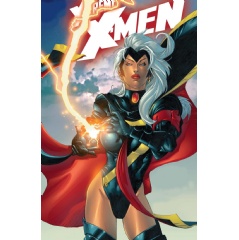 Have you tried Marvel Unlimited yet? It's your all-access pass to over 25K Marvel comics, all available at your fingertips. Sign up now, and follow us on Twitter and Facebook!
Ororo Monroe. Devoted leader of the X-Men. Fearless queen. Revered goddess. Fashion icon.
Since her splashy debut in seminal issue GIANT-SIZE X-MEN (1975) #1, Storm's brought her own dramatic flair to super-heroics. And in the course of her 45(!)-year history, her style evolution has been a revolution all its own.
Whether she's paying homage to her Kenyan roots, soaring high as Asgard's Goddess of Thunder, or embracing a punk rock status, Storm's many looks have been a defining part of her journey.
Watch our picks for Storm's Top 10 Costumes below, and tell us what you think at @MarvelUnlimited on Twitter and Facebook!
1) ORIGINAL SUIT
Her first appearance saw Ororo in a sleek, leotard suit, topped with a crown to reference all those years she was worshipped as a goddess. (Isn't she always though?) Polishing off the look? A bright red ruby that belonged to her mother, affixed as a clasp to her cape.
The midriff cut-outs and thigh-high boots scream 70's, but the electrifying yellow trim against an otherwise black costume is as modern as Storm.
2) MOHAWK CHIC
One of Storm's most iconic looks came on the heels of a personal awakening—years of reserved regality had her questioning who she was beneath the façade of "goddess." And, as this façade slowly slipped, Ororo, the woman, stepped into the spotlight.
Gone were the long, flowing locks in favor of a hairdo that paired perfectly with a new punk 'tude. And her studded accessories on a head-to-toe leather look is icing on the cake.
We can (partially) thank sneak-thief Yukio for this transformation. Check out her arc in UNCANNY X-MEN (1963) #172-173.
3) GODDESS OF THUNDER
Storm may have been depowered at this point in the comics (see: UNCANNY X-MEN #185), but she is all power in her Asgardian trappings, fit for a Valkyrie queen.
Trickster god Loki is responsible for this makeover—not only did he make a hammer specifically for Storm, he also got the veteran X-Woman to slip into ridiculously furry leg warmers with some BOLD power shoulders. A sexy slit, full cape, and warrior's gauntlets add that extra oomph to an already oomph-ed outfit.
Read the first appearance of Stormcaster here!
X-Men Annual (1970) #9
publishedJan 1, 1985
added to marvel unlimitedNov 13, 2007
writer
Chris Claremont
inker
- Mike Mignola
- Al Gordon
- Arthur Adams
colorist
- Petra Scotese
letterer
- Tom Orzechowski
readbuyWhat is Marvel Unlimited?4) 80'S POWER SUITUNCANNY X-MEN (1963) #2
Ororo's mohawk was starting to grow out by the time she regained her abilities in UNCANNY X-MEN (1963) #226, marking the end of a 5-year run with her signature do.
Signifying a shift in her newly reclaimed self, Storm tried out this gray look in the late 80's into the early 90's. Her turn-of-the-decade uniform featured intense shoulder pads, plus a cross-body insignia of a lightning bolt, mirrored in her accessories too.
5) BLUE AND GOLD
Every ounce the leader, but she's a team player too! In solidarity to her fellow X-Men, Storm once donned the signature blue and gold that the whole team was rocking, complete with a red X-belt that also doubles as a target.
A blip on the Storm radar, but only because Ororo thrives as an individual.
Uncanny X-Men (1963) #275
publishedApr 1, 1991
added to marvel unlimitedSep 17, 2008
writer
- Chris Claremont
inker
 - Scott Williams
colorist
 - Glynis Oliver
 - Joe Rosas
letterer
 - Tom Orzechowski
penciler
 - Jim Lee
readbuyWhat is Marvel Unlimited?6) SILVER AND GOLD
When X-MEN (1991) #1 hit the stands to record-breaking sales (still a record holder today!), Storm came into her own as leader of the X-Men Gold Team.
Artist Jim Lee personified her role with an elaborate cape fixed with 2 X-broaches. A full-body silver suit with gold accents adds a grown-up edge too.
X-Men (1991) #1
publishedOct 10, 1991
added to marvel unlimitedMay 17, 2011
writer
  - Chris Claremont
penciller (cover)
  - Jim Lee
inker
  - Scott Williams
colorist
  - Joe Rosas
letterer
 - Tom Orzechowski
editor
 - Bob Harras
 - Suzanne Gaffney
readbuyWhat is Marvel Unlimited?7) SPORTY STORM
Storm once went back to her original color scheme of black and gold, although instead of a cape, this late 90's costume featured two dramatic ribbon sleeves that attached to her bracelets for a swooping effect in flight.
She also rocked a haircut that reminds us of a hurricane—windswept, with a trail in its wake.
X-Men (1991) #60
publishedJan 1, 1997
added to marvel unlimitedMar 4, 2019
writer
  - Scott Lobdell
  -  Ralph Macchio
inker
 - Chad Hunt
colorist
 - Joe Rosas
letterer
 - Richard Starkings
penciler
 - Cedric Nocon
readWhat is Marvel Unlimited?8) X-TREME VOGUE
As daring as the series itself, Storm's costume in X-TREME X-MEN (2001) crammed a whole lot of elements into one severe look. A red-trimmed cape and choker hearkens back to her earliest appearances, while the face-framing crown is a twist on the old classic.
Super tall boots and a high cut waist smack of danger, and the lightning bolt motif is purely superhuman.
All in all? A very busy look for Storm, but then again, she doesn't do understated.
X-Treme X-Men (2001) #1
publishedJul 1, 2001
added to marvel unlimitedNov 13, 2007
ratingMarvel Psr
writer
 - Chris Claremont
penciller (cover)
 - Salvador Larroca
colorist
- Liquid! Color
letterer
- Tom Orzechowski
editor
- Matt Hicks
- Frank Dunkerley
readbuyWhat is Marvel Unlimited?9) PRINCESS OF PREPPYX-TREME X-MEN (2001) #23
Ororo was the perfect sartorial student when Emma Frost "gifted" her the official uniform of Xavier's Institute. Fun fact: this get-up was coded at a "molecular level into the Mansion's database." Whatever that means.
Short-lived, but you can't escape this one, Ororo.
10) BRIDAL MOMENT
Storm looked fairytale perfect on her wedding day to Black Panther, wearing a Grecian-style gown that dripped with jewels worth as much as a hunk of Vibranium.
A pivotal moment in Marvel history, sure, but this union was truly noteworthy for its jaw-dropping attire. That gem-encrusted bodice is EVERYTHING.
Black Panther (2005) #18
publishedJul 26, 2006
added to marvel unlimitedOct 17, 2008
ratingT
writer
- Reginald Hudlin
penciller (cover)
 - Frank Cho
inker
 - Klaus Janson
colorist
 - Dean White
 - Kaare Andrews
letterer
 - Vc Randy Gentile
penciler
 - Scot Eaton
readbuyWhat is Marvel Unlimited?
Need more of this perfect Storm? Join Marvel Unlimited to read these comics—and over 25,000 more—right now! What will you be reading this week? Join the conversation with @MarvelUnlimited, and stay tuned to our Twitter and Facebook channels for more weekly announcements and updates.
( Press Release Image: https://photos.webwire.com/prmedia/7/255416/255416-1.jpg )
Related Links
WebWireID255416

This news content was configured by WebWire editorial staff. Linking is permitted.
News Release Distribution and Press Release Distribution Services Provided by WebWire.