The facts about Outriders: here's everything you need to know
Shooter RPG releases Holiday 2020 for PS5, PS4, Xbox Series X, Xbox One and Steam. Get all the details here.
WEBWIRE
–
Friday, February 21, 2020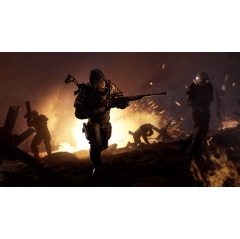 We recently opened the floodgates and shared a torrent of information about Outriders - a brand new shooter RPG from People Can Fly.
You'll be able to find much of this information on the official @Outriders social channels, and there's already a deep-dive on the Square Enix Blog, covering everything from the story, to the gameplay itself. Take a look:
But perhaps you want a less exhaustive look at the game. Read on, and we'll provide a general overview of Outriders - including what it is, when it's out and why we think you should be very excited to play it.
Outriders - Official Gameplay Presentation
What is Outriders?
Outriders is an 1-3 player RPG shooter, set in a dark and desperate sci-fi world.
It's also a completely new IP. New franchises of this scale are quite rare these days, and the arrival of a new console generation means there's no better time to jump into a fresh universe of possibilities.
While Outriders may feel comfortable and familiar in some aspects, make no mistake - everything from the gameplay, setting, weapons characters and more, are all brand new. We're excited to see you delve into their specific nuances and secrets.
Where is Outriders set?
The universe and style of Outriders is something entirely different to the rest of the herd.
We've left behind clean sci-fi with its lasers and shiny metals. Outriders takes place in a dark and desperate world where every day is a visceral fight for survival.
The game is set on the planet of Enoch. While humanity was promised paradise, a weird phenomenon known as The Anomaly has turned it into a nightmare.
If you'd like to learn a bit more specifically about the world and story of the game, check out the short video below.
What is the Outriders release date?
Outriders will release for all platforms in Holiday 2020.
We will share exact release date information in the future
What platforms can I play Outriders on?
Outriders will be out on PlayStation 5, PlayStation 4, Xbox Series X, Xbox One family devices and Steam.
Yes, you read that right: Outriders will be on the new generation of platforms.
2020 will see the launch of a new era in gaming and Outriders will be right there with you. This is a game built for a new generation of gamers and gaming platforms.
That said, if you're not yet ready to make the jump yet, don't worry - PlayStation 4 and Xbox One players will be able to enjoy Outriders until they're ready to upgrade.
What kind of game is Outriders?
At a fundamental level, Outriders combines challenging and satisfying shooting, deep RPG mechanics and an excitingly savage story full of memorable characters.
The game features intense action with brutal powers, all underpinned by People Can Fly's decades of experience creating shooters. That almost tangible feeling of pulling the trigger? It's there.
But importantly, you can also shape your Outriders experience around the things that matter to you.
The game features an extremely flexible skills and upgrades system, that lets you build a character to suit your playstyle. If you like to hunker down behind cover, and deal devastating damage from a distance, that's an option. Alternatively, if you like to get up close and personal, you can create a build that supports run and gun gameplay. And if you want to spend hours creating your own perfect character build? Feel free to min-max away!
The team have also invested great amounts of effort into ensuring that the game is driven by a great story, with lots of quests and side quests to undertake.
You can play through that tale at your own speed and difficulty - with up to two friends or by yourself. You can speed-run through areas or you can take time to uncover and read through the troves of lore to truly understand the history of the Outriders universe - whatever's important to you in a game like this, Outriders is sure to cater to it.
Is Outriders a Games-as-a-Service title?
Outriders is not a Games-as-a-Service title and does not include microtransactions.
How do I know if I'll like Outriders?
We believe Outriders will be a truly memorable experience - we've already released huge quantities of information and gameplay footage both on the official Outriders channels, but also through press and the content creator community.
You can now see what the game will be like and might even be able to imagine yourself sitting down in front of it later this year - we're confident you'll love it.
We'll reveal a few more surprises, as well as plenty of details around specific parts of the game (such as the story for example) in the future, and the Square Enix Blog will feature interviews with the team, closer looks at the game and more too.
But to stay up to date with the latest news about the game, the best thing to do is follow Outriders on social media:
Can I preorder Outriders?
Outriders is available to preorder now from most major retailers, including the Square Enix Store.
If you purchase the game before launch, you'll get the Outriders Deluxe Edition, which includes the Hell's Rangers Male and Female Gear Sets, the Hell's Rangers Arsenal of 11 unique Guns, and the Hell's Rangers Truck Mods and Decals.
( Press Release Image: https://photos.webwire.com/prmedia/7/255411/255411-1.jpg )
Related Links
WebWireID255411

This news content was configured by WebWire editorial staff. Linking is permitted.
News Release Distribution and Press Release Distribution Services Provided by WebWire.