COVID-19: how researchers around the world are racing to understand the virus and prevent future outbreaks
WEBWIRE
–
Wednesday, February 19, 2020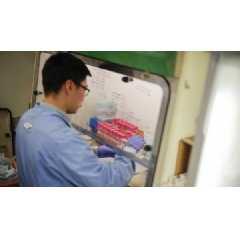 Credit: Tolga Akmen / AFP / Getty A researcher works on a vaccine for COVID-19 in a research lab at Imperial College School of Medicine, London.
As the outbreak of COVID-19 continues to spread in China and countries around the world, a global community of researchers are working to find out more about the virus and assess what research needs to be done to stop it.
These are some of the key questions that researchers are working to answer.
Where did COVID-19 come from?  
We know that COVID-19 is caused by a newly discovered type of coronavirus (SARS-CoV2), but we don't yet know where it originated.
We do know that coronaviruses circulate among animals and they are zoonotic – meaning sometimes they can pass from animals to people.
Rapid sequencing of the virus has shown that it is highly similar to a known bat virus found in China, and to the SARS coronavirus which spread rapidly in 2002.
More studies are needed to help researchers understand which animal transmitted this new coronavirus to humans, and what is needed to prevent infections from animals in future.
How do you test for COVID-19?  
To test for the virus, samples are taken from patients and confirmed in a laboratory test called real-time reverse transcriptase PCR, which needs specialised training and can be time-consuming.
Samples from people with mild illness are taken through nose and throat swabs. In more severe cases, samples are taken from the lower respiratory system (sputum samples) and through blood tests. 
Once processed, the results of these samples help to determine the number of people who have been exposed to the virus and could develop COVID-19.
The ability to successfully test for any disease is crucial. The earlier we can diagnose it, the quicker we can treat it and track the spread of disease. 
A key research priority is to develop a rapid diagnostic test for COVID-19, which would enable faster detection of those infected, remove the need for specialised laboratories, and help improve our ability to control the spread of the virus.
How do we limit the impact of the virus?
We now know that the virus can spread from one person to another, but there are still many unanswered questions, such as how it spreads, and who is most at risk from developing severe symptoms. 
We need to collect more data on the different outcomes of the virus in different populations and situations, such as people in the community or those in hospitals, and we need to do research into effective ways to provide good clinical care.
This information will help to inform effective public health interventions, which should then, in turn, limit the impact of the virus. 
Infectious disease modelling will also help. Modellers map the latest reported data, shared by the World Health Organization (WHO), to travel patterns, to find out which factors affect how quickly the virus is transmitted. This information can be used to predict the outcome of different interventions, providing a powerful tool for health officials to plan their response.
What research is being done on potential treatments?
There is currently no vaccine or approved treatment for COVID-19. Companies and researchers around the world are working on potential treatment candidates, building on the research done in previous coronavirus outbreaks, such as SARS and MERS. 
We need to find out what treatments are safe and effective against COVID-19, and make sure these treatments are available to those who need them most. 
Clinical trials to investigate new therapies take time to set up. China has already begun several, but it will likely take months before the results become available.
Will a vaccine stop this outbreak?
Research into vaccines has started. A successful vaccine will be critical to protect people against future outbreaks of this virus, but its impact will not be immediate. 
With support from the Coalition for Epidemic Preparedness (CEPI), four vaccine development projects have started. Realistically, it could take a few months before early human trials can begin, and several more months before we understand if the vaccine could be protective in people.
How will research into COVID-19 be coordinated globally?
The epidemic will challenge the best-resourced countries but will have a disproportionate impact on fragile health systems in low- and middle-income countries.
It's vital that everyone around the world has equal access to any scientific advances, and that research findings and data are shared rapidly and openly to inform the public health response and help save lives. 
The priorities called for by China, and supported by the international community, are to ensure that people with COVID-19 are promptly diagnosed and receive the best clinical care.
Last week, the WHO brought together researchers to assess the current level of knowledge about COVID-19, identify the research needed to end the current outbreak, and help prepare for future outbreaks.
A clear plan of immediate and longer-term priorities (opens in a new tab) was agreed to build a robust global response. This plan will form the basis of a WHO roadmap charting the path research needs to take.
How can research into this outbreak prevent future epidemics?
Research that comes from the COVID-19 outbreak will be crucial in tackling future epidemics when – not if – they happen again. 
With investment, supported by political will and private-sector involvement, we can prepare today to stop future outbreaks spiralling into health emergencies. 
The WHO has already prioritised a number of other diseases that pose a risk to public health because of their epidemic potential (opens in a new tab), and the global health community is working hard to fill the knowledge gaps.
Related content
Wellcome has launched a COVID-19 funding call to support researchers who want to investigate new approaches for preventing and controlling the epidemic, with a focus on low- and middle-income countries. 
We're also calling on researchers, journals and funders to share research data and findings relevant to the COVID-19 outbreak rapidly and openly.
( Press Release Image: https://photos.webwire.com/prmedia/7/255274/255274-1.jpg )
Related Links
WebWireID255274

This news content was configured by WebWire editorial staff. Linking is permitted.
News Release Distribution and Press Release Distribution Services Provided by WebWire.