"Caravans of Gold, Fragments in Time" Opens at the National Museum of African Art April 11
Exhibition Features Major Loans From Museums in Mali, Morocco and Nigeria and Is on View in Washington for the First Time
WEBWIRE
–
Tuesday, February 11, 2020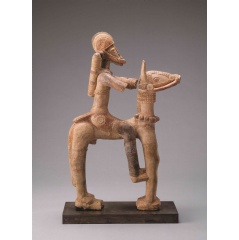 Inland Niger Delta artist; Djenné, Mopti Region, Mali; Equestrian Figure; 13th-15th century C.E.; Ceramic; National Museum of African Art, Smithsonian Institution, museum purchase, 86-12-2; Photograph by Franko Khoury.
Caravans of Gold, Fragments in Time: Art, Culture, and Exchange across Medieval Saharan Africa" opens at the Smithsonian's National Museum of African Art April 11 and runs until Nov. 29. The first major exhibition to explore global medieval Saharan Africa, "Caravans" features over 300 works primarily from the eighth–16th centuries A.D. from across the Saharan region of West Africa as well as its diverse peripheries and sites of exchange—from England and Italy to Iran and China, as well as Nigeria and Ghana.
Developed at the Block Museum of Art at Northwestern University by its Associate Director of Curatorial Affairs Kathleen Bickford Berzock, the exhibition includes unprecedented loans from national museums and institutions in Morocco, Mali and Nigeria, the result of nearly a decade of collaborative research and planning with partners on the African continent.
"The exhibition is a landmark opportunity to reconsider our understanding of world history," said Kevin D. Dumouchelle, curator at the National Museum of African Art and coordinator of the exhibition in Washington. "Gold from West Africa was the engine that drove the movement of things, people and ideas across Africa, Europe and the Middle East in an interconnected medieval world. As the incredible works in this exhibition show, it is not possible to understand the emergence of the early modern world without this West African story. Africa's history truly is a world history."
 "Caravans of Gold" draws on recent archaeological discoveries, including rare fragments from major medieval African trading centers like Sijilmasa in Morocco and Gao and Tadmekka in Mali. Built in close collaboration with partner institutions in Africa, the exhibition displays only archaeological works from African museum collections or those in U.S. public collections legally exported from their country of origin. These "fragments in time" are seen alongside works of art that invite audiences to imagine them as they once were. The exhibition features works in a variety of media—terracotta, copper alloy, ivory, glass, leather, textiles (including fragments of Africa's oldest), paper and parchment, and of course gold—that together tell the story of medieval Saharan West Africa, beginning with the spread of Islam in the eighth century A.D. and receding with the arrival of Europeans along the continent's Atlantic Coast at the end of the 15th century. During this era, the Sahara Desert supported routes that connected to global networks of exchange. As these networks spread, so too did cultural practices, fostering the broad circulation of distinctive Saharan aesthetic and intellectual traditions connected to Islam.
The exhibition also includes significant works that illustrate the global interconnection of far-flung regions in the medieval period: from French sculptures of Mary and the infant Jesus carved in African ivory, to Italian altar pieces adorned with African gold, to world-famous sculptural works from sites in Nigeria, including Igbo-Ukwu and Ife, that remain marvels of technical sophistication and use European-sourced metals and trade-goods.
"'Caravans of Gold' is the starting point for a new understanding of the medieval past and for seeing the present in a new light," Berzock said. "The legacy of medieval trans-Saharan exchange has largely been omitted from Western historical narratives and art histories, and certainly from the way that Africa is presented in art museums. 'Caravans of Gold' has been conceived to shine a light on Africa's pivotal role in world history through the tangible materials that remain. We are honored to join with our colleagues in Mali, Morocco and Nigeria, as well as at the National Museum of African Art, in order to share this world-shaping story."
HI Smartphone Application
Visitors to the exhibition can engage further with the artworks on their smartphones using the Smithsonian-developed, web-based HI application. Visitors can scan an interactive map to discover an added layer of digital content, including videos, images and key facts connecting the site and its histories and networks of exchange with art works featured in the exhibition. The HI application does not require download, and it can be accessed at hi.si.edu.
Educational and Public Programs
Public programs will accompany the exhibition to engage the museum's diverse audiences K–12 to adult. The exhibition's curator will conduct a "first look" public tour of exhibition highlights Saturday, April 11, at 2 p.m. Visitors should meet at the museum's visitor desk on the Pavilion level at 2 p.m.
Exhibition Publication
The exhibition is accompanied by the publication Caravans of Gold, Fragments in Time, edited by Berzock and co-published by the Block Museum of Art and Princeton University Press. Shortlisted for The Alice Award, the publication draws on the latest discoveries and research to construct a compelling and interdisciplinary look at medieval trans-Saharan exchange and its legacy. In the lavishly illustrated volume, 21 international contributors present case studies that form a rich portrayal of a distant time. Topics include descriptions of key medieval cities around the Sahara; networks of exchange that contributed to the circulation of gold, copper and ivory and their associated art forms; and medieval glass bead production in West Africa's forest region.
About Kevin D. Dumouchelle, National Museum of African Art Curator
Dumouchelle joined the National Museum of African Art in October 2016. He conceived and opened "Heroes: Principles of African Greatness," a new permanent collection installation at the museum in November 2019. He was the project lead for "Visionary: Viewpoints on Africa's Arts" (2017), the museum's award-winning permanent galleries, along with chief curator Christine Mullen Kreamer and curator Karen E. Milbourne. He was the coordinating curator for "World on the Horizon: Swahili Arts Across the Indian Ocean" (2018) and "Good as Gold: Fashioning Senegalese Women" (2018). Previously, Dumouchelle was at the Brooklyn Museum for a decade as the curator in charge of the arts of Africa and the Pacific Islands.
About Kathleen Bickford Berzock, Block Museum Associate Director of Curatorial Affairs
Kathleen Bickford Berzock is the associate director of curatorial affairs at the Mary and Leigh Block Museum of Art, Northwestern University, and curator of "Caravans of Gold, Fragments in Time."  At the Block Museum of Art, she provides artistic leadership of the museum's exhibition, publication and collection programs.
About the National Museum of African Art
The National Museum of African Art is the only museum in the world dedicated solely to the collection, conservation, study and exhibition of Africa's arts across time and media. The museum's collection of over 12,000 artworks spans more than 1,000 years of African history and includes a variety of media from across the continent—from sculpture and painting, to photography, pottery, jewelry, textile, video and sound art. The museum is open daily from 10 a.m. to 5:30 p.m. (closed Dec. 25). Admission is free. The museum is located at 950 Independence Ave. S.W., near the Smithsonian Metrorail station on the Blue, Orange and Silver lines. For more information, call (202) 633-4600 or visit the National Museum of African Art's website: Africa.si.edu. For general Smithsonian information, call (202) 633-1000. Follow the museum on Twitter, YouTube, Instagram and Facebook and join in the discussion about the exhibition on social media using #CaravansOfGold or #CaravansNMAfA.
( Press Release Image: https://photos.webwire.com/prmedia/7/254804/254804-1.jpg )
Related Links
WebWireID254804

This news content was configured by WebWire editorial staff. Linking is permitted.
News Release Distribution and Press Release Distribution Services Provided by WebWire.