T-Mobile Reports Record Financials and Strong Customer Growth in FY 2019, Beating Increased Guidance while Balancing Growth and Profitability
In Q4 2019 Total Net Additions of 1.9M, Branded Postpaid Phone Net Additions of 1.0M, Record Service Revenues of $8.7B, Strong Q4 Net Income of $751M and Record Q4 Adj. EBITDA of $3.2B
Bellevue, Wash. –
WEBWIRE
–
Thursday, February 6, 2020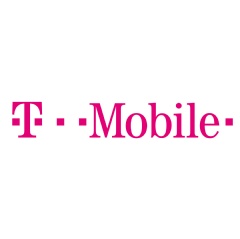 Record Financial Performance (all percentages year-over-year)
Record Service revenues of $8.7 billion, up 6% in Q4 2019 - up 6% to $34.0 billion in 2019
Record Total revenues of $11.9 billion, up 4% in Q4 2019 - up 4% to $45.0 billion in 2019
Strong Net income of $751 million, up 17% in Q4 2019 - up 20% to $3.5 billion in 2019
Diluted earnings per share ("EPS") of $0.87, up 16% in Q4 2019 - up 20% to $4.02 in 2019
Record Q4 Adjusted EBITDA(1) of $3.2 billion, up 9% in Q4 2019 - up 8% to $13.4 billion in 2019
Strong Net cash provided by operating activities of $1.5 billion, up 61% in Q4 2019 - up 75% to $6.8 billion in 2019
Record Free Cash Flow(1) of $1.4 billion, up 15% in Q4 2019 - up 22% to $4.3 billion in 2019
Strong Customer Growth
1.9 million total net additions in Q4 2019 - 7.0 million in 2019 - 6th year in a row of more than 5 million total net additions
1.3 million branded postpaid net additions in Q4 2019, best in industry - 4.5 million in 2019, best in industry
1.0 million branded postpaid phone net additions in Q4 2019, best in industry - 3.1 million in 2019, best in industry
77,000 branded prepaid net additions in Q4 2019 - 339,000 in 2019
Branded postpaid phone churn of 1.01% in Q4 2019, up 2 bps YoY - 0.89% in 2019, down 12 bps from 2018
First Nationwide 5G Network
Launched the first nationwide 5G network utilizing 600 MHz spectrum, forming the foundational 5G coverage layer for New T-Mobile; network covers more than 200 million people and more than 5,000 cities and towns
4G LTE on 600 MHz now covers 248 million people and 1.5 million square miles
Currently, more than 33 million 600 MHz compatible devices already on our network
Strong Standalone Outlook for 2020
Branded postpaid net additions of 2.6 to 3.6 million
Net income is not available on a forward-looking basis(2)
Adjusted EBITDA target of $13.7 to $14.0 billion, which includes leasing revenues of $450 to $550 million
Cash purchases of property and equipment, including capitalized interest of approximately $400 million, are expected to be $5.9 to $6.2 billion. Cash purchases of property and equipment, excluding capitalized interest, are expected to be $5.5 to $5.8 billion
In Q1 2020, pre-close merger-related costs are expected to be $200 to $300 million before taxes
Net cash provided by operating activities, excluding payments for merger-related costs and any settlement of interest rate swaps, is expected to be in the range of $7.9 to $8.5 billion
Free Cash Flow, excluding payments for merger-related costs and any settlement of interest rate swaps, is expected to be in the range of $5.4 to $5.8 billion
T-Mobile US, Inc. (NASDAQ: TMUS) once again delivered incredible results in the fourth quarter of 2019, reporting strong net customer additions including 1.9 million total net customer additions, the 27th quarter in a row with more than 1 million total net customer additions. Our 1.0 million branded postpaid phone net customer additions led the industry once again. For full-year 2019, T-Mobile had 7.0 million total net customer additions, including 4.5 million branded postpaid net customer additions - beating its increased customer guidance range of 4.1 to 4.3 million for the full-year 2019. In addition, we reported all-time record-high financial results, including service and total revenues, as well as record Q4 Adjusted EBITDA. These results concluded another record-breaking year for the Un-carrier, in which we delivered strong customer growth and record financial results for the full-year 2019 - once again beating our full-year guidance.
In December 2019, T-Mobile launched America's first nationwide 5G network, including prepaid 5G with Metro by T-Mobile, covering more than 200 million people and more than 5,000 cities and towns across the United States with 5G. In addition, we introduced two new 600 MHz 5G capable superphones, the exclusive OnePlus 7T Pro 5G McLaren and the Samsung Galaxy Note 10+ 5G and anticipate offering an industry-leading smartphone portfolio built to work on nationwide 5G in 2020. This 5G network is the foundational layer of 5G coverage and it's just the beginning! With the New T-Mobile, we will be able to combine this foundational layer of 5G with Sprint's 2.5 GHz mid-band spectrum, resulting in a broad and deep nationwide 5G experience for everyone, everywhere. And, T-Mobile continues to invest in building its nationwide 4G LTE network, which now covers 327 million Americans, and continues to rapidly deploy its 600 MHz spectrum, which now covers 248 million people, and is live in nearly 8,900 cities and towns across 49 states and Puerto Rico.
"T-Mobile continues to deliver incredible results quarter after quarter! In Q4 we set new financial records across the board and recorded our 27th consecutive quarter with over 1 million total net customer additions," said John Legere, CEO of T-Mobile. "We achieved these spectacular results all while launching the first and only nationwide 5G network, announcing Un-carrier 1.0 for New T-Mobile, and delivering a compelling and fact-based argument in court to support our pending merger. Our results continue to show that the Un-carrier strategy works, and it delivers for both customers and shareholders. I couldn't be more confident and excited about our future and We Won't Stop!"
For the full release and Fact Book, go to the T-Mobile Investor Relations Page.
Financial Results
For more details on T-Mobile's Q4 2019 financial results, including the Investor Factbook with detailed financial tables and reconciliations of certain historical non-GAAP measures disclosed in this release to the most comparable measures under GAAP, please visit T-Mobile US, Inc.'s Investor Relations website at http://investor.t-mobile.com.

T-Mobile Social Media
Investors and others should note that we announce material financial and operational information to our investors using our investor relations website, press releases, SEC filings and public conference calls and webcasts. We intend to also use certain social media accounts as means of disclosing information about us and our services and for complying with our disclosure obligations under Regulation FD (the @TMobileIR Twitter account (https://twitter.com/TMobileIR) and through April 30, 2020, the @JohnLegere Twitter (https://twitter.com/JohnLegere), Facebook and Periscope accounts, which Mr. Legere also uses as means for personal communications and observations, and on and after May 1, 2020 the @SievertMike Twitter (https://twitter.com/SievertMike) account, which Mr. Sievert also uses as a means for personal communications and observations). The information we post through these social media channels may be deemed material. Accordingly, investors should monitor these social media channels in addition to following our press releases, SEC filings and public conference calls and webcasts. The social media channels that we intend to use as a means of disclosing the information described above may be updated from time to time as listed on our investor relations website.

About T-Mobile US, Inc.
As America's Un-carrier, T-Mobile US, Inc. (NASDAQ: TMUS) is redefining the way consumers and businesses buy wireless services through leading product and service innovation. Our nationwide 5G and advanced 4G LTE network delivers outstanding wireless experiences to 86.0 million customers who are unwilling to compromise on quality and value. Based in Bellevue, Washington, T-Mobile US provides services through its subsidiaries and operates its flagship brands, T-Mobile and Metro by T-Mobile. For more information, please visit http://www.t-mobile.com or join the conversation on Twitter using $TMUS.
(1) Adjusted EBITDA and Free Cash Flow are non-GAAP financial measures. These non-GAAP financial measures should be considered in addition to, but not as a substitute for, the information provided in accordance with GAAP. Reconciliations for these non-GAAP financial measures to the most directly comparable financial measures are provided in the Reconciliation of Non-GAAP Financial Measures to GAAP Financial Measures tables

(2) We are not able to forecast Net income on a forward-looking basis without unreasonable efforts due to the high variability and difficulty in predicting certain items that affect GAAP Net income including, but not limited to, Income tax expense, stock-based compensation expense and Interest expense. Adjusted EBITDA should not be used to predict Net income as the difference between the two measures is variable.

Forward-Looking Statements
This communication includes forward-looking statements within the meaning of the Private Securities Litigation Reform Act of 1995. All statements other than statements of historical fact, including information concerning T-Mobile US, Inc.'s future results of operations, are forward-looking statements. These forward-looking statements are generally identified by the words "anticipate", "believe", "estimate", "expect", "intend", "may", "could" or similar expressions. Forward-looking statements are based on current expectations and assumptions, which are subject to risks and uncertainties and may cause actual results to differ materially from the forward-looking statements. Important factors that could affect future results and cause those results to differ materially from those expressed in the forward-looking statements include, among others, the following: the failure to obtain, or delays in obtaining, regulatory approval for the merger (the "Merger") with Sprint Corporation ("Sprint"), pursuant to the Business Combination Agreement with Sprint and other parties therein (as amended, the "Business Combination Agreement") and the other transactions contemplated by the Business Combination Agreement (collectively, the "Transactions"), risks associated with the actions and conditions we have agreed to in connection with regulatory approval for the Transactions, and the risk that such regulatory approval may result in the imposition of additional conditions that, if accepted by the parties, could adversely affect the combined company or the expected benefits of the Transactions, or the failure to satisfy any of the other conditions to the Transactions on a timely basis or at all; the risk that the antitrust litigation related to the Transactions brought by the attorneys general of certain states and the District of Columbia will result in an order preventing the completion of the Transactions and the risk of other litigation or regulatory or regulatory actions related to the Transactions; the exercise by one or both parties of a right to terminate the Business Combination Agreement; adverse effects on the market price of our common stock or on our operating results because of a failure to complete the Merger in the anticipated timeframe, on the anticipated terms or at all; inability to obtain the financing contemplated to be obtained in connection with the Transactions on the expected terms or timing or at all; the ability of us, Sprint and the combined company to make payments on debt or to repay existing or future indebtedness when due or to comply with the covenants contained therein; adverse changes in the ratings of our or Sprint's debt securities or adverse conditions in the credit markets; negative effects of the announcement, pendency or consummation of the Transactions on the market price of our common stock and on our or Sprint's operating results, including as a result of changes in key customer, supplier, employee or other business relationships; the assumption of significant liabilities in connection with, and significant costs related to the Transactions, including financing costs and unknown liabilities of Sprint that may become liabilities of the combined company or that may otherwise arise and financing costs; failure to realize the expected benefits and synergies of the Transactions in the expected timeframes, in part or at all; costs or difficulties related to the integration of Sprint's network and operations into our network and operations, including intellectual property and communications systems, administrative and information technology infrastructure and accounting, financial reporting and internal control systems; differences with Sprint's control environments, cultures, and auditor expectations may result in future material weaknesses, significant deficiencies, and/or control deficiencies while we work to integrate the companies and align guidelines and practices; costs or difficulties related to the completion of the divestiture of Sprint's prepaid wireless businesses to DISH Network Corporation and the satisfaction of any related government commitments to such divestiture; the inability of us, Sprint or the combined company to retain and hire key personnel; the risk that certain contractual restrictions contained in the Business Combination Agreement during the pendency of the Transactions could adversely affect our or Sprint's ability to pursue business opportunities or strategic transactions; adverse economic, political or market conditions in the U.S. and international markets; competition, industry consolidation, and changes in the market for wireless services, which could negatively affect our ability to attract and retain customers; the effects of any future merger, investment, or acquisition involving us, as well as the effects of mergers, investments, or acquisitions in the technology, media and telecommunications industry; challenges in implementing our business strategies or funding our operations, including payment for additional spectrum or network upgrades; the possibility that we may be unable to renew our spectrum licenses on attractive terms or acquire new spectrum licenses at reasonable costs and terms; difficulties in managing growth in wireless data services, including network quality; material changes in available technology and the effects of such changes, including product substitutions and deployment costs and performance; the timing, scope and financial impact of our deployment of advanced network and business technologies; the impact on our networks and business from major technology equipment failures; inability to implement and maintain effective cyber security measures over critical business systems; breaches of our and/or our third-party vendors' networks, information technology and data security, resulting in unauthorized access to customer confidential information; natural disasters, terrorist attacks or similar incidents; unfavorable outcomes of existing or future litigation; any changes in the regulatory environments in which we operate, including any increase in restrictions on the ability to operate our networks and changes in data privacy laws; any disruption or failure of our third parties' or key suppliers' provisioning of products or services; material adverse changes in labor matters, including labor campaigns, negotiations or additional organizing activity, and any resulting financial, operational and/or reputational impact; changes in accounting assumptions that regulatory agencies, including the Securities and Exchange Commission ("SEC"), may require, which could result in an impact on earnings; changes in tax laws, regulations and existing standards and the resolution of disputes with any taxing jurisdictions; the possibility that the reset process under our trademark license results in changes to the royalty rates for our trademarks; the possibility that we may be unable to adequately protect our intellectual property rights or be accused of infringing the intellectual property rights of others; our business, investor confidence in our financial results and stock price may be adversely affected if our internal controls are not effective; the occurrence of high fraud rates related to device financing, credit cards, dealers, or subscriptions; and interests of our majority stockholder may differ from the interests of other stockholders. Given these risks and uncertainties, readers are cautioned not to place undue reliance on such forward-looking statements. We undertake no obligation to revise or publicly release the results of any revision to these forward-looking statements, except as required by law.

Important Additional Information
In connection with the Transactions, T-Mobile US, Inc. ("T-Mobile") has filed a registration statement on Form S-4 (File No. 333-226435), which contains a joint consent solicitation statement of T-Mobile and Sprint Corporation ("Sprint"), that also constitutes a prospectus of T-Mobile (the "joint consent solicitation statement/prospectus"), and each party will file other documents regarding the Transactions with the SEC. The registration statement on Form S-4 was declared effective by the SEC on October 29, 2018, and T-Mobile and Sprint commenced mailing the joint consent solicitation statement/prospectus to their respective stockholders on October 29, 2018. INVESTORS AND SECURITY HOLDERS ARE URGED TO READ THE JOINT CONSENT SOLICITATION STATEMENT/PROSPECTUS AND OTHER RELEVANT DOCUMENTS FILED WITH THE SEC WHEN THEY BECOME AVAILABLE BECAUSE THEY WILL CONTAIN IMPORTANT INFORMATION. Investors and security holders may obtain these documents free of charge from the SEC's website or from T-Mobile or Sprint. The documents filed by T-Mobile may be obtained free of charge at T-Mobile's website, at www.t-mobile.com, or at the SEC's website, at www.sec.gov, or from T-Mobile by requesting them by mail at T-Mobile US, Inc., Investor Relations, 1 Park Avenue, 14th Floor, New York, NY 10016, or by telephone at 212-358-3210. The documents filed by Sprint may be obtained free of charge at Sprint's website, at www.sprint.com, or at the SEC's website, at www.sec.gov, or from Sprint by requesting them by mail at Sprint Corporation, Shareholder Relations, 6200 Sprint Parkway, Mailstop KSOPHF0302-3B679, Overland Park, Kansas 66251, or by telephone at 913-794-1091.

No Offer or Solicitation
This communication shall not constitute an offer to sell or the solicitation of an offer to buy any securities, nor shall there be any sale of securities in any jurisdiction in which such offer, solicitation or sale would be unlawful prior to registration or qualification under the securities laws of any such jurisdiction. No offering of securities shall be made except by means of a prospectus meeting the requirements of Section 10 of the U.S. Securities Act of 1933, as amended.
( Press Release Image: https://photos.webwire.com/prmedia/5/254616/254616-1.jpg )
Related Links
WebWireID254616

This news content was configured by WebWire editorial staff. Linking is permitted.
News Release Distribution and Press Release Distribution Services Provided by WebWire.