Exceptional acquisition for the collection: Woman Bathing by Edgar Degas
The Van Gogh Museum has acquired an important pastel by the French Impressionist Edgar Degas (1834–1917): 'Woman Bathing', c. 1886.
WEBWIRE
–
Wednesday, January 29, 2020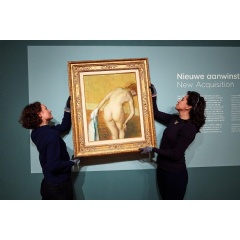 Curator Fleur Roos Rosa de Carvalho (right) and collection staff member Anne Steegstra (right). Photo: Jan-Kees Steenman
The work presents an intimate view of a nude woman washing herself with a sponge. Degas made masterful use of pastels to render the light on her body subtly and softly, but the treatment of the background is also very striking. Woman Bathing is one of around ten ambitious pastels from a period in which Degas focused all his effort on depicting female nudes. Vincent van Gogh (1853–1890) was a great admirer of these drawings and his own work was influenced by them. The acquisition of this fully worked-out pastel is the first unique top-ranking piece by Degas to enter the Dutch national collection.

Degas's nude

Woman Bathing belongs to a group of over ten pastels on which Degas worked in the years 1884–87. He focused all his efforts at the time on the depiction of frame-filling female nudes. Having previously concentrated on capturing modern Parisian life – the ballet studio, for instance, and the brothel – he now preferred to isolate his models, preferably in a corner of a bathroom or bedroom. In doing so, he left barely any space for the interior: all the attention is focused on the model and her pose, with a few secondary elements, such as a towel, a sponge or a tub. Degas would focus entirely on the depiction of nudes for the rest of his life, and he returned to the distinctive pose of the Woman Bathing on several further occasions.

Degas made masterful use of pastels in Woman Bathing to render the light on her body subtly and softly, but the background, consisting of horizontal and vertical lines, is also striking. The composition is built up using dashes, hatching, dots and patches of intense complementary colours, such as blue and orange. On closer viewing, the use of colour is actually remarkably intense. The artist achieved a modern composition by placing the woman off centre and allowing the edge of the picture to crop her head and legs. The unusual fact that the work has been done on high-quality pastel paper rather than the cheaper tracing paper that is more typical of Degas, suggests the scale of his ambitions. It is also thanks to this choice, moreover, that the pastel is in such exceptionally good condition.

Inspiration for Van Gogh

Degas showed a selection from his group of pastel nudes at the eighth and final Impressionist exhibition in Paris in 1886, under the title: 'Suite de nus de femmes se baignant, se lavant, se séchant, s'essuyant, se peignant ou se faisant peigner (pastels)' ('Series of nude women bathing, washing, drying themselves, combing their hair or having it combed (pastels)'). Woman Bathing might have been one of those works. The exhibition brought Degas the greatest press attention of his career to date, with his nudes attracting both praise and criticism.

Van Gogh visited the show and it was primarily on this series of nudes that his admiration for Degas was based. Where he associated Monet with the landscape, Van Gogh identified Degas with the nude. He was also working on nude studies himself at the time at Cormon's studio in Paris. The painted studies he made in early 1887 after plaster models of antique sculptures display striking similarities to Degas's pastels. He positioned torsos of Venus, for instance, in a similar way to how Degas represented his nudes, and Van Gogh was also indebted to his fellow artist for the use of hatching in different colours to model the figures. The same painterly style of cross-hatching is found in several of the landscapes and still lifes he produced in Paris.

Van Gogh Museum

The Van Gogh Museum has long cherished the wish to add a top-ranking Degas nude to its collection, preferably one from the period in which Van Gogh discovered the French artist's work. For that reason, Woman Bathing will remain on permanent display following its unveiling today. The Dutch national collection has been immensely enriched by this acquisition, as it had previously lacked any such fully worked-out drawings or paintings by Degas. The Van Gogh Museum did manage, however, to procure an exceptional monotype by the artist not so long ago. The beautifully executed pastel Woman Bathing now adds another remarkable work of art by this leading Impressionist to our collection.

This acquisition has been generously supported by the BankGiro Loterij, the Mondriaan Fund, the Triton Collection Foundation and the Members of The Yellow House.
( Press Release Image: https://photos.webwire.com/prmedia/7/254158/254158-1.jpg )
Related Links
WebWireID254158

This news content was configured by WebWire editorial staff. Linking is permitted.
News Release Distribution and Press Release Distribution Services Provided by WebWire.