5G Robotics on show for World leaders in Davos
Ericsson is teaming up with 5G partners ABB and Swisscom to highlight the value of adopting Industry 4.0 solutions to global political and business leaders at the World Economic Forum in Davos, Switzerland
WEBWIRE
–
Tuesday, January 21, 2020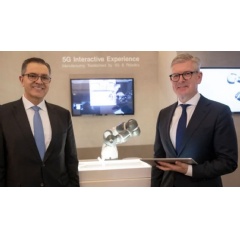 Peter Voser, CEO and Chairman, ABB, and Börje Ekholm, President and CEO, Ericsson, at the World Economic Forum demo.
The three partners have been granted the rare privilege of staging a demo at the World Economic Forum. The 5G Robotics demo will be hosted in two locations: the event Congress Hall and Registration Hall.
The demonstration - which comprises two cloud-connected ABB robots over Swisscom's Ericsson-powered live 5G network, showcases human-robot collaboration and control over wide distances utilizing the real-time communication capabilities of 5G. Text and names can be written by visitors at one demo station and mirrored in real time by the second robot writing on sand 1.5km away.
With 5G-enabled smart manufacturing set to transform industry and enterprise in coming years, the demo is designed to show delegates the power of 5G to replace traditional wired industrial set-ups and to highlight the role of humans-robot collaboration in smart manufacturing. Digital twins in manufacturing supports better operational design on site as well as improving life cycle management and overall equipment efficiency.
The three partners will also highlight the link between 5G Robotics and the sustainability gains resulting from flexible factories to remote maintenance services. The combination of waste reduction and service enablement will support the future output and global trend of customized demand.
The sustainability benefits are in line with the 2020 World Economic Forum event theme of Stakeholders for a Cohesive and Sustainable World, and the UN Sustainable Development Goal Number 9 covering investments in industries, innovation and infrastructure - to promote sustainable development and empower communicates.
Börje Ekholm, President and CEO, Ericsson, says: "5G technology partnerships across business, government and society are key to developing the digital economy. By embracing and enabling such partnerships, new digital opportunities can be realized to benefit the global economy, national economies, and businesses of all sizes."
Peter Voser, CEO and Chairman, ABB, says: "ABB will continue to drive the digital transformation of the industry by investing in innovative solutions and products. Our partnership with Ericsson and Swisscom helps us to seize the full potential of 5G for industrial manufacturing."
Urs Schaeppi, CEO Swisscom, says: "The joint demo uses our live 5G network in Davos to give a glimpse of the capabilities and various possibilities of 5G for manufacturing and robotics. The time is now to step in to 5G."
Åsa Tamsons, Senior Vice President and Head of Business Area Technologies and New Businesses at Ericsson, says: "This is also about highlighting the importance of partnerships in Industry 4.0 to business and political world leaders. Ericsson, ABB and Swisscom have worked closely to pool expertise and achieve pioneering developments in 5G for smart manufacturing. By embracing collaboration and partnerships with multiple stakeholders, governments and business will catalyze value creating solutions to the digital economy."
Sami Atiya, President of ABB's Robotics and Discrete Automation business says: "Today, the flexibility of factories is limited by the amount of data that can be processed, because of the lack of reliable, low-latency and high-bandwidth connectivity. Replacing traditional hard wires with 5G mobile networks will take the interconnection between machines, materials and people to a new level – helping to drive the shift from mass production to mass customization by supporting the shift to flexible manufacturing cells where manufacturing lines can be constantly reconfigured to accommodate changing manufacturing needs."
Christoph Aeschlimann, CIO & CTO Swisscom, says: "Our joint demo with ABB and Ericsson demonstrates the capabilities of 5G for robotics and manufacturing on our commercially live network. 5G is here and ready to be deployed. Those stepping in now will be rewarded with a competitive edge."
Find out more about Ericsson and ABB: Shaping Wireless Automation
Find out more about Ericsson and Swisscom: Swisscom 5G
Find out more about Ericsson Sustainability and Corporate Responsibility
( Press Release Image: https://photos.webwire.com/prmedia/7/253797/253797-1.jpg )
Related Links
WebWireID253797

This news content was configured by WebWire editorial staff. Linking is permitted.
News Release Distribution and Press Release Distribution Services Provided by WebWire.