Braskem, Biowash and Greco & Guerreiro sign partnership to launch packaging made from biobased plastics and post-consumer resin
The combination of resins used in the solution for homecare products reduces by up to 168% the emissions of CO2 , a greenhouse gas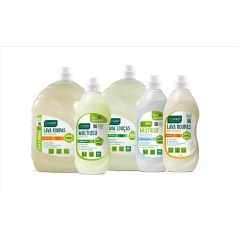 Working to drive the circular economy in packaging as well, one of its main business segments, Braskem announces another partnership to leverage the development of sustainable solutions. All 1-liter and 5-liter packaging of the Brazilian company Biowash , a pioneer in the development of 100%-biodegradable natural homecare products, now will be made from a mixture of renewable plastic, made from sugarcane , and post-consumer resin (PCR).
"The initiative reinforces the movement towards the circular economy, which is very important to Braskem and depends substantially on working together with our clients, partners and society in general. In this context, we are seeking more partnerships to develop new solutions that meet market trends, considering important aspects such as prior selection of raw material, design and the product's reintroduction into the production cycle through recycling," explained Rafaela Baldin, who is the client's main interface at Braskem.  
Reinforcing the importance of collaboration, the partnership also includes the converter Greco & Guerreiro , which is responsible for producing and supplying the new sustainable packaging to Biowash. The containers, which are used for concentrated multipurpose cleaners, laundry detergent and dishwashing soap, will contain 60% Braskem's biobased plastics and 40% PCR resin obtained from recycled plastic products.
Since more than half of its composition is the biobased I'm greenTM plastic, which during its production captures CO2, an important greenhouse gas, the solution captures 6.30 tons of CO2 every year, which represents a reduction of up to 168% in emissions compared to conventional packaging solutions. According to Braskem, the volume of CO2 captured every year by the product is six times larger than the amount of CO2 absorbed by 1,000 new trees grown over ten years. 
And because it contains post-consumer resin, the packaging is even more sustainable, since it contributes to plastic waste being used as a raw material and gaining a new use in the production chain. "Using 40% natural PCR incorporates more sustainability into the packaging, while improving, without the use of dyes, the visual impact, which makes a difference at the point of sale. The collaborative effort, the awareness raised, the social inclusion of recyclable material collectors and cooperatives and the focus on circular economy combine all the values that have guided the business of Greco & Guerreiro over its 30 years in the market," said Marcelo Guerreiro Mason, the company's sustainability director.  
According to Biowash, the partnership goes far beyond its permanent commitment to quality and to respect for the environment. "This is Biowash's first step in delivering sustainable packaging, but we are still counting on consumers to do their part, by always sending their bottles for recycling," said Becky Weltzein, the company's managing-partner. 
In addition to signing partnerships for developing and improving its I'm greenTM portfolio, which includes bio-based and post-consumer solutions, Braskem continues to invest in actions to strengthen conscientious consumption and the contribution of plastics to the sustainable development of society. 
 "The packaging addresses important issues, such as the safety of the final product, but it also represents the face of the brand and reinforces its identity in the market and with consumers, which leads us to believe that the partnerships we forge in this segment will help us convey a positive message to society. More importantly, we believe that engaging in the value chain will help us to advance in our purpose, which is to improve people's lives by creating sustainable solutions in chemicals and plastics, such as the new packaging for Biowash," concluded Baldin. 
About Biowash
Founded in 1981, Biowash is a pioneer in 100%-natural homecare products. Biowash currently markets 24 items, which are all biodegradable, vegan and plant-based and hold the important IBD certification and Empresas BTM seal. Biowash's portfolio also includes dermatologically tested and hypoallergenic products for people with allergies. Biowash is a Brazilian company that values best market practices and respect for the environment.
About Greco & Guerreiro
Founded in 1990 in Morungaba, São Paulo, Greco & Guerreiro employs over 800 employee in its plants that produce 60 million blown-molded bottles per month. A reference in the use of post-consumer recycled material, Greco & Guerreiro is a signatory to the Global Commitment, an initiative of the Ellen MacArthur Foundation and the United Nations Environment Programme (UNEP). With HDPE and PET blow-molding, injection molding, filling and transportation units, the group operates in the personal care, homecare, food, pharmaceutical, hospital and automotive segments.
( Press Release Image: https://photos.webwire.com/prmedia/6/253714/253714-1.jpg )
Related Links
WebWireID253714

This news content was configured by WebWire editorial staff. Linking is permitted.
News Release Distribution and Press Release Distribution Services Provided by WebWire.