Announcing the 20 tech startups set to pitch at the Rising Stars 2.0 Grand Final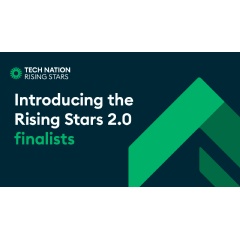 After an intensive two day semi-final, in which the regional winners received first-class pitch training from Billy Webber, Jill McKinney and their team from Sunderland Software City, and made their final pitches, we are so excited to reveal the 20 finalists who will proceed to pitch at the Rising Stars 2.0 Grand Final for the chance to become one of the 10 Rising Stars of 2020.
Our judging panel, which included Jess Jackson from GC Angels, Simon Jacobson from Microsoft Advertising and Neil Purcell from Talent Works International, watched the regional finalists make their pitches last Thursday at The Studio in Manchester. Each pitch was marked on value proposition, competitive advantage, market traction, team experience and potential to scale.
The 20 successful companies will make their final pitches at the Rising Stars 2.0 Grand Final at 30 Euston Square, London in February.
So, without further ado, here are the finalists for Rising Stars 2.0.
Meet the Finalists
ClearGlass
London | Fintech | @ClearGlassL
ClearGlass is a digital intermediary between asset managers and pension funds. It collects underlying costs and performance data from asset managers and helps pension funds decide which is the best fund to invest in for their members.
Codices Interactive
Truro | Digital Entertainment | @quizkit
Codices Interactive provides viewers with a live interactive video platform, enabling any broadcaster to create interactive shows. Its first product is now the most used gameshow creation tool on the Twitch platform, with 1,000+ monthly active broadcasters and 300,000 unique monthly viewers.
CoGrammar
London | Tech for Good | @hypdev
CoGrammar operates the largest coding education provider in Africa – HyperionDev. Through this, they source, select, train, and integrate full-time code reviewers from top African tech talent. This allows Western companies to affordably assess developers and technical team quality, whilst creating hundreds of jobs in African countries.
Conundrum
Cambridge | Industrial Autopilot |@conundrumai
Conundrum is AI-powered software for industrial companies. It oversees a whole production process and assists factory engineers in decision making, helping to reduce waste and downtime.
Culture Shift
Manchester | Tech for Good | @reportsupport_
Culture Shift's tech-for-good product Report + Support is a revolutionary online platform that allows victims and witnesses of any kind of bullying, abuse or harassment to report it, either anonymously or with details. The system also signposts those in need of support and provides organisations with vital information to help them tackle toxic behaviour and cultures.
Drinkly
Edinburgh | Ecommerce & Marketplace | @wearedrinkly
Drinkly is a drinks-on-demand service that promises "chilled beers, spirits and wines to your door in one hour". Over 650 carefully-curated drinks and snacks are available for delivery to customers in Edinburgh, Glasgow and London. 
Filmily
Totnes | Adtech & Marketing | @filmilyapp
Fans at large scale events record every moment and share it on social media and currently rights owners get little or no value from it. Filmily's patented algorithms collect content from thousands of phones, automatically learn about it through AI and edit the clips together to create branded films.
Foundries.io
Cambridge | Devices & IoT | @FoundriesIO
Foundries.io is addressing security and device management for IoT and Edge devices. FoundriesFactory is a self-service cloud solution that provides turnkey services to develop, secure, deploy and maintain embedded IoT and Edge compute products. They enable secure IoT devices and provide lifetime software maintenance at a fraction of current costs.
Gener8
London | Adtech & Marketing | @Gener8Ads
Gener8 enables people to monetise their own data. They do this through tailoring the advertising that people see online and sharing the advertising revenue with them.
IMGeospatial
Slough | Tech for Good | @IMGeospatial
IMGeospatial changes the way you see the world, by changing the way the world uses data. It deploys artificial intelligence in unconventional ways, to digest, distill, and disseminate data efficiently, regardless of how imperfect or vast that universe of data becomes. 
Moneyshake
Newport | Fintech | @moneyshakeuk
A car lease comparison website that provides a quick, easy-to-use UX experience which streamlines deals from some of the UK's top leasing brokers. Their pioneering technology is set to evolve "price comparison" to "price competition". 
Neatebox
Edinburgh | Tech for Good | @neatebox
Tackling personal loneliness and communication, the Neatebox "Welcome" platform removes barriers and promotes empathetic relationships between consumers and customer service teams, promoting real societal change and heralding a new age of understanding and communication. 
Pitchbooking
Belfast | Ecommerce & Marketplace | @PitchBooking
Simplifying the bookings process for sports facilities to help make sport accessible to everybody, Pitchbooking's platform delivers the best way to find, book, and manage sports facilities. It eliminates the administration of managing facilities, increases bookings for facilities, and helps get local populations more active. 
Resooma
Cardiff | Ecommerce & Marketplace | @resoomahq
Resooma is the first subscription-based, end-to-end rental platform designed around the needs of the tenant. The platform uses technology which enables tenants to search, view, secure and manage their home, taking the stress out of renting. 
Shopper.com
Birmingham | Ecommerce & Marketplace | @shopperdotcom
Shopper.com is a community driven global marketplace for online and offline voucher codes, covering thousands of e-commerce sites. It automatically applies the best value voucher code at checkout in one click for both mobile and desktop devices.
Sparkbox
Southampton | SaaS | Sparkbox.co
Working in the retail and fashion space, Sparkbox uses machine learning to reduce stock, improve profitability, and prevent over-discounting by optimising prices. Their AI helps retail teams leverage their data, understand the impact of pricing decisions and make the most of the inventory they own. 
Talking Medicines
Glasgow | Healthtech & Biotech | @TMedicines
Talking Medicines captures the digital voice of the patient, aggregating it into patterns of behaviours and commercialising it to brand managers in pharmaceutical companies through subscription access. They put patient centricity at the core of what they do, aiming to improve outcomes of medicines.
tootoot
Manchester | SaaS | @tootootofficial
tootoot is award-winning software that supports the psychological safety and wellbeing of individuals within education, sport and the workplace. tootoot provides a way for individuals to raise a concern to their organisation with complete confidentiality.
UrbanChain
Altrincham | Blockchain/AI & Energy | @UrbanChain_
UrbanChain develops world-leading products and services by using blockchain and AI technologies to integrate services in utility sectors, such as energy, transportation and health. They aim to transform these markets, democratise their structure, and optimise and integrate processes to reduce the costs for end users. 
We Build Bots
Cardiff | AI | @wbb_ai
We Build Bots delivers AI powered automation to the public sector, helping organisations deliver better, faster and cheaper citizen services. Leveraging bots, voice and conversational analytics, they help the public sector make better use of the data they collect, making it more predictive and more productive. 
Continue to follow the Rising Stars competition by signing up to our newsletter below, or following @TechNation on Twitter.
As always, we'd like to thank our Rising Stars sponsors BDO Drive, Microsoft, Soldo, Talent Works International and TLT, for their valued ongoing support.
( Press Release Image: https://photos.webwire.com/prmedia/7/253687/253687-1.png )
Related Links
WebWireID253687

This news content was configured by WebWire editorial staff. Linking is permitted.
News Release Distribution and Press Release Distribution Services Provided by WebWire.