It's time to tackle biodiversity loss, but post-2020 Global Biodiversity Framework Draft is too shy in addressing root causes
Framework for action on biodiversity loss talks of tackling roots causes, but must be more ambitious to address corporate conflict of interest, ensure rights for Indigenous Peoples and Local Communities, and include global equity measures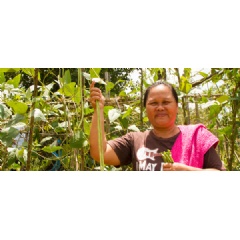 Image: Malaysia, 2019 © Amelia Collins, Friends of the Earth International
To avoid ecosystem collapse we need an agreement that ensures the world starts living within planetary boundaries and reduces inequality."
2020 is hailed as the "super year" for biodiversity: an opportunity to address the dire state of the natural world, in the wake of urgent calls from scientists and civil society. The UN Convention on Biological Diversity (CBD) recently published its Zero Draft of a plan – the post-2020 Global Biodiversity Framework – in preparation for its major global summit in October. The Draft will form the basis of discussions on global action to address biodiversity loss for the next decades.
Friends of the Earth International's initial analysis is that the Draft makes encouraging advances towards a system where the root causes of biodiversity are tackled. It lacks, however, crucial aspects for achieving this change, including recognition of rights for Indigenous Peoples and Local Communities (IPLCs), and mechanisms for equity, justice and mitigation of impacts on vulnerable Southern countries. It also frustratingly continues to promote false solutions which place a price on nature, such as biodiversity offsetting, and co-operation with the private sector – risking a similar level of corporate interference seen at the UNFCCC climate summit and other multilateral governance spaces.
"To avoid ecosystem collapse we need an agreement that ensures the world starts living within planetary boundaries and reduces inequality. While this Draft takes shy steps towards addressing the economic sectors that drive biodiversity loss, a lot more must be done. We must tackle corporate interests and set clearer limits to their destructive activities." – Nele Mariën, Forests and Biodiversity Coordinator, Friends of the Earth International
Having failed to meet the Aichi targets for biodiversity protection, set by the CBD in 2010, countries will meet in Kunming, China this October, for the 15th Conference of the Parties (CBD COP15). This "Paris Summit for biodiversity" is expected to establish a landmark global pact to tackle the biodiversity crisis. Scientific analysis presented in May 2019 by the Intergovernmental Science-Policy Platform on Biodiversity and Ecosystem Services (IPBES) emphasized that urgent, "transformative change" is needed to prevent collapse.
The Draft makes some important improvements on previous targets. It includes a "whole governance approach", whereby all relevant government ministries must regulate economic sectors which have an impact on biodiversity. These sectors include agriculture and fisheries, forestry, energy, mining, infrastructure and tourism. It references the importance of transforming most perverse incentives and subsidies that harm ecosystems, and aims to reform the above-mentioned sectors towards sustainable practices along national and transnational supply chains.
The repeated inclusion of Indigenous Peoples, Local Communities, women, youth and civil society in implementation processes gives us hope.
However, the draft is missing a number of essential elements, calling in to question its scope for achieving the transformative change so urgently needed. There is a risk that, echoing  prominent figures' speeches and many countries' submissions, the Draft merely pays lip service to real action.
Destructive Corporate Activities
Despite steps towards addressing some of the negative impacts of industry on biodiversity, the Draft alarmingly avoids mention of overexploitation of resources, marking a regression from the Aichi targets. Worse, there's even a call for increasing production. It fails to recognize the negative impacts of monoculture agrocommodities and pesticides, nor does it call for divestment from destructive projects. The CBD must prohibit dangerously destructive and extractive activities – such as mountaintop and deep-sea mining, arctic drilling, mega-infrastructure, amongst others – if we are to remain within planetary boundaries.
Corporations have a vested interest in avoiding strict regulation and any attempts to scale down their profit-driven activities. As long as they have a seat at the negotiation table, no measures will be taken to live within planetary boundaries. Yet instead of seeking to reduce corporate conflicts of interest – a controversial issue in the CBD – the Draft repeatedly promotes closer collaboration with the private sector, and states that increased production will be necessary.
Rights, Justice and Equity
The absolute failure to recognize the impact Northern consumption has on countries in the global South is disappointing. The Draft does not recognize the historic and current impacts of resource exploitation and the implications this has for resource distribution today. Mentions of justice, equity and poverty reduction are missing, as is any obligation for wealthy countries to provide resources to support just transition in the global South
The rights of Indigenous Peoples and Local Communities (IPLCs) – who play a fundamental role in defending ecosystems globally – are not sufficiently addressed. Recent calls for a "rights based approach" are alluded to in the Draft's introduction, but absent from the decision text. There is no mention of Human Rights, or Defenders of the Environment and Territories, or defense against ecocide.
"Areas conserved by Indigenous Peoples and Local Communities are proven to be in a better state than other types of protected areas. Yet, this Draft does not reference the role of these peoples in conservation, or the basic rights they need for this. On the contrary, the call for "land under strict conservation" makes us fear a new wave of evictions and exclusion of biodiversity-dependent communities from their natural territories, with negative consequences for livelihoods, Human Rights and Nature." – Rita Uwaka, Environmental Rights Action/Friends of the Earth Nigeria
Solutions and Conservation
As expected, the Draft places much attention on conservation. However, conservation is discussed in terms of numbers – how many species preserved, what size of area protected, etc – rather than taking in to account the functionality and variety of ecosystems, and the need for a holistic biosphere vision. It also fails to recognize the fundamental role of IPLCs in functioning ecosystems.
We know from experience that solutions like Agroecology and Community Forest Management or Indigenous Communities Conservation Areas (ICCAs) really work to protect forests and biodiversity. Yet, these solutions are totally absent from the Draft, which instead repeatedly mentions the financialization of nature through false solutions like offsetting schemes, "nature based solutions" and "no net loss". The only saving grace being that it does not propose a major offsetting based scheme or mechanisms for financialization, as has occurred in the UNFCCC.
National Plans and Targets
While it's clear for everybody that we have to start living within planetary boundaries, there is no clarity on how the national targets will add up to do so. The target-setting and follow-up plans appear very similar to the system of voluntary targets and "ratcheting up" that is so ineffective in the UN climate, human rights and other arenas. There are no compliance mechanisms to ensure countries meet their voluntary commitments, despite emphasis on the importance of monitoring and review.
2020 is a huge moment for the climate and biodiversity. Now is the time to stop talking in terms of distinct crises biodiversity, climate, food, inequality – but rather tackle them all as one interconnected crisis, through total system change.
This Zero Draft makes some shy steps in the right direction, but lacks ambition and details for achieving change. New iterations must address conflict of interest of transnational corporations, and ensure the rights of IPLCs, tackle ecocide and include a global equity framework.
"The Biodiversity Summit in Kunming is a unique opportunity to define a policy framework that brings the world back within planetary boundaries, advances environmental, social, economic and gender justice, and avoids ecosystem collapse. To achieve this, we need nothing less than system change. We must tackle the root causes of biodiversity loss – concentration of wealth and power, and the architecture of impunity that benefits transnational corporations. The CBD must set up stringent regulations to halt corporate activities destroying biodiversity, while realizing the rights of Indigenous Peoples, peasants and Local Communities to collectively manage their territories. For this to happen, vested corporate interests must be kept out of the negotiation process." – Karin Nansen, Chair, Friends of the Earth International
Reference: Friends of the Earth International submission on the Global Biodiversity Framework (2019)
( Press Release Image: https://photos.webwire.com/prmedia/7/253669/253669-1.jpg )
Related Links
WebWireID253669

This news content was configured by WebWire editorial staff. Linking is permitted.
News Release Distribution and Press Release Distribution Services Provided by WebWire.