Master Builders Solutions® concrete admixtures – enabling premium fairfaced concrete and increased efficiency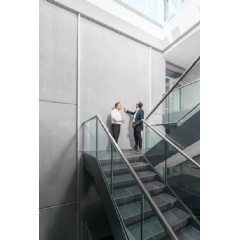 Sustainable solutions for improved profitability
MasterFinish cleaner and release agent ensure void-free surfaces and reduce cleaning costs by about 30 %
MasterEase plasticizer optimizes the rheology properties of high-performance concrete and accelerates production
Reduced stickiness of the concrete minimizes equipment wear and lowers energy consumption by about 20 %
Fairfaced concrete is as popular as ever and remains in high demand for interior finishing and facade design. Visually attractive surfaces require superior concrete quality. This is where Master Builders Solutions® concrete admixtures come in: They ensure void-free, smooth and sharp-edged concrete surfaces that meet the highest requirements on esthetics and design and, at the same time, increase the profitability and ecology of precast-element production. The broad portfolio offers solutions across the entire production process, from plasticizers and hardening accelerators to release agents to formwork cleaners. The experts from Master Builders Solutions will assist in selecting the right combination of products to find the ideal solution for every challenge.
Customer references from across the world bear testimony to the success: German-based precast manufacturer IDEAL Beton, for instance, places the utmost emphasis on esthetics and sustainability. The company is part of the HUF Group and exclusive supplier for the popular range of prefabricated HUF houses: "With regard to concrete elements, it is important to have flawless surfaces", says managing director Sascha Stroeder. Customer requirements are high, and the fairfaced concrete has to be particularly smooth and of superior esthetics. For their release agent, too, IDEAL Beton have opted for an eco-friendly product. "In the combination of a MasterFinish release agent and a MasterFinish cleaner we have found a solution that is exempt from hazardous labeling and that meets our high demands in terms of fairfaced-concrete quality", Stroeder says.
Reduced cleaning costs and increased formwork service life
"Furthermore, cleaning costs have been reduced by approximately 30 % and formwork service life has increased by 50 %."[1] The MasterFinish portfolio supports a wide variety of specific applications. "In the case of IDEAL Beton, we tested a wide range of products locally for a week to select the right combination of products", reports Cengizhan Zor, Marketing Auxiliaries DACH at Master Builders Solutions. The MasterFinish products selected are made using 98% renewable raw materials and are readily biodegradable. While the release-agent emulsion provides perfect formwork removal after each concreting cycle, the cleaner is used once a week. "This makes formwork cleaning significantly more straightforward. All rust, foamed-polystyrene and cement residue present on the tables can be removed, and perfect void-free surfaces are the result", Cengizhan Zor says. And since the release agent is no longer applied manually but using a spray-bar system, dosage quantities could be reduced as well, resulting in further cost reductions.
MasterEase for optimized rheological properties
Austrian-based precast manufacturer Systembau Eder, too, places great emphasis on immaculate concrete surfaces: "Using MasterEase, quality is consistent throughout, with sharp edges and without any air voids. This is what our customers expect", says Franz Josef Eder, engineer and managing director, Systembau Eder. "And realizing even very specific customer requirements isn't a problem either." A groundbreaking new plasticizer, MasterEase substantially improves the rheology properties of concrete. The novel technology enables resource-saving concrete optimization and concrete surfaces of outstanding quality – properties that are of enormous benefit to Systembau Eder, particularly in the production of complex precast elements. Viscosity is reduced and the concrete is less sticky. "As a result, concrete surfaces often are smooth as glass", says Wolfgang Marisch, Technical Consultant, Master Builders Solutions. MasterEase supports the casting of very complex precast elements, thus facilitating the realization of unusual, nonstandard customer requirements: "Increasingly, our customers are demanding colored concrete", says Franz Josef Eder. "Or surface treatments such as sand-blasting. In all of this, MasterEase truly is the perfect solution for us." Franz Josef Eder specifically praises the significant increase in profitability enabled by MasterEase: "Due to the improvement in early strength, we can even have two concreting cycles per day if required, and wastage has been reduced to the per-mil range."[2] Thanks to its improvement of concrete rheology properties, MasterEase also reduces abrasion and wear during mixing, making the process more energy efficient. For Systembau Eder, this resulted in a reduction in energy consumption of 20 %.
The above success stories are part of the Master Builders Solutions "Quantified Sustainable Benefits" campaign, launched across Europe in 2017. The campaign focuses on projects where customers were able to increase their productivity while, at the same time, reducing costs and emissions thanks to the advanced chemistry provided by Master Builders Solutions. The campaign was awarded the German digital-communication award (Deutscher Preis für Onlinekommunikation) for "best microsite" in 2018, and in 2019 it received the German Brand Award in the "storytelling and content marketing" category. It has also been nominated for the 2020 German Design Award.
The success stories from the "Quantified Sustainable Benefits" campaign can be found at: www.sustainabilty.master-builders-solutions.basf.com
About the Construction Chemicals division
BASF's Construction Chemicals division offers advanced chemical solutions under the global umbrella brand Master Builders Solutions for the construction, maintenance, repair and renovation of structures. The brand is built on more than 100 years of experience in the construction industry. Our comprehensive portfolio encompasses concrete admixtures, cement additives, chemical solutions for underground construction, waterproofing systems, sealants, concrete repair & protection systems, performance grouts, performance flooring systems, tile-fixing systems, expansion joints & control systems and wood protection solutions.
The Construction Chemicals division's more than 7,000 employees form a global community of building experts. To solve our customers' specific construction challenges from conception through to completion of a project, we draw on our specialist know-how, regional expertise and the experience gained in countless constructions projects worldwide. We leverage global BASF technologies and our in-depth knowledge of local building needs to develop innovations that help make our customers more successful and drive sustainable construction.
The division operates production sites and sales offices in more than 60 countries and achieved sales of about €2.5 billion in 2018.
About BASF
At BASF, we create chemistry for a sustainable future. We combine economic success with environmental protection and social responsibility. The approximately 122,000 employees in the BASF Group work on contributing to the success of our customers in nearly all sectors and almost every country in the world. Our portfolio is organized into six segments: Chemicals, Materials, Industrial Solutions, Surface Technologies, Nutrition & Care and Agricultural Solutions. BASF generated sales of around €63 billion in 2018. BASF shares are traded on the stock exchange in Frankfurt (BAS) and as American Depositary Receipts (BASFY) in the U.S. Further information at www.basf.com.
[1] Figures provided are based on an actual case from the precast concrete element factory IDEAL Beton in Montabaur, Germany. The value is defined for the combination of MasterFinish CLN 689 with MasterFinish RL 297 or MasterFinish RL 211.
[2] Figures provided are based on an actual case from the precast concrete element factory EDER Systembau in Peuerbach, Austria
( Press Release Image: https://photos.webwire.com/prmedia/6/253287/253287-1.jpg )
Related Links
WebWireID253287

This news content was configured by WebWire editorial staff. Linking is permitted.
News Release Distribution and Press Release Distribution Services Provided by WebWire.