Virgin Media's tech guru reveals top trends from CES 2020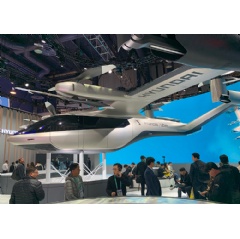 It's extremely difficult to summarise the world's largest Consumer Electronics Show (CES) in just a few words, so I'll condense it into the key trends that really stood out instead.
There are broadly five key areas that can be categorised from a purely tech perspective (although it has to be said that the use of AI transcends all of the categories and is the next tech on the way up the hype curve).
Entertainment
Mobility
Audio
Internet of Things
Health & Wellbeing
Entertainment
There was a mass of 8K screens on display, ranging from those smaller in size up to an enormous 236" wall busting screen. 8K refers to the screen resolution, which far surpasses the current 4K screens available today. Although this gigantic screen is extremely impressive, it currently comes with a seven figure price tag so isn't necessarily coming to a household near you anytime soon.
In addition to a host of mesmerising 8K screens, I also eagerly observed a range of rotating screens that allow you to show applications and videos, shot in portrait mode, on a much bigger screen – all at the touch of a button on the remote.
Like to be fully immersed in your TV watching? IMAX Enhanced launched its in home IMAX experience of both sound and picture quality to provide that IMAX experience in the home.
Mobility
The entire North Hall at the Las Vegas Convention Centre was dedicated to mobility – there were concept cars from manufacturers including Honda, Nissan, Ford, Fiat, Chrysler, Audi, BMW and Mercedes to name just a few.
Voice control within cars was a hot topic and Amazon appears to be pushing this heavily, with a new focus on infotainment and the user experience beyond driving. One of the most favoured sights seemed to be Lamborghini featuring an integrated Amazon Alexa. Amazon announced that Alexa will be available across Lamborghini's entire Huracán Evo range, offering seamless integration that enables drivers to control a wide-ranging list of functions in the car, for example turning on heated seats, with just their voice.
Multi passenger drones from Bell and the Uber drone from Hyundai gained a lot of attention too. Hyundai and Uber debuted a full scale mock-up of an electrically powered personal air vehicle which will have the capacity to carry up to four passengers and reach speeds of up to 180mph. The future of passenger travel could look very different if the displays at CES are anything to go by.
Audio
Headphones have undergone a resurgence, with a host of manufacturers releasing new in ear headphones with additional features with links to health and wellbeing, and the potential of integration to hearing aids.
Open ear headphones generated lots of noise too. This technology offers the ability to project music either from the front of the ear of via vibrations, without covering the ear. It's a strange sensation when the base kicks in as the tickle takes some adapting to, but perfect for the ability to use while exercising or if you're out and about but want to maintain the ability to sense the environment safely.
Smart speakers continue to dominate. There was plenty of adoption of both Google Assistant and Amazon Alexa being integrated in sound bars, smart speakers, lamps and even retro digital turntables.
Health & Wellbeing
Health and wellbeing hit the big time at CES, with more than 400 exhibitors dedicated to healthy living.
Top trends on display included:
Proactive health monitoring and body composition analysis
Indoor Air Quality monitoring
Heart Monitoring wearables including watches, bands and t shirts
Smart beds
DNA recommended diets
Yes, you read the last one correctly. A UK company will assess your DNA and then provide you with a wristband that has a barcode reader. You'll be recommended food based on barcodes combined with your genetic propensity to various conditions and a diet targeted to mitigate them.
However, the technology that caught my attention in this area was a cap that enabled hair regrowth. I mean – this is the utopia right!
This year's CES presented a whole host of impressive, thought provoking technology which really pushes innovation and is more imaginative than ever before. With so many advanced technology solutions on the horizon, I for one am excited to see how they progress.
Simon Clement, Advanced Technology & Innovation
( Press Release Image: https://photos.webwire.com/prmedia/6/253254/253254-1.png )
Related Links
WebWireID253254

This news content was configured by WebWire editorial staff. Linking is permitted.
News Release Distribution and Press Release Distribution Services Provided by WebWire.