ASUS Republic of Gamers Unveils New Gaming Lineup at CES 2020
All-new gaming laptops, desktops, displays and peripherals bring new levels of performance, innovative features and striking design to elevate the gaming experience
Las Vegas, NV –
WEBWIRE
–
Tuesday, January 7, 2020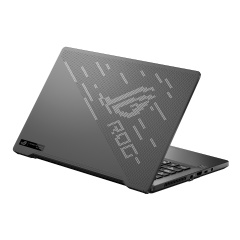 ROG Zephyrus G14
ASUS Republic of Gamers (ROG) today unveiled an all-new lineup of gaming innovations at CES 2020 that deliver top-tier performance, features and aesthetics to ensure superior experiences for all types of gamers. The new lineup include the ultraslim ROG Zephyrus G14, the world's most powerful 14-inch gaming laptop and ROG Swift 360Hz, the world's fastest gaming monitor. Additional highlights include the ROG Swift PG32UQX gaming monitors, ROG Pugio II and ROG Strix Impact II Wireless gaming mice and the ROG ITX Z11 case.
ROG Zephyrus G14 is a 14-inch gaming laptop teeming with power from new AMD Ryzen™ 4000 Series Mobile Processors and an NVIDIA® GeForce RTX™ 2060 GPU, giving serious gamers the firepower they need to dominate the battlefield. ROG Swift 360Hz is a 24.5-inch Full HD gaming monitor with an insanely fast 360 Hz refresh rate for ultra-smooth gaming performance. ROG Swift PG32UQX is a high-performance 4K HDR gaming monitor with G-SYNC ULTIMATE, NVIDIA's highest G-SYNC® certification. ROG Pugio II is a versatile and customizable gaming mouse with a 16,000 dpi sensor. ROG Strix Impact II Wireless is a powerful wireless gaming mouse with more than 2.5X the wired model's maximum sensitivity and features Aura Sync lighting. ROG ITX Z11 is a sleekly designed case with RGB LEDs and a patent-pending 11° tilt for showcasing and heat dissipation.
Other products on display at the ROG Media Showroom include the ROG Strix GA15 and ROG Strix GA35 gaming desktops. ROG Strix GA15 delivers serious esports performance in an economical package, while ROG Strix GA35 features an up to 16-core AMD Ryzen™ 9 3950X CPU and ROG Strix GeForce RTX™ 2080 Ti graphics card to deliver serious performance for gaming and content creation. ROG is also displaying two custom system builds that showcase the aesthetic and performance possibilities achievable with ROG components: the sleek and pristine ROG Strix White Edition build and the ROG TRX40 motherboard build with a concept AIO cooler design for high core count 3rd Gen AMD Ryzen™ Threadripper™ CPUs.
The latest ROG gaming innovations will be on display to CES 2020 visitors Jan. 6–9 at the ASUS Media Showroom at the Planet Hollywood Las Vegas Resort & Casino.
GAMING LAPTOPS
ROG Zephyrus G14
The ROG Zephyrus G14 gaming laptop brings unprecedented power to an ultraslim 14-inch form factor, wrapping powerful processors in a compact chassis portable enough to go anywhere. Despite a chassis that's only 17.9 mm thin, Zephyrus G14 features carefully customized cooling that brings out the best of its AMD Ryzen™ 4000 Series Mobile Processor made with 7nm fabrication technology and NVIDIA® GeForce RTX™ 2060 GPU. Users can optimize for gaming or creative pursuits with a choice between 120 Hz high-refresh and high-resolution displays, both with PANTONE® Validated colors and adaptive sync technology. Over 10 hours of battery life and the ability to charge from compatible Type-C power packs makes the Zephyrus G14 highly portable.
Subtle styling in Moonlight White or Eclipse Gray gives ROG Zephyrus G14 a clean and professional look, and the optional AniMe Matrix™ display deepens personalization, enabling users to show custom graphics, animations, and other effects across more than a thousand mini LEDs embedded in the lid.
DISPLAYS
ROG Swift 360Hz
ROG Swift 360Hz is the world's fastest gaming monitor. Compared to widely available 240Hz gaming monitors, the ROG Swift 360Hz can put out a whopping 50% more frames every second — supplying esports and competitive gamers with the edge they need to win. With a comfortable 24.5-inch display size and its Full HD resolution, the ROG Swift 360Hz features the same unmistakable design that graces the ASUS lineup of its highest-end ROG gaming monitors.
ROG Swift PG32UQX
ROG Swift PG32UQX is the ultimate 4K high-dynamic-range (HDR) gaming monitor. Featuring an advanced G-SYNC ULTIMATE processor with the latest HDR features, the 32-inch 16:9 display is illuminated by full-array local dimming backlight with 1152 Mini LED zones that let the PG32UQX display the brightest highlights and darkest blacks of a scene with incredible contrast and minimal haloing. Small highlights in games, like light bulbs or the disc of the sun, can reach peak brightness of up to 1400 nits, offering a more lifelike HDR experience than ever before. The Mini-LED backlight can also turn off as needed when it comes to darker scenes.
The G-SYNC processor drives variable refresh rates up to 144Hz and support for 10-bit color throughout the refresh rate range ensures that the PG32UQX always shows off games, movies and desktop applications at their best. With NVIDIA G-SYNC technology, users will enjoy smooth, tear-free gameplay even when frame rates fall below the monitor's peak 144Hz refresh rate, and with the incredibly capable panel and backlight inside, ROG Swift PG32UQX is certified as NVIDIA G-SYNC ULTIMATE. All G-SYNC Ultimate-certified displays undergo a rigorous validation process and are subjected to 300 image quality tests to ensure they deliver consistent quality and maximum performance.
PERIPHERALS
ROG Pugio II
ROG Pugio II is an ambidextrous wireless gaming mouse featuring a 16,000 dpi sensor that can keep its focus even under acceleration of up to 40 g and movement rates of up to 400 inches per second. Making full use of the sensor is effortless, owing to a host of customizable features that make the mouse behave exactly the way gamers want. ROG Pugio II offers choices of wireless technologies, configurable side buttons, a personalized badge, an exclusive push-fit switch socket design and RGB light zones. No matter how gamers want the mouse to work, ROG Pugio II can deliver.
ROG Strix Impact II Wireless
The ROG Strix Impact II Wireless mouse is an exemplary device that elevates any gaming experience. Its 16,000 dpi sensor paves the way for more than 2.5X the wired model's maximum sensitivity with 400 inch-per-second accuracy. This means users can move the mouse much faster than before while maintaining pinpoint precision. ROG Strix Impact II Wireless is also capable of keeping its focus at up to 40 g of acceleration. The combination of high performance, optimized comfort and attractive aesthetics make the Impact II Wireless a significant step up for users seeking competitiveness in their gaming endeavors while freeing themselves from the constraints of a cord. The Impact II Wireless can add a bit of extra RGB flair to an Aura Sync-capable PC as well.
ROG ITX Z11
The ROG ITX Z11 case features an innovative interior layout with a patent-pending 11° tilt design, which enables better heat dissipation and component showcasing as well as support for up to an ATX power supply unit and 2080 Ti graphics card mounted vertically without a riser. The case also provides excellent thermal performance via a chimney effect conducive to vertical ventilation, ample space behind the motherboard and additional cable management space. ROG ITX Z11 offers a premium design with a 1.2 mm aluminum frame to ensure chassis construction strength, two tempered-glass panels and an internal extension hub for adding addressable RGB fans and LED strips, USB headers and PWM fan connectors. Furthermore, this chassis features a standing design that allows users to display it vertically or horizontally. An additional version of ROG ITX Z11 is also available featuring an embedded 1.77-inch LiveDash color OLED on the front panel displays useful system information, such as temperatures, voltages, fan speeds, or frequencies. Gamers can also customize LiveDash to display a customized image or animation to highlight their clan insignia or gamertag.
ROG GAMING DESKTOPS
ROG Strix GA15
The new ROG Strix GA15 gaming desktop focuses on gaming fundamentals for serious esports performance in an economical package. With a lean profile and light weight, ROG Strix GA15 leverages the latest generation of dynamic processors to handle hardcore gaming, streaming and multitasking. The desktop fits its power in a compact 10 kg package and offers a built-in carrying handle for easy portability. It also features an efficient cooling design and up to an AMD Ryzen™ 7 3800X CPU with eight cores and 16 threads to easily handle demanding and varied workloads.
ROG Strix GA35
ROG Strix GA35 is a gaming desktop engineered to sustain smooth gameplay under serious pressure and offers the flexibility to perform a wide range of tasks, from producing top-quality streams to developing games. Featuring an up to 16-core AMD Ryzen™ 9 3950X CPU and ROG Strix GeForce RTX™ 2080 Ti graphics card, ROG Strix GA35 is built to handle demanding workloads like content creation and heavy-duty multitasking. The graphics card's massive triple-fan cooler stands tall in an optional vertical mount, while a 240 mm radiator chills the CPU with liquid cooling. These are part of a comprehensive cooling system that includes a multizone chassis optimized for airflow. The all-new case is simple to open and upgrade, giving gamers the freedom to build upon their investment. Customization is easy with a deep suite of personalization features like Aura Sync lighting, Keystone II technology and Scenario Profiles.
CUSTOM GAMING CONCEPT BUILDS
ROG Strix White Edition concept build
Following the release of ROG PNK LTD gaming gear in 2019, ROG is rolling out all-new color-themed white edition products that will empower ROG gamers to stand out from the crowd. The collection of white edition components offers a pristine aesthetic, and ROG will showcase an example of these white components in an all-white AMD X570-based concept build at CES 2020. While this concept build might look completely different from the outside, the underlying technology remains the same to provide the same high level of performance while giving gamers another option for expressing their personal style.
The ROG Strix White Edition concept build features a range of components for a sleek aesthetic:
Motherboard: ROG Strix X570-E Gaming White Edition (Concept)
AIO cooler: ROG Strix LC 360 RGB White Edition
Graphics card: ROG Strix GeForce RTX™ 2080 Ti White Edition
Power supply: ROG Strix 850W White Edition
Case: ROG Strix Helios White Edition
ROG TRX40 build with concept enthusiast sTRX4 AIO cooler
The ROG TRX40 concept build showcases the high level of performance and cooling system builders can achieve with ROG components. The foundation of the build is the ROG Zenith II Extreme motherboard equipped with a 3rd Generation AMD Ryzen Threadripper CPU. A concept ROG AIO cooler made in partnership with Asetek is specifically designed for the large AMD sTRX4 socket and features a larger cold plate that completely covers the processor and a dual-fin copper radiator to deliver maximum cooling performance. The build also fills all eight RAM slots on the Zenith II Extreme with a total of 256 GB of high-performance Corsair DDR4 RGB Dominator® Platinum RGB DIMMs running at 3600 MHz. Zenith II Extreme is the only TRX40 motherboard available that is able to operate stably with this configuration of RAM capacity and speed.
( Press Release Image: https://photos.webwire.com/prmedia/5/252831/252831-1.png )
Related Links
WebWireID252831

This news content was configured by WebWire editorial staff. Linking is permitted.
News Release Distribution and Press Release Distribution Services Provided by WebWire.