Murder Trial: The Disappearance Of Margaret Fleming
A mystery disappearance, a suspected secret guarded for 16 years, a murder trial in search of answers - two-part documentary Murder Trial: The Disappearance Of Margaret Fleming has unprecedented access to the investigation and subsequent trial of co-accused Edward Cairney and Avril Jones, the first time a murder trial has ever been filmed in Glasgow High Court.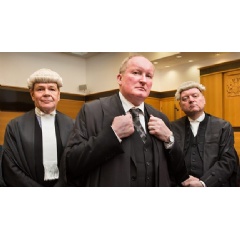 Filmed by Bafta Scotland award-winning director Matt Pinder, this ground-breaking documentary takes the audience into the very centre of the trial at Glasgow's High Court and beyond as carers Cairney and Jones face trial for the murder of 35-year-old Margaret Fleming.
Produced by Firecrest Films - the team behind the acclaimed BBC Scotland series Murder Case - this documentary series offers a compelling insight into the work of the police and prosecutors in bringing the two suspects to trial, shining a light on the work of the defence teams representing the two accused of Margaret's murder.
In a co-commission between BBC Two and BBC Scotland, exclusive in-court access to this incredible case was granted by the Lord President of the Court of Session, the trial judge Lord Matthews, The Crown Office and Procurator Fiscal Service and Police Scotland.
Murder Trial: The Disappearance Of Margaret Fleming was commissioned by Patrick Holland, Controller of BBC Two, Clare Sillery, Head of Commissioning, Documentaries and David Harron, Commissioning Executive, Factual for BBC Scotland. The Commissioning Editors for the BBC are David Harron, Hamish Fergusson and Max Gogarty. The Executive Producers for Firecrest Films are Iain Scollay and Lorraine McKechnie. The series is directed by award-winning filmmaker Matt Pinder.
Murder Trial: The Disappearance Of Margaret Fleming is a Firecrest Films production for BBC Scotland and BBC Two.
------
The Margaret Fleming murder trial
Margaret Fleming, Victim
Edward Cairney, First Accused
Avril Jones, Second Accused
Lord Matthews, Judge, High Court of Scotland
Iain McSporran QC, High Court of Scotland Prosecutor
Thomas Ross QC, Defence Counsel for First Accused - Edward Cairney
Ian Duguid QC, Defence Counsel for Second Accused - Avril Jones
Background to the Margaret Fleming murder trial
In 2016 an application for a Personal Independence Payment raised suspicions. When authorities couldn't contact the applicant, the police were called and it was discovered a 35-year-old woman had seemingly vanished from a village on the west coast of Scotland.
Margaret Fleming was a vulnerable adult understood by authorities to be in the full-time care of Edward Cairney and Avril Jones, living in a remote coastal property in the village of Inverkip. But when police asked neighbours about Margaret, they were told she hadn't been seen for nearly 20 years.
Just before Christmas in 1999 the then 19-year-old Margaret had seemingly disappeared. Yet not one person had reported her missing.
In the murder trial that unfolds across this two-part documentary series, Cairney and Jones stand accused of killing her, disposing of her body and claiming benefits in her name for 16 years.
With remarkable in-court access to an unfolding trial that gripped Scotland, this is the story of a prosecution without a body and a community without answers.
Filmed both inside and outside of the courtroom, this case will take viewers deep into the inner workings of Scotland's justice system, as a small community coming to terms with the prospect of a potentially brutal and calculated crime occurring unnoticed in its midst.
Interview with award-winning director, Matt Pinder
As a filmmaker, what challenges did you face making Murder Trial: The Disappearance Of Margaret Fleming?
I think our biggest challenge was condensing a year-long police investigation and an eight-week murder trial into two one-hour films.
As you can imagine, we generated a lot of material both inside and outside of the court and it was a huge job to edit all that down into a story that the audience could follow but also stayed true to the complex nature of the court process and the intricate details of the case.
Why do you think the Margaret Fleming case makes such compelling viewing?
Opening the door to the largely unseen world of the criminal justice system is fascinating. And then there's the Margaret Fleming case itself which was shrouded in complete mystery and intrigue from the get go. No body had ever been recovered, there was no crime scene, no CCTV, no eyewitnesses, no direct evidence that a crime had been committed. The police spent a year investigating it going into great detail.
There was also this incredible location on the west coast of Scotland, a stunning part of the world on the banks of the River Clyde but behind that great natural beauty there were some dark secrets lying beneath.
Most people don't get to see inside a real-life courtroom and how it operates day to day. It can be a daunting experience going to court in any capacity. Hopefully this series will give viewers an insight into how it all works so that if they ever have to serve on a jury or give evidence in a trial they'll have a better idea of what to expect.
Both prosecution and defence had really strong arguments all the way through and it was very difficult to tell who, at various points, had the upper hand so to speak. Right up until the closing statements from the lawyers it was a case that could really have gone either way. Fascinating to watch it unfold and hopefully we've managed to put that into these two films.
The Margaret Fleming case shocked Scotland and the rest of the UK - why is it important to tell the tale of her murder trial?
In terms of Margaret, I'd like to think that these films will help to bring her life back into focus. The fact that a young, vulnerable woman was massively let down by the system was a driving force in why we made this film - by making this documentary we wanted to show that she wasn't forgotten.
In general, I think, it's important that, wherever they can, the police and the justice system as a whole should be as transparent as possible. The public need to have faith in these institutions, need to have an understanding of how they work. They also need to know that cases like these will be meticulously investigated.
As a documentary film-maker, what skills were paramount in the telling of this case?
I think being open and honest about what you're trying to do with any documentary is paramount to the integrity of the project and the strength of the relationships you build with the contributors. In this case we were working with lawyers and the police, who would have seen through us very quickly if they thought we weren't being genuine.
The film needed to have an attention to detail and, in this case, there was no one piece of key evidence that either the prosecution or defence were relying on, it was a circumstantial case and you could only properly assess it once all the evidence had been heard and a complete picture had been presented.
So, as a filmmaker, you have to stay focussed and we had some important decisions to make editorially - for instance, we didn't use voiceover in this series as we felt it would detract and the film would lose its authenticity. But what that does mean is that every line of dialogue has to do a job for you.
You also have to have a sense of how you're visually going to tell the story especially when such a large part of the action takes place in the one room, you've really got to work hard at keeping it visually interesting.
Before the cameras started filming, what relationships did you have to build to make this documentary possible?
So we'd been filming series one of Murder Case and during that process we were able to build up lots of really great relationships with Police Scotland and particularly the Major Investigations Team (MIT) which was the department who were ran the Margaret Fleming case.
Then, in the build up to the trial, we had to make sure that everyone who was involved was comfortable with having the cameras around starting with the judge, the judiciary staff, the Crown Office and in particular the prosecuting QC, Iain McSporran. Each of the accused had their own defence counsel - Thomas Ross QC and Ian Duguid QC - so they needed to be on board too. But, fortunately, everyone could see the benefits of making this series to let audiences get a sense of what goes on in Scottish courts.
How long did the film-making process take?
We started filming with some of the senior detectives in the Margaret Fleming case as far back as July 2018.
At that time it was with a view to making a film solely about the police investigation into her case but by the time the trial came about there had been some changes in the protocol of filming inside Scottish courts which made it possible for us to make an application to film the trial.
Through some really incredible work by Firecrest Films, the application was accepted and we were allowed in.
It took around four weeks to sort out the logistics and rig the court with the cameras and the equipment then the trial lasted for eight weeks, and finished in the middle of June. But the longest part was what happened after that with all the filming we did around the trial and the edit which we've only just finished.
So, all in, it took around seven or eight months to complete with the groundwork to make it actually happen going back a good couple of years.
How many cameras were in the court room during the trial?
We rigged Courtroom 6 of the High Court in Glasgow with eight small remote controlled cameras. We wanted them to be as unobtrusive as possible so that they wouldn't interrupt any of the proceedings. We also needed to record what was being said, obviously, so there were around 30 microphones in the court alongside what was already there.
Practical challenges we faced were rigging the court with cameras that weren't going to get in the way of the proceedings but were also flexible enough to get us the coverage we needed.
How closely did you work alongside the police and the justice system?
I think the access we've had to the Crown Office and Police Scotland is pretty unprecedented. There are films which either follow the detectives, or the lawyers but rarely do you see them in the same series together. And particularly being on the shoulder of Iain McSporran, the prosecuting QC, both inside and out of the court as the trial unfolds was a TV first.
We really go through the trial with him, experience the ups and downs with him and I'll be forever grateful to Iain for allowing us to do that.
Although they represent very different sides of a trial, what attributes do you think unite the prosecution and defence lawyers involved in a case like this?
I think what both sides would tell you is that the worst outcome in any trial is if someone who is innocent ends up getting sent to jail. In that sense, both the prosecution and defence are working in the public interest to try and make sure we have a fair and balanced justice system. If the state accuses a citizen of a crime, that person should have the right to a fair trial - it's a fundamental part of democracy.
All the QCs and lawyers that we filmed with are natural and gifted orators which is an obvious bonus when you're making a film which depends so much on what people are saying. I guess the flip side of that is you end up generating a lot of really great material you then have to edit down but it's a good position to be in.
Through this process, what did you learn?
Professionally speaking it was a big project for me in terms of there were a lot of firsts. It was the first time I'd ever shot a multi-camera rig, first time I'd ever done vision mixing, and it was the first time I'd worked with such a big crew. Usually it's just me, the producer/fixer and a camera so it was a great opportunity.
The bigger thought for me though is that even after the criminal justice system has run its course, the questions of why and how these things can happen still remain. How can Margaret Fleming just disappear for so long and no one be concerned enough to raise an alarm or ask how she is. There is a serious case review that is being commissioned looking into what happened to Margaret so hopefully some lessons can be learnt through that but also we as individuals, and society as a whole, need to ask ourselves - are we doing enough to look out for the vulnerable members of our communities? We need to make sure these people are being properly cared for.
What projects have you got coming up?
Well there's another series of Murder Case coming down the line and hopefully we'll get into the courts again to follow another trial.
( Press Release Image: https://photos.webwire.com/prmedia/6/252829/252829-1.jpg )
Related Links
WebWireID252829

This news content was configured by WebWire editorial staff. Linking is permitted.
News Release Distribution and Press Release Distribution Services Provided by WebWire.