Reliable rail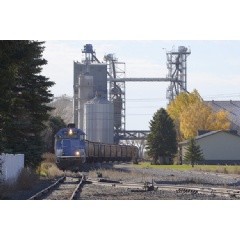 Rail continues to be a cost-effective transportation source for ag products.
Railroads have been a crucial link between farms and the global marketplace for decades. With an estimated one-third of U.S. crop acres dedicated to supplying world markets, a robust railroad system is key to moving large amounts of grain and crop inputs across the country.
In 2016, rail carried 25 percent, or 141.1 million tons, of U.S. grain, according to the USDA. More than half of U.S. wheat and about 40 percent of the nation's milo (grain sorghum) moves by rail.
614
freight railroads in the U.S.
136,898
freight railroad miles in the U.S. 
Source: Association of American Railroads
"Railroads are one of the most cost-effective ways to transport grain on land, especially for large volumes traveling a long distance," says Brock Lautenschlager, director, CHS Rail Services. Much of that efficiency comes through effective use of fuel. On average, the rail system can move a ton of freight 470 miles on a gallon of fuel, compared to 70 miles per gallon by truck. Without railroads, an estimated 120 million additional trucks would need to travel on U.S. roadways to move freight carried by trains each year, according to the Association of American Railroads.
Relying on Rail
For Central Valley Ag Cooperative in York, Neb., rail transportation is key to managing costs and keeping things moving. The cooperative has 70 locations throughout Nebraska, Kansas and Iowa and provides grain, feed, agronomy and energy services. Sixteen of those locations are served by rail.
"Rail creates a number of efficiencies," says Casey Potter, Central Valley Ag merchandising manager. "We can move large volumes of grain in a short period of time, which allows us to manage labor costs, and unit trains reduce transportation costs so we can provide fertilizer at a lower price point."
Central Valley Ag handles wheat, corn, soybeans and milo and ships 60 percent of it over the rails.
"Railroads provide our patrons opportunities to access world markets," says Potter.
New technologies and investment in shuttle trains have improved access and railway efficiencies over the last decade, but rail transit isn't immune to problems caused by external forces. When severe weather hits, delays happen. Labor shortages within the rail industry are also an issue, says Potter. "To keep costs down, we need to load trains within 15 hours. We schedule our crews based on a train's scheduled arrival, but if the train is delayed, our crews are sitting on call until the train shows up. That drives up costs and lowers morale."
Cooperative Connections
"In a typical year, CHS ships or receives more than 30 million tons of product via rail, giving us considerable insight into how railroads are performing," says Lautenschlager. "We work with rail carriers to understand their strategies and performance and look for ways to improve efficiencies and reliability that benefit everyone. Our goal is to provide an efficient, reliable and cost-effective rail option to meet the transportation needs of our owners."
1.5 MILLION
carloads of grain and other farm products
moved on Class I railroads in 2018
Source: Association of American Railroads
Having eyes on the market year-round also provides helpful insight. "CHS ships via rail 365 days a year, so we know how railroads are performing in real time and if there are delays," says Lautenschlager. "This information provides CHS with a unique advantage in managing our supply chain, particularly for commodities that ship seasonally throughout the year, because it reduces surprises and allows CHS to take proactive measures to better serve our owners."
Grain accounts for about 75 percent of the product CHS ships by rail annually. Crop nutrients, refined fuels, propane, ethanol, DDGS (distillers dried grains with solubles) and oilseed products make up the remaining 25 percent.
$25 BILLION
average annual private
investment in U.S. railroads
Source: Association of American Railroads
"Investing in our own facilities has also improved logistics," says Lautenschlager. In 2013, CHS invested in new and expanded propane storage facilities along railroads in the Midwest when the Cochin pipeline stopped moving propane. And upgraded fertilizer facilities have improved unloading times. "We have facilities that can unload 100-car trains in less than 24 hours," says Lautenschlager.
Future Focused
With more than 600 freight railroads today, which are primarily privately owned and operated, the U.S. has one of the most robust rail systems in the world. As the economy grows, preparing for freight growth and maintenance will be crucial, says John Engelen, vice president, CHS Government Affairs.
The Federal Highway Administration estimates that by 2040, freight shipments will increase by 35 percent to about 24 billion tons.
"Railroads are just as important as our river system," says Engelen. "CHS regularly meets with our rail partners and the Surface Transportation Board to educate them about the need for reliable agricultural rail service."
( Press Release Image: https://photos.webwire.com/prmedia/6/252795/252795-1.jpg )
Related Links
WebWireID252795

This news content was configured by WebWire editorial staff. Linking is permitted.
News Release Distribution and Press Release Distribution Services Provided by WebWire.