Tests Start in Sardar-e-Jangal
TEHRAN (NIOC) –
WEBWIRE
–
Friday, December 27, 2019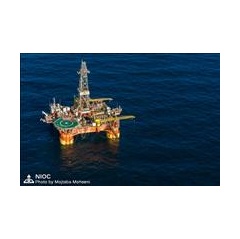 Ahmad Shirzadi, exploration director at Khazar Exploration and Production Company (KEPCO), has announced the start of two major projects within areas run by this company.
He said one project was development of Sardar-e-Jangal oil field and another one was the continuation of exploration operations in the prioritized structures in the middle section of the Caspian Sea.
He said that necessary arrangements would be made for long-term tests in Sardar-e-Jangal field in the near future.
Shirzadi said a working group comprising experts from the divisions of drilling; petroleum engineering and construction had been set up to conduct technical studies and plans for this purpose.
 "Upon conclusion, the workstream for long-term testing at the Sardar-e-Jangal oil field would be drawn up and submitted to the Directorate of Corporate Planning of National Iranian Oil Company (NIOC) for credit allocation," he said.
Shirzadi said: "After the drilling of two wells in the Sardar-e-Jangal oil field, week-long tests were carried out. But based on deepwater standards, these two wells are required to be tested six to eight months in order to get further information from the reservoir and reduce risks to the final output of the field. To that end, we would need storage vessels as well as vessels for carrying oil onshore."
He said: "Given the necessity of using high-tech equipment for long-term tests and production in the Caspian Sea deepwaters, KEPCO experts are conducting feasibility studies for the supply of necessary equipment. We will enter operation and implementation phase after winning the approval of NIOC Board of Directors."
Shirzadi referred to the background of exploration in the Caspian Sea, dating from 60 years ago, saying: "With the objective of access to hydrocarbon reserves in northern areas that are not far from energy-rich areas in the south and in a bid to break dependence on Turkmenistan's gas, we have tried to realize oil and gas exploration through drilling various wells."
He added: "To that end, 17 exploration wells have been drilled in Gorgan Plain. In light of acceptable specifications of reservoir rock, as well as light hydrocarbons, none of these wells have been assessed as an economical source of energy."
 "Geophysical, geological and petroleum engineering studies in parallel with studies on reservoir risk analysis led to the discovery of 46 geophysical structures which are of significant offshore hydrocarbon potential," he said.
Shirzadi said in 2004, in order to draw a clearer and more precise picture of prioritized structures, 3D seismic testing was conducted in Blocks 6, 7, 8 and 29. He added that the seismic testing allowed for the identification of exploration drilling locations.
He touched on the history of planning for building the semi-submersible Amir Kabir platform as well as the supporting platforms (Caspian 1, Caspian 2 and Caspian 3) in 2002 for drilling in the deep sections of the southern half, saying: "Following the conclusion of platform construction in February 2010, drilling started for Well No. 1 of Structure 6.2. This operation ended in May 2012 and Sardar-e-Jangal emerged as the first Caspian Sea structure," he said.
Shirzadi said: "After the conclusion of drilling operations for the first well, geophysical and geological studies located a spot for a second well, 1,400 meters far from the first well."
He added: "The reason for drilling the second well was first to assess the expansion of the discovered reservoir layer in the first well as well as drilling deeper layers for exploring the main reservoir zones in Chelkan Formation because based on the Caspian working group studies, six reservoir zones (specified with geophysical phenomena) could be evaluated. We have explored a reservoir zone in the first well, but we need deeper drilling to reach deeper zones."
Shirzadi said drilling operations for the second well were carried out in 2014.
Deepwater Technology Nationalized
Shirzadi said in light of oil discovery in Sardar-e-Jangal field, drilling of the first and second deepwater wells resulted in a good event, jump and fundamental growth in Iran's petroleum industry.
He added: "The deepwater drilling knowhow that had been monopolized by a few international companies has been largely nationalized. However, it must be noted that deepwater technology and knowhow are growing fast in the world and such savvy and technologies are desperately needed."
Shirzadi said that two main routes had been drawn up for exploration and production activities in the Caspian Sea. He said the first one involved development of Sardar-e-Jangal, which requires appraisal and development wells, as well as supply of production equipment. The second option would be the continuation of exploration activities in the prioritized structures.
He said: "By studying the process of development of deepwater fields' development in the world and in light of development activities in other Caspian Sea littoral states we have to take into consideration certain important issues."
Shirzadi said: "First and foremost, due to the extremely high capital costs, in the drilling and development of deepwater fields, macro plans have to be taken into consideration."
He added: "Second, due to technical and economic risks in the development of deepwater fields, teaming up with international investment companies would be a must."
Shirzadi said the existence of 46 geophysical structures in the southern Caspian Sea, one of which being the Sardar-e-Jangal field, has to be taken seriously "because other Caspian Sea states would not sit idle and will make maximum use of their international potential for maximum recovery."
He said: "Apart from all that, it has to be taken into consideration that upgrading the deepwater technology through effective training and international transactions is an inevitable must and we hope that the huge hydrocarbon deposits in the southern Caspian Sea would be recovered for further economic benefits through coherent and stable planning in light of better international conditions. We hope that one day we would see progress in the northern oil zones on part with the southern oil zones."
Courtesy of Iran Petroleum
( Press Release Image: https://photos.webwire.com/prmedia/6/252381/252381-1.jpg )
Related Links
WebWireID252381

This news content was configured by WebWire editorial staff. Linking is permitted.
News Release Distribution and Press Release Distribution Services Provided by WebWire.