Fully booked eTravel World 2020 with new exhibitors and sessions
Over 250 international exhibitors present the latest trends and innovations in the key travel technology market at the ITB Berlin eTravel World – The ITB Berlin Convention features lectures, discussions, workshops and new formats along with established eTravel experts
WEBWIRE
–
Friday, December 20, 2019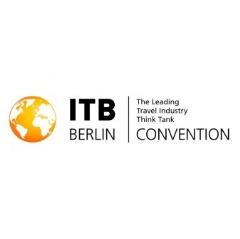 The digital transformation in the global tourism industry is moving ahead: AI, wide-ranging messaging services, online booking systems, new payment solutions and intelligent hotel apps – the travel industry has numerous instruments which it must use to keep pace with expanding digitalisation and corresponding customer demands. From 4 to 7 March 2020 at ITB Berlin, the eTravel World will be providing concentrated information on the topic of travel technology.
The halls have been fully booked since November 2019, reflecting how hugely important travel technology is for the tourism industry. More than 250 exhibitors from around the world will be presenting new technologies, digital marketing and social media in Halls 6.1, 7.1b and 7.1c. Hall 5.1 is where visitors can find suppliers of distribution systems, travel agency and tour operator software. In addition to regular exhibitors a whole range of leading enterprises will be taking part for the first time, including Airbnb, Nezasa and Trainline.
Visitors to the ITB Berlin Convention at the World's Largest Travel Trade Show can find out about the latest developments and future trends from the worlds of apps, mobile websites, social networks and blogs from workshops, lectures, discussions and new formats. Daily from 10.30 a.m. to 1 p.m. on the eTravel Stage in Hall 6.1, for the first time international companies will be highlighting best cases in order to present their innovations and product news. Another new event is the daily Start-up Track. From 1 to 2 p.m. three startups respectively will deliver their pitches and during interviews will be talking about the pitfalls, challenges and lessons learnt.
On Friday, 6 March 2020 from 10.30 a.m. to 1.30 p.m., for the first time the Data Talks Forum will be taking place at the eTravel Lab (Hall 7.1). Major technology providers including Amadeus (Monika Wiederhold), Sabre (Tom Fecke) and Peakwork (Joao Gonzaga) will be talking about AI, data usability and seamless travel data, among other topics.
Following its successful launch in 2019 the TTA Forum will be taking place again next year at the eTravel Lab. On Wednesday, 4 March 2020 from 2 to 6 p.m., industry experts including the CEOs of Evaneos, (Eric de la Bonnardière), Bookingkit (Lukas Hempel) and Rezdy (Chris Atkins) will be talking about the challenges involved in marketing in-destination services. In their keynotes they will be presenting best cases, and based on the latest surveys will be talking about which direction the travel industry's third-largest segment is taking. On Thursday, 5 March from 2 to 6 p.m., the hotel trade will be meeting for the third time at the eTravel Lab's Hospitality Tech Forum, which is organised in partnership with the Hospitality Industry Club. Leading players including TrustYou, the world's largest visitor feedback platform, the Fraunhofer Gesellschaft, Lindner Hotels, A & O Hotels and Hostels, 25hours Hotels and Accor will be represented on the podium.
A wide range of topics on two stages
Trade visitors looking for smart solutions and innovative ideas in the key travel technology market can find out more at various discussion rounds and lectures on the stages of the eTravel Lab and eTravel Stage. On Wednesday, 4 March 2020, experts will be reporting product news on payment solutions, super apps and chatbots. At the Asia Panel the general managers Jeremy Beck of Rakuten and Qiang Zhong of Meituan as well as Ritwik Khare, the chief branding officer of Makemytrip, will be among those discussing the various developments taking place in China, Japan and India as well as the challenges facing OTAs. On 5 March 2020, day two of the show, in addition to hospitality tech product news, discussion will focus on smart mobility and startups, the latest AI and Voice news, and practical examples will be given of social media marketing channels such as Tik Tok as well as new ideas for marketing destinations. A critical influencer discussion round, news on self-driving vehicles and the Hotseat format with Alexa will promise fascinating insights. On Friday, 6 March 2020 at the eTravel Lab, after the Data Talks Forum (from 10.30 a.m. to 1.30 p.m.) until 5 p.m., the focus will be on bloggers, influencers and storytellers. At the same time, starting at 2 p.m. on the eTravel Stage, specialists will be highlighting the potential of travel podcasts, a trending medium, from the point of view of both business customers and consumers.
New round of special events on the Saturday of ITB
The specialist programme at the eTravel World on Saturday, 7 March 2020 from 11 a.m. to 2 p.m., to which admission is free, has become a firmly established fixture of the ITB Berlin Convention. Both the free DRV seminars on the subject of online marketing and the Hotelcamp powered by Hospitality Industry Club will be providing tourism professionals and hotel owners with an opportunity to closely examine the latest issues and work together with experts on individual solutions.
More information about the eTravel World can be found online at: www.itb-berlin.de/en/ITBBerlin/DestinationsSegments/ETravelWorld/.
About ITB Berlin and the ITB Berlin Convention
ITB Berlin 2020 will be taking place from Wednesday, 4 to Sunday, 8 March, and from Wednesday to Friday will be open to trade visitors only. ITB Berlin is the World's Leading Travel Trade Show. In 2019 a total of 10,000 companies and organisations from 181 countries exhibited their products and services to around 160,000 visitors, including 113.500 trade visitors. Parallel with the show the ITB Berlin Convention, the largest event of its kind, will be held from Wednesday, 4 to Saturday, 8 March 2020. Admission to the ITB Berlin Convention is free for trade visitors and exhibitors. For more information please visit www.itb-berlin.com, www.itb-convention.com and the ITB Social Media Newsroom.
As of now you can obtain accreditation for ITB Berlin 2020 online at www.itb-berlin.de/en/Press/Accreditation/.
Join the ITB Press Network at www.linkedin.com.
Become a fan of ITB Berlin at www.facebook.com/ITBBerlin.
Follow ITB Berlin on www.twitter.com/ITB_Berlin.
Get the latest updates from the Social Media Newsroom at newsroom.itb-berlin.de/en.
You can find press releases on the internet at www.itb-berlin.com under the section heading Press / Press Releases. Make use of our information service and subscribe to our RSS feeds.
( Press Release Image: https://photos.webwire.com/prmedia/7/252079/252079-1.jpg )
Related Links
WebWireID252079

This news content was configured by WebWire editorial staff. Linking is permitted.
News Release Distribution and Press Release Distribution Services Provided by WebWire.