CAT Cooperates with Huawei for First Premium Private Line Service in Thailand
Bangkok, Thailand –
WEBWIRE
–
Thursday, December 19, 2019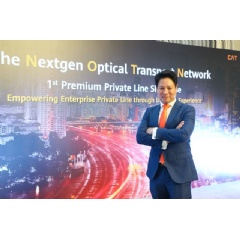 CAT Telecom Public Company Limited, together with Huawei Technologies (Thailand) Co. Ltd., announced the launch of OTN Premium Private Line service in Thailand. The service aims to support public and private large enterprises in the country with advantages of increasing bandwidth, with availability of up to 99.99 percent, more flexibility and higher security than traditional Private Line services, ahead of the digital transformation trend for 2020. This event was participated by Dr.Surapant Meknavin Director , CAT Telecom Public Company Limited, Colonel Sanpachai Huvanandana President , CAT Telecom Public Company Limited, Dr. Dhanant Subhadrabandhu Senior Executive Vice President ( Marketing and service), Mr. Woragarn Likhitdechasak Deputy Executive Officer Network Division, Mr. Claudio Lugari Director of DWDM Global Solution Sales, Ms Julie Ning Country Head, Thailand Representative Office CMI etc. at Chatra Ballroom 1-2, 2nd Floor of the Siam Kempinski Hotel Bangkok.
With a continuing increasing use of cloud computing technology in large enterprises, CAT Telecom Public Company Limited, together with Huawei, seeks to strengthen the Private Line service in Thailand by launching the innovation of Optical Transport Network (OTN) Premium Private-Line, to meet the demands of enterprises in using a network with higher efficiency, including greater speed for data transfer, and better network stability and heightened network security.
Commenting on the cooperation, Dr. Dhanant Subhadrabandhu, Senior Executive Vice President (Marketing and Service) of CAT, said "As the largest communication and data network service provider, with the biggest coverage in Thailand, CAT is committed to push the boundary of Private Line service in Thailandby being the first carrier in the country to provide the OTN Premium Private Line Service with Huawei, including isolation pipes to ensure exclusive security of private lines, any-service access, guaranteed E2E millisecond-level stable latency,protection against multiple fiber cuts and this also strengthens our Business-to-Business sector within CAT. It is also another driving force in pushing forward the development of CAT business in 2020."
Claudio Lugari, Sales Director at DWDM Global Solutions Huawei, added "The usage of cloud computing technology in enterprises is now boosting. By 2025, more than 80 percent of enterprises across the world will use cloud service. First of all, more than 87 percent of enterprises considered security and reliability of the Private Line Service as a priority. Besides, financial transaction seek private lines with as low latency as possible. The continuing increase in data usage among consumers and organizational customers has resulted in an increased demand for enterprises worldwide to use the OTN Premium Private Line Service, and such demand is likely to increase in the future."
Woragarn Likhitdechasakdi, Deputy Chief Technology Officer of Carrier Network, Huawei Technologies (Thailand) Co. Ltd. stated "The cooperation in launching OTN Premium Private Line Service between CAT and Huawei will help prepare Thai businesses and government sectors that are implementing comprehensive digital transformation in 2020, which will need higher reliable connectivity between data centers on cloud services to transfer large quantities of data, between headquarter and branches for latency sensitive application of bank, hospital, etc.
Mr. Liu Tao, director of Huawei's Carrier Business Dept in Thailand, said, "With the advent of the 5G and cloud era, Digital economy is developing by leaps and bounds. OTN quality private line network is the cornerstone of digital economy. Huawei will help CAT to build an end-to-end OTN private line network with high quality to serve thousands of industries. Speed up the economic development of Thailand. "
CAT's premium OTN private line network uses Huawei's end-to-end OTN+iMaster NCE solution. Helps enterprise users to connect to cloud by one hop based on the OTN hardware pipe. The network has five key features:
High security and wide coverage: End to end OTN covering whole Thailand to provide exclusive hard pipes and physically isolated
High availability: 99.99 percent reliability with ASON protection.
Guaranteed ultra-low latency: promised low latency and latency visualized.
Intelligent and agility: CPE plug and play, service provisioning in one day.
Better experience: network resource visualization, service survivability analysis online.
CAT and Huawei's OTN Premium Private Line Service will be the solution that meets the need to connect the enterprises' databases through cloud service and facility. These enterprises to conduct their businesses with security, stability and efficiency, with system crash-rate as low as 0.01 percent."
The remarkable OTN Premium Private Line Service includes more efficient security, further reduced latency and increased bandwidth, and high network flexibility. Therefore, it suits large enterprises that need high-speed network with reliability and security such as airlines, banks, hospitals or governmental enterprises. Compared to former Private Line Services, the OTN Premium Private Line Service provides more stable bandwidth with usage rate that has increased by up to 99.99 percent and enables customization by users to meet their specific needs.
( Press Release Image: https://photos.webwire.com/prmedia/6/252014/252014-1.jpg )
Related Links
WebWireID252014

This news content was configured by WebWire editorial staff. Linking is permitted.
News Release Distribution and Press Release Distribution Services Provided by WebWire.