GEA: Award for milestones in separation technology
The renowned trade magazine PROCESS has now honored GEA for its milestones in separation technology, which have had a decisive impact on the industry.
WEBWIRE
–
Tuesday, December 17, 2019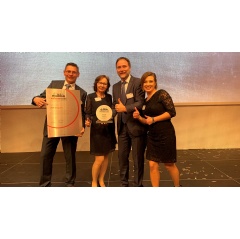 The GEA delegation at the award ceremony in Augsburg with Alexander Lange, Andrea Heuser, Norbert Strieder and Katharina Schulz are delighted with the award from GEA. (Photo: GEA)
At the presentation of the "Milestone Award" in the Vogel Convention Center at Würzburg, representatives of the award winners emphasized GEA's role as a "mastermind, initiator and innovation driver" in the industry. Alexander Lange, GEA Global Sales – Chemical Technologies, was delighted with the award, which, by the way, was presented for the first time. "As a process specialist, GEA has been offering technologies for decades that cover almost all separation processes for the chemical, pharmaceutical and food and beverage industries. The solutions are tailored to the requirements of the various customers. In this context, our processes and product developments have contributed to important technological developments in key industries," said Alexander Lange.
Separation technology - a core competence of GEA
GEA supplies plants for the thermal separation of multi-component mixtures by distillation/rectification, evaporation and crystallization. With these processes, high-purity substances can be obtained that are required for further processing into high-quality products. For the separation of solids from liquids, GEA offers a large number of drying technologies such as spray, fluidized bed and freeze drying, which are used in the production of powders of all types, whether inorganic or organic.
GEA attaches great importance to energy savings
Since thermal processes are very energy-intensive, GEA's main focus is on energy saving. The energy that is fed into a system is reused through specially developed technologies and clever thermal interconnection. A strong plus in terms of energy consumption.
Membrane filtration
Mechanically good: Cross-flow membrane filtration is the technology for many industrial processes that require separation or concentration of products without heat application. There are applications in biotechnology, chemical-pharmaceutical industry, food industry and dairy industry. Cross-flow membrane filtration protects heat-sensitive products and at the same time offers precise separation through the use of specially selected membranes and system configurations.
Centrifuges
If a high solids content comes into play, the decanter hits the hour. They ensure high clarification performance and the highest possible dewatering or separate liquids while simultaneously separating the solids. Using centrifugal force, they separate suspensions consisting of two or more phases with different densities.
Emission Control
Separation technology processes in exhaust air purification pose completely different challenges: Separation of solids such as dust from gaseous media with the aid of bag filters or electrostatic precipitators, as well as separation of various gases by scrubbing, absorption or chemical reaction.
Tailor-made solutions for customers
Based on the variety of its own test reports and the availability of test and pilot plants, GEA can offer its customers tailor-made solutions and equip them with the best available separation technologies.
For further information:
Well-separated - thermatically and mechanically
About GEA
GEA is one of the largest suppliers for the food processing industry and a wide range of other industries that generated consolidated revenues of approximately EUR 4.8 billion in 2018.
The international technology group specializes in machinery, and plants as well as process technology and components. GEA provides sustainable energy solutions for sophisticated production processes in various end-user markets and offers a comprehensive service portfolio. The group generates around 70 percent of its revenue in the food and beverages sector that enjoys long-term sustainable growth. As of December 31, 2018, the company employed about 18,500 people worldwide. GEA is a market and technology leader in its business areas. The company is listed on the German MDAX (G1A, WKN 660 200), the STOXX® Europe 600 Index and selected MSCI Global Sustainability Indexes.
( Press Release Image: https://photos.webwire.com/prmedia/5/251896/251896-1.jpg )
Related Links
WebWireID251896

This news content was configured by WebWire editorial staff. Linking is permitted.
News Release Distribution and Press Release Distribution Services Provided by WebWire.