FLC announces winter/spring 2020 festival, repertory series, and new release programming
WEBWIRE
–
Friday, December 13, 2019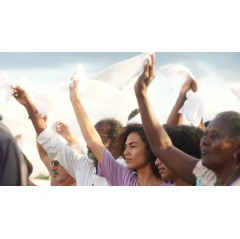 Film at Lincoln Center has announced the full lineup of festival, repertory, and new release programming for the 2020 winter and spring seasons, including a complete retrospective of Berlin School director Angela Schanelec; a career-spanning retrospective of Bong Joon Ho's varied and masterful films in light of the international acclaim of Parasite; and a carte-blanche from Bacurau (NYFF57) directors Kleber Mendonça Filho and Juliano Dornelles, which will include films by the likes of John Carpenter and Sergio Corbucci. Annual festivals include the 49th edition of New Directors/New Films, the return of Rendez-Vous with French Cinema, the New York Jewish Film Festival, and Neighboring Scenes.
FLC's new releases include Hirokazu Kore-eda's insightful family drama The Truth and six NYFF57 selections: Bertrand Bonello's ambitious horror-fantasy Zombi Child; Marco Bellocchio's psychological Cosa Nostra drama The Traitor; I Was at Home, But…, Angela Schanelec's complex portrait of a family in crisis; an exclusive run of Pedro Costa's gorgeously constructed Vitalina Varela; Corneliu Porumboiu's imaginative crime-thriller The Whistlers; and Kleber Mendonça Filho and Juliano Dornelles's stylish genre fusion Bacurau. More details and series dates are listed below.
WINTER/SPRING FESTIVALS & REPERTORY
January 7-14
The Bong Show
South Korean filmmaker Bong Joon Ho's ability to unexpectedly and effortlessly blend genres and tones has helped put him at the forefront of international cinema. His smartly entertaining films—works of formal mastery with a humanist's sensibility—deliver visceral thrills alongside charged sociopolitical critiques, putting gonzo spins and bloody twists on the police procedural and the monster movie, adventure sagas and domestic melodramas. His skills have been on fierce display from his very first feature, the brilliantly cracked Barking Dogs Never Bite, to his widely celebrated latest, Parasite. In honor of that Palme d'Or–winning masterpiece, Film at Lincoln Center is pleased to present all of Bong's features and shorts, plus a selection of favorite films handpicked by the director himself.
January 15-28
New York Jewish Film Festival
The Jewish Museum and Film at Lincoln Center are delighted to continue their partnership to bring you the 29th annual New York Jewish Film Festival, presenting films from around the world that explore the Jewish experience. This year's Festival presents an engaging lineup of narratives, documentaries, and shorts, from restored classics to world premieres. Highlights include Aulcie, the inspiring documentary about Aulcie Perry, the legendary athlete who put Israeli basketball on the map; The Birch Tree Meadow, an autobiographical film by the late, iconoclastic French New Wave documentarian Marceline Loridan-Ivens, about an Auschwitz survivor confronting her past; and Crescendo, a gripping drama about a conductor's efforts to create an Israeli-Palestinian youth orchestra. The 2020 Festival offers a wide range of selections that will captivate film lovers of all backgrounds.
Organized by Rachel Chanoff, Gabriel Grossman, and Aviva Weintraub, with Dennis Lim as advisor.
February 7–13
Dreamed Paths: The Films of Angela Schanelec
German director Angela Schanelec's films have a rhythm and tone all their own—mysterious yet moving, they unearth the metaphysics rumbling beneath the placid surface of everyday life. Her work with actors is like that of no other filmmaker, a radical approach to performance that draws on her own background in theater traditions as much as kind of Bressonian anti-naturalism. Likely the most singular and underappreciated among the contemporary German filmmakers collectively known as the Berlin School (which also includes Christian Petzold, Thomas Arslan, and Valeska Grisebach), Schanelec makes films that achieve nothing less than the rendering of the human soul on screen. To coincide with the February 14 opening at Film at Lincoln Center of her latest feature, I Was at Home, But… (NYFF57), a Cinema Guild release, Schanelec joins us for a complete retrospective of her astonishing and audacious body of work, in addition to a small carte blanche selection of films picked by the filmmaker herself.
Organized by Dennis Lim and Dan Sullivan. Presented with support from German Films.
February 14-18
Neighboring Scenes 
Now in its fifth year, Neighboring Scenes is Film at Lincoln Center's wide-ranging showcase of contemporary Latin American cinema, highlighting impressive recent productions from across the region. This selective slate of premieres exhibits the breadth of styles, techniques, and approaches employed by Latin American filmmakers today, and spans a wide geographic range, featuring established auteurs as well as fresh talent from the international festival scene. Presented by Film at Lincoln Center and Cinema Tropical.
Organized by Carlos Gutiérrez and Cecilia Barrionuevo.
March 5-15
Rendez-Vous with French Cinema
Rendez-Vous with French Cinema returns in February with another edition that exemplifies the variety and vitality of contemporary French filmmaking. The films on display, by emerging talents and established masters, raise ideas both topical and eternal, and many take audiences to entirely unexpected places. Highlights from recent Rendez-Vous with French Cinema editions include Bertrand Bonello's Nocturama, Julia Ducournau's Raw, Bruno Dumont's Jeannette, The Childhood of Joan of Arc, Robin Campillo's Eastern Boys, Justine Triet's Victoria, and Mathieu Amalric's Barbara. Co-presented with UniFrance Films, the 25th edition of Rendez-Vous will demonstrate that the landscape of French cinema is as fertile, inspiring, and distinct as ever.
Organized by Florence Almozini. 
March 13-19
Mapping Bacurau
Brazilian critic-turned-filmmaker Kleber Mendonça Filho (Aquarius, Neighboring Sounds) and co-director Juliano Dornelles (the production designer for Mendonça's previous features) exhilarated audiences at the 2019 New York Film Festival with their searing class warfare fable Bacurau. One of the year's most audacious and thrilling genre-benders, and winner of the Jury Prize at the Cannes Film Festival, Bacurau draws on an intricate network of film historical references—from horror and Hollywood pulp to spaghetti westerns to Brazil's own sharply political Cinema Novo movement. On the occasion of Bacurau's release at Film at Lincoln Center, Mendonça and Dornelles have handpicked an assortment of films that map the rich cinematic universe to which their inventive, anything-goes creation belongs, featuring works from John Carpenter, Sergio Corbucci, Eduardo Coutinho, and more.
Organized by Dennis Lim and Tyler Wilson.
March 25 – April 5
New Directors/New Films
Celebrating its 49th edition in 2020, the New Directors/New Films festival introduces New York audiences to the work of emerging filmmakers from around the world. Throughout its rich, nearly half-century history, New Directors has brought previously little-known talents like Spike Lee, Chantal Akerman, Bi Gan, Valerie Massadian, Gabriel Mascaro, RaMell Ross, and Kelly Reichardt to wider audiences. We hope you'll join us in celebrating a group of filmmakers who represent the present and anticipate the future of cinema: daring artists whose work pushes the envelope and is never what you'd expect. Presented by the Film at Lincoln Center and the Museum of Modern Art.
Film Comment Selects will return in a new format this January; more details to be announced. 
WINTER/SPRING NEW RELEASES
Opens January 24
Zombi Child
Bertrand Bonello, France, 103m
French, Haitian and English with English subtitles
After giving multiple shots to the arm of contemporary French cinema with such audacious films as House of Tolerance, Saint Laurent (NYFF52), and Nocturama, Bertrand Bonello injects urgency and history into the well-worn walking-dead genre with this unconventional plunge into horror-fantasy. Bonello moves fluidly between 1962 Haiti, where a young man known as Clairvius Narcisse (Mackenson Bijou), made into a zombie by his resentful brother, ends up working as a slave in the sugar cane fields, and a contemporary Paris girls' boarding school, where a white teenage girl (Louise Labèque) befriends Clairvius's direct descendant (Wislanda Louimat), who was orphaned in the 2010 Haiti earthquake. These two disparate strands ultimately come together in a film that evokes Jacques Tourneur more than George Romero, and feverishly dissolves boundaries of time and space as it questions colonialist mythmaking. A Film Movement release. An NYFF57 selection.
Opens January 31
The Traitor / Il traditore 
Marco Bellocchio, Italy, 145m
Italian, Portuguese, and English with English subtitles 
Since the galvanizing burst of his unforgettable debut feature Fists in the Pocket (NYFF53), Marco Bellocchio has remained an Italian auteur of rigor and fury, representing social unrest in stories that range from the intimate to the epochal. In his 80th year, he has returned with one of his most compelling films. Pierfrancesco Favino commands the screen throughout this decades-spanning true-life narrative as Tommaso Buscetta, the mafia boss turned informant who helped take down a large swath of organized crime leaders in Sicily in the eighties. In one fully realized, impressively staged scene after another, including the notorious Maxi Trial, overseen by Judge Giovanni Falcone (Fausto Russo Alesi), Bellocchio interrogates received ideas about loyalty that so many other movies of this genre use to romanticize their characters. This is a very different kind of mafia drama, one that has the structure of a procedural but coasts on the waves of psychological portraiture. A Sony Pictures Classics release. An NYFF57 selection.
Opens February 14 – Exclusive!
I Was at Home, But… / Ich war zuhause, aber
Angela Schanelec, Germany, 105m
German with English subtitles
Though she's been an essential voice in contemporary German cinema since the '90s, Angela Schanelec is poised to find wider international audiences with I Was at Home, But…, which won her the Best Director prize at this year's Berlin Film Festival. An elliptical yet emotionally lucid variation on the domestic drama, her latest film intricately navigates the psychological contours of a Berlin family in crisis: Astrid—played with barely concealed fury by Maren Eggert—is trying to hold herself and her fragile teenage son and young daughter together following the death of their father two years earlier. Yet as in all her films, Schanelec develops her story and characters in highly unexpected ways, shooting in exquisite, fragmented tableaux and leaving much to the viewer's imagination, hinting at a spiritual grace lurking beneath the unsettled surface of every scene. A Cinema Guild release. An NYFF57 selection.
Opens February 21 – Exclusive!
Vitalina Varela
Pedro Costa, Portugal, 124m
Portuguese with English subtitles
Portuguese director Pedro Costa has continually returned in his films to the Fontainhas neighborhood, a shantytown on the outskirts of Lisbon that's home to largely immigrant communities. Not merely a chronicler of the poor and dispossessed, Costa renders onscreen characters that exist somewhere between real and fictional, the living and the dead. His latest, a film of deeply concentrated beauty, stars nonprofessional actor Vitalina Varela in a truly remarkable performance. Reprising and expanding upon her haunted supporting role from Costa's Horse Money (NYFF52), she plays a Cape Verdean woman who has come to Fontainhas for her husband's funeral after being separated from him for decades due to economic circumstance, and despite her alienation begins to establish a new life there. The grief of the present and the ghosts of the past commingle in Costa's ravishing chiaroscuro compositions, a film of shadow and whisper that might be the director's most visually extraordinary work. A Grasshopper Film release. An NYFF57 selection.
Opens February 28
The Whistlers / La Gomera
Corneliu Porumboiu, Romania, 98m
Romanian, English and Spanish with English subtitles
In a delightful twist, leading Romanian director Corneliu Porumboiu, whose inventive comedies such as Police, Adjective (NYFF47) and The Treasure (NYFF53) have for more than a decade brought deadpan charm and political perceptiveness to his country's cinematic renaissance, has made his first all-out genre film—a clever, swift, and elegant neo-noir with a wonderfully off-kilter central conceit. Easily corruptible Bucharest police detective Cristi—played by the eternally stoic Vlad Ivanov—arrives on the mist-enshrouded Canary Island of La Gomera, where he learns a clandestine, tribal language, improbably made entirely out of whistling; this form of hidden communication will keep his superiors off his trail as he becomes increasingly embroiled in a convoluted gangster scheme involving a stash of Euros hidden in a mattress and a sultry femme fatale named, of course, Gilda. Porumboiu's take on the crime drama furthers his explorations of the intricacies and limitations of language, but is also his most playful, even exuberant, film. A Magnolia Pictures release.
Opens March 6
Bacurau
Kleber Mendonça Filho and Juliano Dornelles, Brazil, 130m
Portuguese and English with English subtitles
A vibrant, richly diverse backcountry Brazilian town finds its sun-dappled day-to-day disturbed when its inhabitants become the targets of a group of armed mercenaries. The perpetrators of this class warfare, however, may have met their match in the fed-up, resourceful denizens of little Bacurau. Those who remember Kleber Mendonça Filho's wonderful NYFF54 crowd-pleaser Aquarius starring Sonia Braga—who appears here in a memorable supporting role—might be surprised by the new terrain and occasional ultraviolence of his latest, codirected with his longtime production designer Juliano Dornelles. Yet this wild shape-shifter shares with that film the exhilaration of witnessing society's forgotten and marginalized standing up for themselves by any means necessary. With references to the fearless genre works of John Carpenter, George Miller, and Sergio Leone, Bacurau, winner of the Jury Prize at the Cannes Film Festival, is a vividly angry power-to-the-people fable like no other. A Kino Lorber release. An NYFF57 selection.
Opens March 20
The Truth / La vérité
Hirokazu Kore-eda, France/Japan, 2019, 106m
French and English with English subtitles
The rippling undercurrents of a family gathering structure this latest outing from Hirokazu Kore-eda—his follow-up to the Palme d'Or–winning Shoplifters, and a singular stage for two titans of French cinema, Catherine Deneuve and Juliette Binoche. With a controlled intensity, Deneuve plays Fabienne, a French screen icon preparing to publish her memoirs. The version of her life preserved on the page is critiqued by her daughter Lumir (Binoche), who visits Fabienne's secluded home with her husband (Ethan Hawke), an American TV actor, and their young daughter. Resentments seep out—and explode—as Fabienne and Lumir confront the rockier reality of their dynamic, and their drama swirls around Fabienne's next project, in which she uneasily shares the screen with a rising young actress (Manon Clavel). In its deft grappling with aging, memory, and guilt, The Truth points to an everyday tenderness that can thaw even the deepest-rooted tensions. An IFC Films release.
New Releases are organized by Florence Almozini, Dennis Lim, and Tyler Wilson.
( Press Release Image: https://photos.webwire.com/prmedia/6/251666/251666-1.jpg )
Related Links
WebWireID251666

This news content was configured by WebWire editorial staff. Linking is permitted.
News Release Distribution and Press Release Distribution Services Provided by WebWire.