4 countries for €120.
WEBWIRE
–
Thursday, December 12, 2019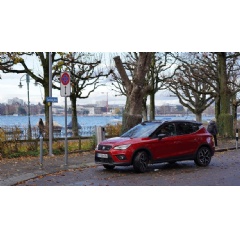 How much does it cost to go ice skating in France's most festive village? And to buy a handmade glass ornament in Switzerland or enjoy homemade pasta and white truffle in a small village in northern Italy? And what's more, is it possible to enjoy all these experiences thanks to fuel savings with a compressed natural gas car? The answer lies in an unprecedented challenge: four European countries, an Arona TGI and a 2,611 kilometre road trip.
Barcelona (Spain) – Colmar (France): 1,045 km Gliding on ice in a Christmas inspired backdrop.
The journey begins in Barcelona. The first stop is to fill up the Arona TGI with Compressed Natural Gas (CNG). A full tank for less than 16 euros, which allows a range with gas of 340 kilometers. In the navigator, a 1,045 kilometer route that will be covered by refuelling three times. The first destination, Colmar, the French city in the Alsace region with the most famous Christmas tradition. From the last week of November until the end of the year, its typical, quaint half-timbered houses are transformed with lights and impressive Christmas decorations. Besides its five small markets, another jewel is its skating rink. It is one of the most popular activities enjoyed by visitors and locals alike.
Cost of gas: €48.07
Savings: €49.96
Treats: €14.20  (€7.20 ice skating, €7 hot chocolate)
Colmar (France) – Zurich (Switzerland): 156 km A Christmas tree standing 15 metres tall, covered with 5,000 glass balls
The Christmas route aboard a car fuelled with CNG continues to Zurich, 156 kilometers away, which requires just over a third of the gas in the tank. The Swiss city has several fairs, among which is Europe's largest covered Christmas market, located inside the central train station. It is impossible not to stop at many of the 160 booths surrounding a 15-metre tree decorated with 5,000 glass ornaments. A few small reindeer and a handmade glass ball join us on the journey.
Cost of gas: €7.18
Savings: €7.45
Treats: €31  (€21 reindeer ornaments, €10 glass ball)
Zurich (Switzerland) – La Morra (Italy): 438 km Tagliatelle with white truffle in nothern Italy. 
The next destination of the Arona TGI is 438 kilometers away. We cross the Alps on snowy roads to get to La Morra, a small Italian village of 2,700 inhabitants surrounded by vineyards, which is reached with just over a full tank of gas. A special prize awaits us at the end of the journey: white truffle. The shops feature typical Christmas products such as hazelnut nougat, hazelnut cream cake and its famous candied chestnuts. €65 well spent to tantalise our tastebuds.

Cost of gas: €20.15 
Savings: €20.94 
Treats: €65 (€25  hazelnut nougat, hazelnut cream cake and candied chestnuts, €40  lunch with white truffle)
La Morra (Italy) – Les Bains de Saint Thomas (French Pyrenees): 781 km 37 degree hot springs in the Pyrenees.
On the way back we make one last stop 191 kilometres from Barcelona. In the heart of the Eastern Pyrenees, at an altitude of 1,150 metres and at the end of a small mountain road are the Saint Thomas hot springs. The outdoor temperature is 5 °C at this time of the year, but its sulphur rich waters are at 37 °C and have a healing, soothing effect. The ideal way to end an exciting TGI trip.
Cost of gas: €35.93 
Savings: €37.34 
Treats: €14 (dip in the hot springs)
Les Bains de Saint Thomas (French Pyrenees) – Barcelona (Spain): 191 km 2,611 kilometres with CNG:
Including the return trip to Barcelona, we drove the Arona TGI more than 2,600 kilometres on European roads and motorways, refuelling at  8 gas filling stations of the close to 3,700 that can be found in Europe. We spent €120.12 on gas, which is half the amount with a similar petrol car. Thanks to this savings, we were able to treat ourselves to experiences and souvenirs along the way.
Cost of gas: €8.79 
Savings: €9.13
Total cost of gas: €120.12 
Total savings vs petrol: €124.82
Total spent on treats: €124.20  (€7.20 ice skating, €7 hot chocolate, €21 reindeer ornaments, €10 glass ball, €25 hazelnut nougat, hazelnut cream cake and canded chestnuts, €40 lunch with with truffle, €14 dip in the hot springs)
Emission reduction: 52.22 kg of CO2
The Arona 1.0 TGI 90 CV FR facts and figures
Four fuel tanks: three primary for CNG / secondary for petrol
ECO label
25% fewer emissions comprared to a petrol powered car
340 kilometre range with gas + 140 with petrol
13.8 kg gas tank
Consumption of 4.0 kilos/100 kilometres
( Press Release Image: https://photos.webwire.com/prmedia/6/251593/251593-1.jpg )
Related Links
WebWireID251593

This news content was configured by WebWire editorial staff. Linking is permitted.
News Release Distribution and Press Release Distribution Services Provided by WebWire.