T-Mobile Selects 30 Teams of Visionary Youth from Across the Country as 2019 Changemaker Challenge Winners
Top 30 winners — selected from hundreds of entries — receive seed-funding and a visit to T-Mobile HQ to bring their big ideas to life, and three best-of-best Category Winners will pitch T-Mobile leaders for a chance to earn up to $10,000
Bellevue, Wash. –
WEBWIRE
–
Thursday, December 5, 2019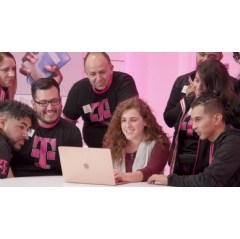 Technology - Top Category Winner, Ava: A Video Game About Space Pirates and Social Situations (Pomona, CA)
T-Mobile and the T-Mobile Foundation today announced the winners of the 2019 T-Mobile Changemaker Challenge, the Un-carrier's nationwide contest that is mobilizing the next generation of young visionaries. For the second consecutive year, T-Mobile, the T-Mobile Foundation, and Ashoka, the world's largest network of social entrepreneurs, put out a call to youth aged 13 to 23 from the U.S., asking them to submit BIG ideas aimed at changing their communities for good. They received an amazing 428 entries — a 32% increase over last year's total submissions — which were then narrowed down to the 30 winning teams in three categories, Technology, the Environment and Education. From each category, one team was selected as the category winner.
"T-Mobile is all about finding BOLD solutions — and driving CHANGE — and that is EXACTLY what our Changemaker Challenge is all about! This year we received hundreds of amazing entries from inspiring future leaders who have big ideas about how to create a better world and we were totally blown away by what we saw! These youth are going to ensure a brighter future for us all and we can't wait to help them make their ideas a reality!" said John Legere, CEO of T-Mobile and president of the T-Mobile Foundation.
Winners receive seed money from the T-Mobile Foundation and a trip to T-Mobile's headquarters. Here's how it works:
Each of the 30 winning teams (ten per category) will receive $2,000 in seed funding.
In February 2020, all 30 winning teams will convene at T-Mobile's Bellevue headquarters for the Changemaker Lab, a three-day immersive experience where they'll meet with mentors from T-Mobile and Ashoka while networking with the other young Changemakers from across the country.
One team from each category will be selected as the Category Winner and receive an additional $3,000, for a total of $5,000 per winning team.
At the Changemaker Lab, the three Category Winners will have a chance to pitch their ideas to T-Mobile leadership, and one team will be chosen as the 2019 Changemaker Challenge grand prize winner. That team will be awarded an additional $5,000 in seed funding — $10,000 total! They will also receive a return trip back to T-Mobile HQ later in the year to supercharge their project with further mentorship!
Judges from T-Mobile and Ashoka reviewed submissions based on the following criteria:
Changemaker Quality assesses preliminary work already put into each idea.
Creativity measures each idea's degree of innovation.
Commitment determines level of devotion to seeing a project through and ensuring a lasting impact.
Connection determines each team's ability and openness to working with others in their community.
Projects ranging from apps to robots to political advocacy groups offered solutions around topics ranging from mental health to bee colony collapse to flood warning systems to gun violence prevention. Several proposals aimed at better integrating science, technology, engineering and math instruction (STEM) into U.S. classrooms and prioritizing greater diversity and equity within the tech industry. Notably, most of the top-rated Technology entries were submitted by young women!
The T-Mobile Changemaker Challenge was inspired by America's youth activists and developed in partnership with and sponsored by Ashoka, the world's leading network of systems-changing social entrepreneurs. The T-Mobile Foundation is partnering with Ashoka for the Changemaker Challenge because for the last 40 years, Ashoka has supported social entrepreneurs as they bring new ideas to systemically address the world's biggest challenges. Ashoka works around the globe with partners like the T-Mobile Foundation to support youth with developing core competencies of empathy, teamwork, collaborative leadership and changemaking skills.
For more information about the second annual T-Mobile Changemaker Challenge and to see the full list of entrants, visit t-mobile.com/changemaker, and join the conversation on social with #TMoChangemaker
Changemaker Launch 2019 | T-Mobile
  
Winners of the 2019 Changemaker Challenge  
For more details about each Top 30 winning team, check out the Changemaker 2019 Lookbook 
Technology
Top Category Winner
Ava: A Video Game About Space Pirates and Social Situations (Pomona, CA)
A role-playing video game that gives autistic players a safe space to try out social situations and emotional responses.
Environment
Top Category Winner
Youth Climate Action Coalition (Granite Bay, CA)
A youth-led environmental organization mitigating the effects of climate change by reducing the carbon footprint of schools and communities.
Education
Top Category Winner
Stories Untold U.S. (Parkland, FL)
A platform to give voice to everyone in the U.S. who has been affected by gun violence.
Additional Category Winners
Technology
A1Centive (Washington, D.C.)
An incentive program that encourages teens with type 1 diabetes to better manage their blood sugar by rewarding them for staying in range.

Amity Connections (Aldie, VA)
An app that connects family members to the health of their elders by aggregating real-time data from smart medical devices.

Bringing the Love of Volunteering to Underserved Communities (Houston, TX)
A technology platform to help disadvantaged students find ways to volunteer and make a change in their communities.

Converge (Palos Heights, IL)
A global interfaith community platform aimed at fostering discussion, awareness and action.

Girl Innovation (Gurabo, PR)
Closing the gender gap in tech through workshops, summer camps and mentoring programs to introduce middle school girls to programming and robotics.

notOK App (Atlanta, GA)
A mental health app that takes the guesswork out of asking for help.

Positive Impact for Kids (Greenville, SC)
Leveraging technology such as iPads and video games to improve the hospitalization experience for pediatric patients in the U.S.

She Can Tech (Portage, IN)
A near-peer technology program for middle school girls made to increase the meaningful participation of women in STEM.

We the Immigrants (Henderson, NV)
A platform that shares immigrant youth stories around their immigration experiences.
Environment
BEEducated (Sammamish, WA)
A youth-driven organization combating the harmful environmental and economic effects of Colony Collapse Disorder on bees.

Homes4Monarchs (Palos Park, IL)
Creating free seed packets, events and gardens across Chicagoland to restore native ecosystems and save species like the monarch butterfly.

HydroAlert (Austin, TX)
A low-cost flood warning system that measures real-time water levels at high-risk locations and alerts the affected population and emergency personnel.

Ian's Giving Garden & Frutas Frescas Orchard (Austin, TX)
A gardening program that encourages youth to volunteer in the construction and maintenance of edible gardens, a food source for families struggling with food insecurity.

Jee Foods (Hamilton, OH)
Student-powered food rescue and hunger relief, rescuing food that would otherwise be wasted and donating it back into the community.

1 Week to Save the Earth Challenge (Portland, OR)
Reducing emissions in the fight against climate change by shifting the way we eat.

PlantumAI: AI-Automated Crop Analytics for Less-Fortunate Areas (Macungie, PA)
An app to help farmers identify crop diseases, receive pesticide advice and optimize yields with understandable analytics.

Remora (Corozal, PR)
Focused on environmental sustainability, water conservation and educational training to provide clean water to communities in need.

The Green Sleep Project (Danbury, CT)
Giving plastic bags a new life by turning them into sleeping mats for the homeless and educating youth on pollution and climate change.
Education
A Voice for Kids (Muncie, IN)
Raising awareness and educating schools and other organizations about signs of abuse to provide a voice for kids in foster care or child welfare.

Be the Change (Cleveland, OH & Lincoln, NE)
Changing the way young people are educated and prepared to succeed in undervalued areas of the U.S.

Empowering Today's Girls to Be Tomorrow's Scientists (Wilmington, DE)
Inspiring young inner-city girls to embrace STEM (science, technology, engineering and math) by inviting them to hands-on STEM workshops.

Future Kings Mentoring (Pittsburgh, PA)
Developing male-identifying black youth into Future Kings.

Hey Schools! Let Teens Take the Wheel (Jacksonville, FL)
Empowering teens impacted by crime and violence to talk to and teach school leaders about the problems they face in order to improve policy.

Homegirl Project (Oviedo, FL)
Training girls of color to become political changemakers through mentorship, digital resources and community-building.

Object: Now Girly Means Confident (Menlo Park, CA)
Promoting confidence in young girls by connecting them with women role models through storytelling and experiential activities.

3C Social Youth Entrepreneurship Digital Academy (Sammamish, WA)
Inspiring youth to become social entrepreneurs to advance UN sustainable development goals.

Youth Educating Police Training & Workshop (Portland, OR)
A youth-specific training curriculum educating officers on the teen brain and key youth tendencies.
About T-Mobile US, Inc.
As America's Un-carrier, T-Mobile US, Inc. (NASDAQ: TMUS) is redefining the way consumers and businesses buy wireless services through leading product and service innovation. Our advanced nationwide 4G LTE network delivers outstanding wireless experiences to 84.2 million customers who are unwilling to compromise on quality and value. Based in Bellevue, Washington, T-Mobile US provides services through its subsidiaries and operates its flagship brands, T-Mobile and Metro by T-Mobile. For more information, please visit http://www.t-mobile.com

About T-Mobile Foundation
The T-Mobile Foundation is committed to changing the world for good. The Foundation advances positive change in our communities by supporting causes that focus on youth development and by providing opportunities for T-Mobile employees to engage in causes that benefit the communities where they live and work. The T-Mobile Foundation, created and funded by T-Mobile US, Inc., is recognized by the IRS as a Section 501(c)(3) private foundation.

About Ashoka
Ashoka is the largest global network of leading social entrepreneurs—individuals with new ideas to systemically address the world's biggest challenges and the entrepreneurial skill to transform those ideas into national, regional and global social impact. Over 35 years, Ashoka has supported more than 3,500 social entrepreneurs in 90 countries with solutions addressing society's most pressing issues. Ashoka's vision is a world in which Everyone is a Changemaker—a society that responds quickly and effectively to challenges, and where each individual has the freedom, confidence and societal support to address any social problem. For more information, visit ashoka.org.
( Press Release Image: https://photos.webwire.com/prmedia/5/251159/251159-1.jpg )
Related Links
WebWireID251159

This news content was configured by WebWire editorial staff. Linking is permitted.
News Release Distribution and Press Release Distribution Services Provided by WebWire.