Bloomberg hosts ASEAN Benchmark Regulation and Migration Forum
WEBWIRE
–
Thursday, December 5, 2019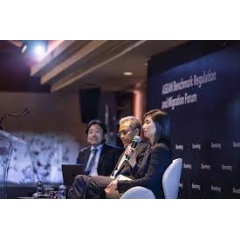 Panelists speaking at Bloomberg's ASEAN Benchmark Regulation and Migration Forum in Singapore.
Last month, Bloomberg hosted its first ASEAN Benchmark Regulation and Migration Forum in Singapore, to address how the region's financial markets are preparing for the move away from benchmarking against LIBOR. After 2021, banks will no longer be required to submit LIBOR rates, leading central bankers and regulatory bodies to urge industry participants to prepare for this transition.
More than 150 participants attended to hear market experts, regulators and industry practitioners from the sell-side, buy-side and corporations including the Monetary Authority of Singapore (MAS), Bank Indonesia, Asian Development Bank, DBS Bank, OCBC Bank, HDFC Bank, ISDA, Association of Corporate Treasurers and SFEMC. Speakers discussed specific regional challenges around two main aspects.
Firstly, regulators in the region now have to take another look at their home-based alternatives given that the USD LIBOR will be replaced by SOFR by 2021. Several ASEAN countries use USD LIBOR as a component to calculate local reference rates. The USD LIBOR is also used extensively in the region for dollar-based cash, structured products and derivatives contracts.
In his keynote speech, Mr Lam Kun Kin, Co-Chair of the Singapore Foreign Exchange Market Committee & Head of Global Treasury and Investment Banking at OCBC Bank spoke about Singapore's journey moving from SOR to SORA. "Two years to the end of 2021 is a very short timeline, given the vastness and complexity of issues around benchmark transition. We are counting on every stakeholders' commitment to raise the right level of focus and attention within your organisation in dealing with these transition changes. This is the chance to demonstrate that Singapore, as the premier financial center in the Asian time zone, can work collaboratively among all relevant stakeholders to achieve seamless transition."
More than 80% of attendees polled said cross-border cooperation is required to develop local benchmarks at the same time to minimize disruption to the cross-currency swap markets.
"A paradigm shift is required as the market has to now use backward-looking rates. The impact is significant as LIBOR touches every aspect of business activity and requires collaboration and coordination across many stakeholders, beyond the banking sector. Bloomberg is proud to have been involved in benchmark reform discussions since 2017 and will continue to work on new solutions to help market participants do better risk and liquidity assessments," said Maggie Ng, Head of ASEAN, Bloomberg in her welcome remarks.
The second issue is around fall-back language for LIBOR related contracts, especially for the cash and structured product securities markets. While the derivatives markets will likely take guidance from ISDA, that has, with industry feedback, picked a backward-looking rate as the Risk-Free Rate (RFR) term rate in the definition of the LIBOR fallback for derivatives, more work is needed for cash instruments. Twenty nine percent of those polled said they have yet to address the fallback language for cash products.
A large proportion (30%) of participants when polled said they will transition to fallback language for their LIBOR-based derivatives portfolios instead of trading out or re-hedging to RFRs.
Regulators and industry bodies actively encouraged collaboration amongst stakeholders due to the substantial technology and infrastructure changes that are needed. At the forum, Cindy Mok, Executive Director, Monetary & Domestic Markets Management Department of the MAS emphasized: "This conversation on benchmark transition is going to continue into 2021. From prudential rules, to market functionality, to systemic financial stability assessments, this topic is front and center of central bankers' minds and there will be a ramp up in the intensity of conversations with market participants. Building a robust IT infrastructure is one of the key challenges. Financial institutions planning their 2020 budgets should factor in IT/systems investments now to ensure that their systems and processes are ready to support benchmark transition in the coming year."
To prepare for the LIBOR transition, Bloomberg is helping clients understand how their portfolios will be affected by the transition with a comprehensive suite of data, analytics, and portfolio solutions. Visit https://www.bloomberg.com/professional/solution/libor-transition/ for more information.
( Press Release Image: https://photos.webwire.com/prmedia/6/251091/251091-1.jpg )
Related Links
WebWireID251091

This news content was configured by WebWire editorial staff. Linking is permitted.
News Release Distribution and Press Release Distribution Services Provided by WebWire.