2019 review: road running and cross country
Our end-of-year reviews continue with a look back at 2019's best action on the roads and cross country.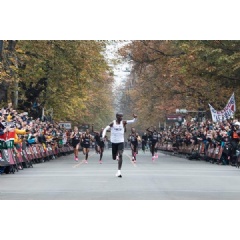 Eliud Kipchoge in action in Vienna (AFP / Getty Images) © Copyright
Men's 10km

The 10km is the most popular road running event as far as number of races are concerned. However, it seems that it is an event where top runners rarely end up going head-to-head. This year it was once again the September event in Prague that provided the fastest times as Geoffrey Koech won in 27:02 followed by Mathew Kimeli and Bravin Kipkogei in 27:07 and 27:12. 

That is, until early this morning when Joshua Cheptegei smashed the world record with a 26:38 performance, slicing six seconds from the record which has stood since 2010.

That said, it would be very interesting to see someone like Kamworor go all out at the distance. In his world record half marathon Kamworor had 27:12 for the 10K between kilometres five and 15.

Speaking of records, the 5km on the roads became an official world record event this year. Currently the ratified record belongs to Switzerland's Julien Wanders at 13:29 but Kenyan Robert Keter has a recent 13:22 pending ratification. However, a sub-13 mark is not really far fetched to anticipate if and when any of top track 5000m runners gives it a serious try.

Men's half marathon

Geoffrey Kamworor is absolutely brilliant at running for about half an hour – cross country or 10,000m on the track – and he is also brilliant at running for two hours plus – the marathon – but what seems to suit him absolutely best is running for about one hour: The half marathon.

Having won three straight world titles (2014, 2016 and 2018) at the distance he this year took aim at the world record. The venue he chose was Copenhagen from where he had very fond memories as it was there he had won his first world title. However, this time the weather conditions were not ideal as it was a quite windy day and he expected to solo run much of race.

But that didn't discourage him and after running with the lead group through two five kilometre sections in 13:53 and 13:41, Kamworor decided it was time to go to work. Blasting the third 5km in 13:31 put him way ahead of the current record and although he slowed somewhat in the end – annoyingly just missing sub-58 – his 58:01 still meant he sliced 17 seconds off the record.

The event in general continued its steady rise as the number of sub-60 minute runners in a year has now grown to about 40. But the half marathon is still dominated by runners from Kenya and Ethiopia who occupy all but one of the top-25 spots on the 2019 world list. The lone exception is Swiss Julien Wanders who lowered the European record to 59:13 for fourth in Ras Al Khaimah in February, the top race depth-wise with 11 sub-one hour performances.

Men's marathon

This year the "big city races" that provided most excitement time-wise were London and Berlin. In London in April Eliud Kipchoge took his fourth win, lowering the course record to 2:02:37 in the process. The record was something he actually needed to fend of the challenge from Mosinet Geremew who with 2:02:55 moved into second place all-time.

In Berlin the spectators for a long time have been accustomed to new world records but after Kipchoge's 2:01:39 last year – taking more than a minute off the old mark - everybody probably thought he had put the record out of reach.

But a rejuvenated Kenenisa Bekele at age 37 shocked everyone finishing just two frustrating seconds shy from adding the marathon to his impressive world record CV with 2:01:41. And despite being distanced by over a minute, Berhanu Legesse in second moved into third on the all-time list with 2:02:47.

The largest marathon (with 50.000-plus runners), New York, is run without pacemakers so the 2019 winning time was 2:08:13. But the way Geoffrey Kamworor finished the race on the demanding course suggested an exciting future indeed if and when he decides to concentrate on the full marathon. After "jogging along" with the lead group Kamworor changed gears at 35km, throwing in a 14:14 5km segment followed by a 6:25 for the last 2.195km.

In championships it is always all about the head-to-head fight for positions and times are not important. This year in Doha an extra challenge was expected from the weather, because despite being run at midnight high temperature and high humidity was forecast. Luckily the humidity dropped considerably compared to the women's race and the running conditions became just "tough", not "almost unbearable".

In the end it came down to an Ethiopian dual for the gold between super-experienced Lelisa Desisa and fresh 2:02-runner Mosinet Geremew. Experience prevailed, 2:10:40 to 2:10:44.

The 42,195m performance most talked about in 2019, however, did happen in a non-competition as Kipchoge completed the distance in 1:59:41 in a specially set-up time trial in Vienna in October. The sizeable gap of almost two minutes to his current world record indicates that the official record is vulnerable in a traditional race upholding also all the rules concerning "assistance" that were not adhered to in Vienna.

Men's cross country

Every odd year plays host to the World Cross Country Championships and 2019 was special as host Aarhus, Denmark, had made great efforts to provide a course that was not just unique – running up the roof of a partially underground museum, for example – but also extremely challenging - the opposite of "just smooth running".

But this tough course didn't really change the face of the race as up front was once more dominated by runners from East Africa. The only new aspect was that the traditional prestigious match between Kenya and Ethiopia ended with Uganda on top both individually and in the team competition.

The Ugandans actually dominated as they scored a double in the individual races – Joshua Cheptegei and Jacob Kiplimo finishing 1-2 – as they had their four scoring runners finishing within the top-10 For Cheptegei the win was extra sweet. Two years ago at home in Kampala he had appeared on his way to a clear victory when "hitting the wall" on the last lap to stagger home in 30th place.

Kiplimo – still just 18 so he could instead have opted to defend his U20 title from two years ago - now was just four seconds behind the winner in a fitting conclusion to an impressive full cross country season with wins in five of the World Athletics permit races plus the national championships (11 seconds ahead of Cheptegei). Otherwise most top runners had only one or two cross country races in their preparations for Aarhus.

Cheptegei went on to have a brilliant summer on the track taking both the World 10,000m title and the Diamond League 5000m title while Kiplimo unfortunately had to bypass the track season due to injury.

Women's 10km

Amazingly the fastest 10km runner on the road was Letesenbet Gidey, who clocked a 29:43 intermediate time on her way to the 15km world best 44:20, cutting 77 seconds off Joyciline Jepkosgei's previous best, also an intermediate time 45:37 in a half marathon in Prague 2017. What was even more impressive, the Ethiopian covered the last 10km in a much faster 29:12, five seconds faster than countrywoman Almaz Ayana's 10,000m world record on track, 29:17.45 from the Rio Olympics in 2016. 

Kenyan Jepkosgei coincidentally also holds the 10km world record on the roads with exactly the same result, 29:43, and should fear that 21-year-old Gidey could run much faster in the coming seasons. Kenyans Sheila Kiprotich and Dorcas Kimeli also ran under the magical 30-minute barrier, both clocking 29:57 in Prague in September.

Women's half marathon

Brigid Kosgei of Kenya recorded the fastest half marathon time of the season clocking 1:05:28 in Manama. Although the absolute top performances didn't come during the season, it's amazing how many women are running fast these days. The 15th athlete on the world list ran 1:06:14 - a few years ago that would have easily been the fastest in the world. It has been only six years since the first woman ran that fast.

In comparison to 2018 though this year was a step back. Joyciline Jepkosgei clocked the 1:04:51 world record in 2017 and after that two athletes dipped under the 65 minutes last year with a further two under 1:05:10 as well. This year Kenyan Ruth Chepngetich was the second fastest winning in 1:05:29 in Istanbul. Senbere Teferi clocked the Ethiopian national record 1:05:32 in Valencia for the win in October. This is an interesting point knowing the distance running duel with Kenya and Ethiopia, because there are now nine Kenyans who have run faster than the Ethiopian record. Ethiopian-born Sifan Hassan though is ahead of the Ethiopian record having run the Dutch record 1:05:15 in Copenhagen in 2018.

Women's marathon

Paula Radcliffe's 16-year-old world record 2:15:25 from London 2003 finally fell in October. The Briton lost her record to Brigid Kosgei, who only dipped under the 2:20 barrier a year earlier. The Kenyan clocked 2:14:04 in Chicago in October to cut a massive 4:16 off her personal best and one minute and 21 seconds off the world record. She also won her second straight Chicago marathon after her 2017 debut there where she was second.

The 25-year-old also won the London marathon in April in a 2:18:20 personal best and really made her breakthrough this season. She has been running the marathon top level since 2016 (2:24:45) and made steady improvements in 2017 (2:20:22) and 2018 (2:18:35), but still such a dominant world record was a surprise. The world leader before Chicago was Kenyan Ruth Chepngetich, who won the fast Dubai marathon in 2:17:08 in April with Worknesh Degefa clocking a 2:17:41 Ethiopian record for second.

The 25-year-old Chepngetich also won the World Championships marathon in Doha in tough conditions. The Kenyan clocked 2:32:43, easily the slowest ever winning the time at a World Championships and only the second time over 2:30. Catherine Ndereba (KEN) was previously the slowest winner in 2:30:37 in Osaka 2007. The defending world champion from London 2017, Rose Chelimo, won the silver for Bahrain in 2:33:46 and Helaria Johannes became the first medallist at the World Championships for Namibia in 2:34:15 for the bronze.

Women's cross country

The World Cross Country Championships were held in Aarhus, Denmark, and in the women's race Hellen Obiri showed remarkable effort in the last climb before the finish. The 29-year-old Kenyan used her hands well going uphill, leaving Ethiopia's Dera Dida behind to win her first world cross country title in 36:14 over the 10.24km course. Dida, 23, won her first major medal two seconds behind in 36:16 while countrywoman Letesenbet Gidey won the bronze in 36:24.

Rather unknown Ugandan Rachael Chebet, 23, made it surprisingly close to the medals in 36:47 and steeplechase specialist from the same country, Peruth Chemutai, was fifth in 36:49. Obiri's win was the seventh straight gold medal in the women's race for Kenya. Tirunesh Dibaba won for Ethiopia back in 2008. In the team race Ethiopia won before Kenya in second and Uganda in third place.

Mirko Jalava (women's events) and A Lennart Julin (men's events) for World Athletics
( Press Release Image: https://photos.webwire.com/prmedia/7/250884/250884-1.jpg )
Related Links
WebWireID250884

This news content was configured by WebWire editorial staff. Linking is permitted.
News Release Distribution and Press Release Distribution Services Provided by WebWire.