NENT Group recruits `Huss' as next original drama production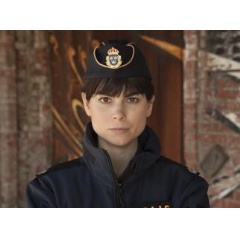 `Huss' co-produced by Germany's ZDF, ZDF Enterprises and Sweden's Kanal 5
Series stars Karin Franz Körlof and Kajsa Ernst
NENT Group to premiere at least 20 original productions every year
Swedish police drama `Huss' will be the next original production from Nordic Entertainment Group (NENT Group), the Nordic region's leading streaming company. The series is co-produced by Germany's ZDF, ZDF Enterprises and Sweden's Kanal 5, and brings together some of Sweden's leading creative talents on both sides of the camera. `Huss' will premiere exclusively on NENT Group's Viaplay streaming service across the Nordic region.
Katarina Huss (Karin Franz Körlof: `The Restaurant'; `A Serious Game') has just graduated from Sweden's police academy, and now needs to learn faster than ever as she starts work on the streets of Gothenburg. Solving crimes is just the beginning, as Katarina must get to know her colleagues and the local community, while also winning the support of her mother Irene (Kajsa Ernst: `Sthlm Requiem') for her choice of career.
`Huss' is inspired by the bestselling crime novels of Helene Tursten and co-stars Kardo Razzazi (NENT Group's `Honour' and `ALEX'), Filip Berg (NENT Group's `Rig 45' and `Black Lake') and Anders Berg (`The Girl with the Dragon Tattoo'). The series is produced by Daniel Gylling (the BBC's `Wallander') at Yellow Bird and directed by Jörgen Bergmark (`Grey Zone'). Filming is underway in Gothenburg, and the production has received financial support from Vastra Götalandsregionens Produktionsrabbatter (VGPR). ZDF Enterprises will handle the international distribution.
Filippa Wallestam, NENT Group Chief Content Officer: "It takes something special to stand out in the highly competitive Nordic crime genre. `Huss' is an intense human drama that paints a compelling picture of a city, a police force and an ambitious young officer trying to make her way while doing the right thing. Gothenburg is Karin Franz Körlof's hometown and she brings a very personal touch to this gritty and relevant series, which is the latest addition to Viaplay's unprecedented investment in Nordic original drama."
About NENT Group's original productions
NENT Group has now launched 66 original productions and is set to premiere a minimum of 20 every year. In the past 12 months, `Food & Fire'; `Face to Face'; `Seizure'; season one of `Love Me'; season one of `Fixi in Playland'; season one of `Honour'; `Manson's Bloodline'; season two of `ALEX'; `Swedish Sin'; `Straight Forward'; season one of `Saga's Stories'; `Wisting'; `The Inner Circle'; season one of `Those Who Kill'; `Hidden'; and season two of `The Great Escape' have premiered.
Recently announced originals include `The Art of Living'; season two of `Those Who Kill'; seasons two and three of `Fixi in Playland'; `Mia's Magic Playground'; season two of `Honour'; `The Last Journey of the Vikings'; `Hammarvik'; `Thicker than Water'; season two of `The Lawyer'; season two of `Love Me'; `The Machinery'; season three of `The Great Escape'; season two of `Saga's Stories'; `First Responders'; `Partisan'; season three of `Occupied'; seasons one and two of `American Runestone'; `Home Invasion'; `The Professionals'; `Shadowplay'; `Box 21'; season two of `Rig 45'; `The Ambassador'; `Margeaux'; `Cryptid'; `Commando'; and `Cold Courage'.
As well as breaking Nordic viewing records, NENT Group's originals are increasingly reaching audiences around the world. Amongst others, `ALEX' has been sold to broadcast and streaming partners in Europe, Asia and the US; `Veni Vidi Vici' has premiered on Hulu and is set for a US remake in partnership with Lionsgate; `Swedish Dicks' has featured on Pop TV in the US; `Black Lake' has been shown on BBC Four and AMC Networks-backed Shudder; `Honour' has been sold to RTL in Germany and VRT in Belgium; and `Those Who Kill' is available on the BBC and ARTE.
In January 2019, NENT Group announced a UK-based joint venture with award-winning independent studio FilmNation Entertainment to develop, produce and finance premium scripted television content for global audiences.
In May 2019, NENT Group invested in a minority stake in the new US production company Picturestart together with a range of high-profile industry partners. Based in Los Angeles and founded by renowned producer Erik Feig, Picturestart will create, co-finance and produce premium scripted content for young adult viewers around the world.
NOTES TO EDITORS
Nordic Entertainment Group AB (publ) (NENT Group) is the Nordic region's leading entertainment provider. We entertain millions of people every day with our streaming services, TV channels and radio stations, and our production companies create content that is experienced around the world. We make life more entertaining by telling stories, touching lives and expanding worlds - from live sports, movies and series to music and original shows. Headquartered in Stockholm, NENT Group is listed on Nasdaq Stockholm (`NENT A' and `NENT B').

Download high-resolution photos: Flickr
( Press Release Image: https://photos.webwire.com/prmedia/7/250870/250870-1.jpg )
Related Links
WebWireID250870

This news content was configured by WebWire editorial staff. Linking is permitted.
News Release Distribution and Press Release Distribution Services Provided by WebWire.