LIFE4OAK: Protecting Storybook Forests
WWF-Hungary aims to halt biodiversity decline in areas with oak forests that are parts of the Natura 2000 network.
WEBWIRE
–
Friday, November 29, 2019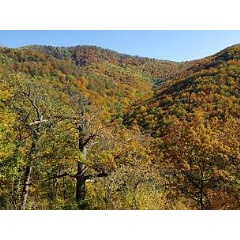 A "natural forest" is just like the ones we know from our childhood story books
In natural forests, trees can grow so large that some of them may have trunks that three people can barely encircle. The canopy, consisting of various tree species such as oak, maple and linden opens in patches where sunlight breaks through, while in other areas it is bathed in dim, greenish light. The forest floor is covered with bushes that bear colourful fruit, and fallen trees are coated with various moss and mushrooms. Tree hollows provide shelter for nesting birds and overwintering bats. Wherever we look there is vibrant wildlife. All inhabitants of the forest can find appropriate living conditions for themselves. When the forest is destroyed by natural forces such as wind, snow and ice storms, young trees take the opportunity to grow, sparking a revival in the forest.
For nature and people
Natural forests – as healthy ecosystems – provide not only food and shelter the animals in the forest, but also ecosystem services, livelihoods and recreational opportunities for people. For instance, we can hardly find a better "cure" for psychological illnesses elsewhere than in the woods.
Importance to biodiversity
Forests, particularly old-growth forests (OGF) and those of high conservation value (HCVF) are critical to life on Earth. Old-growth forests are home to almost 9 out of 10 land species of plants and animals, many of them, like the wolf, brown bear, and lynx, listed as endangered. Almost 500 vascular plants are endemic to the Carpathians, meaning they can be found nowhere else in the world.
The varied structure ensures a variety of living spaces for many so-called habitat-specialist species which require special conditions, such as the wildcat, forest dormouse or the grey-headed woodpecker. A high proportion of field maple and wild service trees can prevent the spread of pathogens in the forest. Standing and fallen deadwood of different thicknesses is just one of these important habitats. For example, the largest beetle in Europe, the stag beetle, is especially dependent on large-diameter deadwood. Among herbaceous plants, natural forests are home to orchids such as the lady's slipper orchid and other rare species.
Healthy, natural forests are essential for the health of our planet and the ecological services they can provide to the people that depend on them. Biodiversity, climate change resilience, soil anchoring and erosion prevention, habitat protection, filtering freshwater, generating oxygen, providing eco-corridors for large carnivores and other wildlife, and drought mitigation are just some of these benefits. WWF's Life4Oak Forests Project is one of several forest projects in Central and Eastern Europe being carried out to help achieve our New Deal for Nature and People targets:
ZERO loss of natural habitats;
HALVE the footprint of production and consumption; and
and ZERO human-induced extinction.
About the LIFE4OAK FORESTS Project
Hungarian oak forests provide shelter for several endangered species. With our partners, WWF-Hungary aims to halt biodiversity decline in areas with oak forests that are parts of the Natura 2000 network. We apply silvicultural and habitat management methods that increase the structural complexity of the forests and the variety of species. In addition, we create microhabitats that ensure appropriate conditions for species with special habitat requirements, such as insects or bats that live in deadwood. This 10-year project aims to establish uniform nature conservative forest management procedures that help our oak forests become more natural and consequently, healthier.
( Press Release Image: https://photos.webwire.com/prmedia/6/250852/250852-1.jpg )
WebWireID250852

This news content was configured by WebWire editorial staff. Linking is permitted.
News Release Distribution and Press Release Distribution Services Provided by WebWire.