William Blake lights up London Skyline
Tate Britain Projects onto ST Paulís Cathedral to Mark Artistís Birthday
WEBWIRE
–
Thursday, November 28, 2019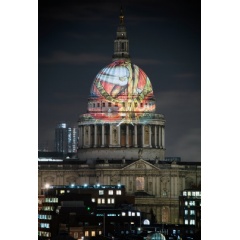 William Blakeís íThe Ancient of Daysí 1827, projected by Tate Britain onto St Paulís Cathedral 2019 Photo: © Tate (Alex Wojcik)
William Blakeís final masterpiece will illuminate the iconic dome of St Paulís Cathedral to celebrate the artistís birthday. The dramatic illustration Ancient of Days 1827 was described by Blake as Ďthe best I have ever finishedí and will be visible across London. Tate Britain is currently staging the UKís largest survey of works by Blake for a generation and has collaborated with St Paulís Cathedral - home to the most visited Blake memorial in the UK - to recreate his vision on a monumental scale
Now renowned as a poet, Blake also had grand ambitions as a visual artist, proposing vast frescos that were never realised. Living and working in London for most of his life, the artist imagined adorning the walls of churches and public buildings in the city. The cityscape of London, dominated by St Paulís Cathedral, inspired Blakeís powerful artworks and writing. His well-known poem Holy Thursday 1789 refers to Ďthe high dome of Paulsí. Created as a frontispiece for the 1794 prophetic book Europe a Prophecy, Ancient of Days is on loan to the exhibition at Tate Britain from the collection of the Whitworth, The University of Manchester and has become one of Blakeís best-known images. Through projections, Tate Britain will reenvision the small yet imposing illustration on an awe-inspiring scale, more than two centuries later.
Shaped by his personal struggles in a period of political terror and oppression, Blakeís radical beliefs meant he received little recognition in his own lifetime. November 28 2019 would have been his 262nd birthday. In the almost two centuries since his death Blake has become one of Britainís most beloved artists and an inspiration to generations of musicians, writers, artists, and performers worldwide. Buried in relative obscurity in a common grave, the memorial to William Blake now installed in the crypt of St Paulís Cathedral is visited by thousands each year.
Martin Myrone, Senior Curator, pre-1800 British Art, said: ďBlake was an artist of gigantic imagination and vision, who has fired the creative ambition of generations. Seeing Blakeís work on a huge scale on this iconic building restores a sense of his towering presence in British cultureĒ
Dr Paula Gooder, Chancellor of St Paulís Cathedral, said: ďSt Paulís Cathedral is delighted to continue our partnership with Tate by hosting this projection of the Ancient of Days onto the dome of the Cathedral. This collaboration is made even more special because of the memorial in our Crypt to William Blake. We hope that the projection of this iconic image will be an inspiration to all who see it.Ē
The projections will run from 28 November Ė 1 December 2019, from 16.30-21.00 each evening. The project has been realised by Tate in collaboration with St Paulís Cathedral, projection partners EMF Technology Ltd, and with the kind support of the Whitworth Art Gallery, The City of London, City of London School and animation director Sam Gainsborough. William Blake at Tate Britain is curated by Martin Myrone, Senior Curator, pre-1800 British Art, and Amy Concannon, Curator, British Art 1790-1850.
William Blake
Until 2 February 2020, Open daily 10.00 Ė 18.00
Tate Britain, Millbank, London SW1P 4RG
For public information call +44(0)20 7887 8888, visit tate.org.uk or follow @Tate
Supported by Tate Patrons and Tate Members
#WilliamBlake
RELATED EVENTS
St Paulís Cathedral, Saturday 30 November and Sunday 1 December 2019
During the Advent Carol Services at the Cathedral there will be readings of Blakeís poem Earthís Answer.
EXHIBITION TOUR: SACRED VISION FOR MODERN BRITAIN
Tate Britain, Friday 24 January 2020, 18.30Ė20.30
Rev Dr Ayla Lepine leads an afterhours tour of the exhibition at Tate Britain, exploring connections between the Bible and William Blakeís imagery.
BLAKE NOW
Tate Britain, Friday 31 January 2020, 18.30Ė20.00
This panel discussion considers new perspectives on Blakeís work emerging in the 21st century.
NOTES TO EDITORS
ABOUT ST PAULíS CATHEDRAL
St Paulís is the cathedral church of the diocese of London, which it has served for over 1,400 years. The current building has become a potent symbol of the life of a nation and is one of the worldís most beautiful buildings. Designed by Sir Christopher Wren in the late seventeenth century, its stones have absorbed the hopes, fears, sorrows and joys of generations and stand as an enduring symbol of our communion with those gone before and those still to come. Each year nearly two million people flock to the cathedral for services, concerts, debates, educational events, performing arts and sightseeing. All are most welcome. www.stpauls.co.uk
ABOUT EMF TECHNOLOGY LTD
EMF Technology is an international live events organisation which has been involved for the last 20-years in supplying large scale building projection mapping, lighting and special effects for memorable shows on surfaces such as Buckingham Palace, The Houses of Parliament, the White Cliffs of Dover, Table Mountain in Cape Town as well as regular events such as film premieres in Londonís West End and Cannes Film Festival on many occasions. www.emftechnology.co.uk
( Press Release Image: https://photos.webwire.com/prmedia/7/250832/250832-1.jpg )
Related Links
WebWireID250832

This news content was configured by WebWire editorial staff. Linking is permitted.
News Release Distribution and Press Release Distribution Services Provided by WebWire.