Juggling act: British parents carry a whopping 100 items with them on family trips
WEBWIRE
–
Wednesday, November 27, 2019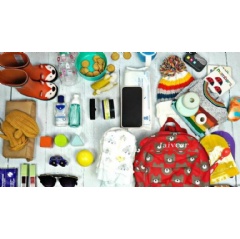 One in 10 (11%) British parents carry over 100 items with them on days out with their children
With so much to pack when going out with the kids, two fifths (43%) end up losing items when on the go and a quarter (26%) have forgotten to pack their own essentials, such as their wallet or purse
On average, parents spend a total of 1 hour 18 minutes a week searching for these items in the depths of their bags/ pockets before realising they are missing – resulting in a loss of three precious days a year
To give parents a helping hand, Pingit has developed a range of contactless devices which include wristbands, key fobs and coffee cups, allowing users to pay-on-the-go more easily
Whether it's mastering the art of changing a nappy, being a dab-hand when dealing with dribble while juggling 10 other tasks or getting by on broken sleep, parenting brings with it a whole new set of challenges and skills. Seemingly, one of these skills is channelling your inner Mary Poppins as British parents carry an alarming amount of items with them on a family day out. One in 10 (11%) carry over 100 items, with the average parent carrying 42 items.
Research by social money app Pingit revealed that parents often find themselves leaving essential items behind as a result of having so many things to pack. A quarter (26%) have forgotten their wallet/ purse despite it being voted as one of the essential items for a day out with the children (66%). A further one in three (29%) have forgotten their mobile phone and their house/ car keys (16%).
As a result, on average, parents spend a total of 1 hour 18 minutes a week searching for these forgotten items in the depths of their bags/ pockets before realising they are missing – resulting in a loss of three precious days a year.
Seven in 10 parents are on the hunt for gadgets that will help free up their hands when out with the children (73%) – with two thirds looking for new technology that will reduce the number of items they carry (63%).
To help relieve Britain's load-bearing parents, Pingit offers a range of contactless devices which allow parents to pay-on-the-go. The range, available from the Pingit e-store, includes bracelets, key fobs and contactless coffee cups meaning parents can pay easily even when their hands are full.
Darren Foulds, Managing Director of Pingit, said: "We know the plight parents face when it comes to the heavy load they have to carry – and how simple acts like locating your keys, wallet or purse can become tricky when your hands are full.
"Our wearables aim to give parents a helping hand, meaning you can pay with ease and convenience when on the go, lightening the load for active parents."
Meanwhile, the extra load is presenting a logistical challenge for parents. The research revealed parents are lugging 18kg worth of weight around with them – heavier than the kit of a firefighter. As a result of this, two thirds (65%) say they struggle to carry everything – and two fifths (44%) have had to ask strangers for help.
Furthermore, a third (34%) of British parents have developed back problems as a result of carrying all of the items needed; and a quarter (22%) have knocked their head on something whilst lugging their load.
Pingit has partnered with Anna Whitehouse, founder of influential parenting site Mother Pukka, to comment on how much parents balance on a daily basis.
Anna comments: "Some days, I feel as though I have completed a five hour gym workout after I have carried around my parenting kit. It is a wonder that someone so small needs so much 'stuff' – but I've been caught out before by forgetting to pack some of the essentials and it wasn't pretty. We're embracing the Pingit devices in our household, anything that gives a helping hand is a yes from us."
Top 10 items parents most often lose
1. Water bottle (30%)
2. Mobile phone (28%)
3. Car / House keys (27%)
4. Glasses/sunglasses (26%)
5. Wallet / Purse (23%)
6. Loose change (23%)
7. Reusable cup (20%)
8. Tablet device (12%)
9. Laptop (9%)
10. Diary (8%)
The full range of wearable products are available at web.pingit.com and have a 25% discount until 13th Dec when using the code PINGIT25.
The findings were released by Pingit, an app that makes money management easy and convenient – from facilitating peer-to-peer payments with just a mobile number, portioning your money into 'jars' so that budgeting is seamless and paying from your jars using either a wearable or a card. For more information visit www.pingit.com or download the app.
Notes 
Extra Research info:
• Research polling 2,005 people in the UK aged 18 - 40, conducted between 7th November 2019 and 11th November 2019
• Standard firefighter kit weighs 15kg, source: https://www.london-fire.gov.uk/about-us/services-and-facilities/vehicles-and-equipment/breathing-apparatus-ba/
Wearable products:
• The full range of contactless devices are available on the Pingit store – www.web.pingit.com
• From 18th Nov – 13th Dec 2019 all contactless devices will have 25% when you enter the code PINGIT25 at the checkout.
Pingit Chips:
• Each Pingit chip is linked to a Pingit account.
• Only the owner of the Pingit account can pay with the chip.
• Contactless chips allow payments of up to £30 at a time.
Pingit Devices:
You can make purchases with your device wherever you see the contactless symbol. For Pingit payment limits, visit pingit.com Retailer payment limits may apply. Pingit is subject to application and acceptance of T&Cs.

To register your device with Pingit you must be 16 or older, have a current account in the UK and be a resident of the UK, the Isle of Man, Jersey or Guernsey. The device can be used for payments for a minimum of 2 years.
About Pingit 
Pingit is a social money app that lets you pay, get paid and spend in the moment. It is designed to help you move money effortlessly, all in one easy-to-use app. If you are aged 16 or over all you need is the Pingit app, a UK registered mobile phone number and to be both a resident of, and have a current account in, the UK, the Isle of Man, Jersey or Guernsey. The app helps make life's money moments simple and hassle-free. From paying to collecting to just doing. It's quick, free and totally secure.
For further information about Pingit, please visit our website pingit.com
About Barclays
Barclays is a transatlantic consumer and wholesale bank offering products and services across personal, corporate and investment banking, credit cards and wealth management, with a strong presence in our two home markets of the UK and the US.

With over 325 years of history and expertise in banking, Barclays operates in over 40 countries and employs approximately 83,500 people. Barclays moves, lends, invests and protects money for customers and clients worldwide.

For further information about Barclays, please visit our website www.barclays.com
( Press Release Image: https://photos.webwire.com/prmedia/6/250776/250776-1.jpg )
Related Links
WebWireID250776

This news content was configured by WebWire editorial staff. Linking is permitted.
News Release Distribution and Press Release Distribution Services Provided by WebWire.