HBIS & CR Beijing Signing Comprehensive Strategic Cooperation Agreement in the New Year, All HBIS Delivery to Beijing Will Be Performed by Railway
WEBWIRE
–
Wednesday, November 27, 2019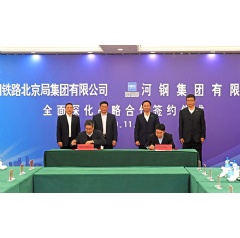 HBIS and China Railway Beijing Group(CR Beijing) signed their Comprehensive Strategic Cooperation Agreement in Gaobeidian. They also launched the Beijing and Xiongan Green Logistic Base Project to build a "1+4+N"and "Road To Railway"new business. They will adopt a container and distribution and green intermodel transport to assist the coordinated development Beijing-Tianjin-Hebei cooridnated development and the construction of Xiongan New District. The new business will promote the Battle of Blue Sky Protection. HBIS CCP & Group Chairman Yu Yong, CR Beijing CCP & Group Chairman Zhao Chunlei witnessed the signature of the Strategic Cooperation Agreement and unveiled the name plaque of Beijing Xiongan Green Logistic Project. HBIS Presient,CCP Vice Chairman Peng Zhaofeng, CR Beijing President, CCP Vice Chairman Li Ying signed the agreement and made their speeches in the ceremony.
HBIS Vice President Wang Yaobin hosted the ceremony and CR Beijing Vice President Jing Shiming hosted the unveiling ceremony of Green Logistic company.
Yu Yong said HBIS and CR Beijing had signed the Framework Agreement of Jointly Building A Green Logistic System and launched an initiative of "Leading the Green Logistics and Protect the Clean Water and Blue Sky of the Capital City". The effert is paying off and all HBIS Products coming to Beijing are transported by railway systems in the 4th quarter of this year, a key goal of green logistic system. The partners'promises are officially fulfilled.
Yu Yong said HBIS was the largest steel in Beijing-Tianjin-Hebei region and firmly implementing Chairman Xi Jiping's Concept of Green Development. It will become the beneficiary of green development and shoulder and practitioiner. Paticularly, in the new strateigic planning of Xiongan New District and green logistic system of Beijing-Tianjin-Hebei, HBIS will share the interests and take its responsbilities. HBIS will steadifastly work with CR Beijing to jointly implement the reform of green logistic system. Both HBIS and CR Beijing own tremendous scale, resource and have alot to work together. HBIS takes full advantages of CR Beijing resources and opportunities by starting with green transport, while exploring new strategic opportunities.
Zhao Chunlei congratulated Mr.Yu for being elected the Chairman of World Steel Association and said Mr.Yu Yong taking the office of WSA chair, we could see the grand achievements of 70-year-development of the new Chinese Republic. On world stage, HBIS is presenting a HBIS solution and a Chinese idea to Chinese steel industry.
Zhao Chunlei thinks CR Beijing and HBIS share similar strategic vision and concepts. Since the sigature of Strategic Cooperation Agreement last December, the partners have been implementing the projects and since, acheivements have been made. Our solution shows the merger of transportation sector and enterprises. It could lead to further innovation and cooperation. Our green logistic center will offer high quality solutions to high quality HBIS development. Our railway, our future together with HBIS will be green and intelligent.
With the agreement in place, the partners will strengen the green logistic center and build a "1+4+N" and "Road To Railway"new business. With its center in Huangcun and Shahe, Beijing,  the project will serve southern, northern part of the city. With key grids in Gaobeidian and Wenan in Hebei, the project will serve Xiongan new district. Besides transportation, the CR Beijing and enterprises will develop Mutual Insurance, Intelligent Merger, green logistic system, innovation logistic cooperation, business extention and HR exchanges. The partners will adopt a container distribution and green intermodel transport to enhance the high quality development of logistic and manufacturing industry. The project will serve the new usual status of the economy, take its responsibilities as SOE to serve the development of capital city and Xiongan New Economic District. In the ceremony, HBIS and CR Beijing published the accomplishment in green transportation. In one year, the partners have been in action and the logstistic structure has improve. The "Road to Rail"project is working well and HBIS railway transport volume is reaching 6million tons, lowering the emssion of CO2 significently. Green logistic system is on, connecting green logistic channel of Xiongan New District and 100% of HBIS products are conducted by rail. Intelligent Logistic environment is constructed and CR Cloud and HBIS Logistic Information System are conncect, covering manufacturing, demand/supply and railway and enterprises.
( Press Release Image: https://photos.webwire.com/prmedia/6/250769/250769-1.jpg )
Related Links
WebWireID250769

This news content was configured by WebWire editorial staff. Linking is permitted.
News Release Distribution and Press Release Distribution Services Provided by WebWire.