Building trust in Mombasa
WEBWIRE
–
Tuesday, November 26, 2019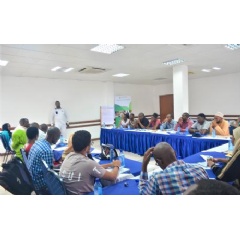 Initiatives of Change Kenya organized activities in Mombasa for their Trustbuilding project. Mombasa, one of the two cities where the project is focused, has been listed as a hotspot for radicalization of young people, as well as a breeding ground for terrorists. Since most of the terrorists are associated with radical and extremist Islam, there are rising trust issues between Christian and Muslims with the misconception that Muslims are terrorists.
Soccer Match
36 Muslim and Christian students from Mombasa Aviation College at Mombasa Baptist High School, participated in a joint football match. Before the teams started playing, Joseph Wainaina told his story of how he transformed his eagerness for revenge into work for reconciliation. The audience was moved by his story and by the emotions expressed.
During the soccer match a clear example of mistrust came to surface, as people from the Muslim teams felt that the referee was being biased in favour of the Christian team. They did not want to continue the match, so the facilitation team had to intervene. After the match, the team and participants discussed what had happened. The leader of the Muslim team apologized, to both teams, for his reaction. He acknowledged that it might just have been a misunderstanding about the game, that had nothing to do with the referee being of a different religion.
Dialogue
There was a dialogue at Royal Castle Hotel for 29 participants, excluding the Initiatives of Change team members. The ratio of Muslims and Christians was almost equal, with a few more Muslim participants, given that the coastal region has a Muslim majority. There was a lot of discussion about the wounds that have been created and how they surface. For example, one woman talked about how a Muslim leader came to her office to greet everyone by shaking hands, but he did not shake hers. She believed that this was because she is Christian, but she learned that Muslim men do not shake hands with women. She said that if he would have explained why, she would have understood and would not have felt discriminated against. Another Christian woman shared how she went looking for a job and felt that Muslims were walking in and out of the bossís office, but that she could never go in. So, she asked if it was because she was Christian.
Aim of the Activities
The aim of both activities was to bring together people from the two different religions to converse with each other. Both activities were needed in order to demystify some of the unconscious biases, perceptions and prejudices the groups have against each other. A key piece of the project is to find common ground and begin the process of identifying solutions, airing concerns and finding practical ways to solve the misunderstandings between people of the two religions. This helps the participants of both sessions learn to relate with people from other areas and religions.†
®Most of the time the conflict between Muslims and Christians is caused by our pride, ignorance, and lack of knowledge to understand the different religious cultures, as well as biased interpretation of the same information. For example, scriptures from the Bible and the Quran. We need to remember that humanity should always come before religion.® Emmanuel, Muslim dialogue participant
Implementation
The participants committed to taking up the challenge of initiating change processes in their different capacities. Some of the activities they mentioned were holding stakeholder forums and outreaches, in which they will not exclude anyone, including drug abusers and youth who have reformed from terrorist groups and criminal gangs.
Many participants asked to go out of the hotel rooms and get into the neighbourhoods and community centers in order to reach more people. Participants and the community alike feel the need for more of these activities and dialogues.
The Trustbuilding Program is aimed at addressing divisive issues at the international and national levels, on the premise that only those who have undergone the internal process of becoming trustworthy themselves can close gaps across the globe. The Program was launched by Initiatives of Change International in 2019 with projects in Kenya, Canada and France.
†
( Press Release Image: https://photos.webwire.com/prmedia/7/250729/250729-1.jpg )
Related Links
WebWireID250729

This news content was configured by WebWire editorial staff. Linking is permitted.
News Release Distribution and Press Release Distribution Services Provided by WebWire.