Lightsource BP pioneers UK's first night-time solar service
WEBWIRE
–
Monday, November 25, 2019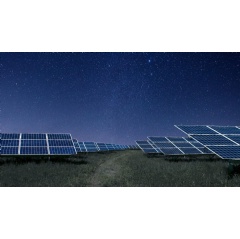 Lightsource BP, one of the global leaders in the funding, development and long-term operation of solar projects, has become the first company in the UK to provide a reactive power service from a solar plant at night.
Reactive power is the ability to maintain voltage levels on electricity transmission systems. This allows more energy to be transported down existing infrastructure and therefore increases capacity without the need for infrastructure upgrades. Inverters within a solar plant are able to provide reactive power by reducing or increasing voltage levels. They can deliver the voltage change necessary at a grid supply point, which is managed by National Grid Electricity System Operator (ESO).
In a successful plant trial, which took place on Monday 4th November, Lightsource BP used one of its solar plants in East Sussex to provide a reactive power voltage support service at night. The reactive power service was delivered through UK Power Networks' distribution network and has the potential to help National Grid ESO manage voltage on the transmission network.
The test was coordinated with UK Power Networks' control engineers who monitored to ensure network safety and reliability with no adverse customer impact.
National Grid ESO confirmed that this is the first night-time grid support service from a solar asset in the UK.
The trial follows three years of testing and development and forms part of the joint National Grid ESO and UK Power Networks 'Power Potential' project, which aims to create a new reactive power market for distributed energy resources (DERs) in the South East. Lightsource BP worked with UK Power Networks and National Grid ESO on Power Potential to deliver this important milestone in an initiative which has the potential to save UK energy customers over £400m by 2050 and provide up to an additional 4 GW of power capacity in the South East region of the UK.
Kareen Boutonnat, Lightsource BP Chief Operating Officer, comments: "The success of this trial clearly demonstrates that innovation is key in addressing the future growth of the energy sector. With electricity demand increasing so rapidly we have to be in a constant state of evolution in order to solve the problems of the future.
"Right now, we have proven that solar plants can play a larger role across the electricity network – even at night. However, it is only the beginning and as our team continue to develop and support this project, we will remain focused on pushing the boundaries and forging partnerships to remain a leading innovator across our sector".
Dr. Biljana Stojkovska, National Grid Electricity System Operator, Power Potential Project lead comments: "As we move towards our 2025 ambition of being able to operate the GB electricity system carbon free we are seeing more renewable generation come online – such as wind and solar – which in turn requires finding new ways of managing system characteristics like voltage. This innovative trial, which forms part of our Power Potential project, is an exciting first step. We look forward to seeing it progress over the coming months as we explore new reactive power markets for distributed energy resources, and their potential to cut costs for energy consumers."
Dr. Rita Shaw, UK Power Networks, Power Potential Project lead comments: "We are delighted to have successfully supported Lightsource BP to facilitate the participation of its solar plant in our reactive power trials. It is one of many examples of innovative collaboration with our distribution connected generation customers, in building the foundations for our Distribution System Operator (DSO) transition."
Notes to editors 
The grid test conducted on Monday 4th November used the Power Electronics solar inverters at Lightsource BP's St Francis solar plant in East Sussex.
During the day, solar inverters convert DC power of a solar panel to conventional AC power which can be fed into a  commercial electrical grid. Since solar farm inverters are not in use during the night, they are an under-used resource for National Grid ESO and local operators to tap into.
Lightsource BP worked with Power Electronics to re-calibrate the inverters to take power from the grid and reflect it back to the grid in better condition.
As more renewable energy comes onstream across the UK in order to meet government targets for 'net zero' emissions by 2050, the need to find cost-effective ways to deliver grid services such as reactive power will significantly increase.
Following Lightsource BP's formal commissioning later in the year / January next year will enable the service to be provided under a Power Potential DER Framework Agreement with UK Power Network to participate in the operational trial during 2020.
About Lightsource BP 
Lightsource BP is an independent, global leader in the development, funding and long-term management of utility-scale solar PV projects with over US$3.4 billion of project financing raised and deployed across more than 2GW of solar projects globally. Leveraging a strategic partnership with BP and through its integrated platform, structured finance, in-house engineering excellence and dedicated O&M division, Lightsource BP is helping drive the global energy transition with competitively priced, dependable, clean energy for businesses and communities. Headquartered in the UK, Lightsource BP comprises a team of over 400 industry specialists in 16 offices across five continents. For more information visit lightsourcebp.com, follow us on Twitter @lightsourceBP and Instagram @lightsourcebp or view our LinkedIn page.
About National Grid 
Electricity System Operator National Grid Electricity System Operator – a legally separate business within the National Grid Group – relies on a mix of power generation to balance Great Britain's electricity system and ensure that, whatever the mix, electricity is always there when its needed.
Our mission is to enable the transformation to a sustainable energy system and ensure the delivery of reliable affordable energy for all consumers. We are working with stakeholders across the whole energy system to plan for future requirements on the electricity networks. We use the insight we gather to make sure we can balance the system today and find  opportunities to transform the way we operate the system in the future.
We are proud of the role we play enabling and accelerating progress towards a low-carbon energy future. In May 2019, we reported the first ever fortnight of coal-free operation of Great Britain's system, showing further progress towards our ESO ambition of being able to operate a zero-carbon electricity system by 2025.
For more information please contact Ben Davis: ben.davis@nationalgridso.com.
About UK Power Networks 
UK Power Networks is the country's biggest electricity distributor, making sure the lights stay on for more than eight million homes and businesses across London, the South East and the East of England.
Network operators aren't the same as energy suppliers; network operators manage local power lines and substations, while energy suppliers sell the electricity that runs through the power lines.
UK Power Networks continues to be listed in the Sunday Times' Top 25 Best Big Companies to Work For, and made industry history by becoming first company to win Utility of the Year two years running (2015 and 2016, also 2012).
UK Power Networks invests more than £600 million in its electricity networks every year, offers extra help to vulnerable customers at times of need, and is undertaking trials to ensure that electricity networks support the transition to a low carbon future. It also moves cables and connects new electricity supplies. If you have a power cut ring 105, see  www.ukpowernetworks.co.uk or tweet us @UKPowerNetworks.
( Press Release Image: https://photos.webwire.com/prmedia/5/250671/250671-1.jpg )
Related Links
WebWireID250671

This news content was configured by WebWire editorial staff. Linking is permitted.
News Release Distribution and Press Release Distribution Services Provided by WebWire.