Out of the shadows: exploring the archive at IDFA 2019
With a focus program and a new competition, the creative use of archival material is taking center stage at IDFA.
WEBWIRE
–
Monday, November 25, 2019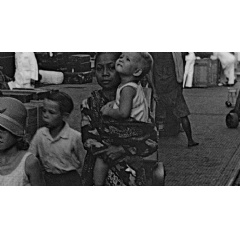 "The definition of found footage really depends on where you found it," Hungarian filmmaker Péter Forgács reminded the audience at his IDFAcademy Master Talk. "Family footage always records happy moments—I've seen thousands of home marriages and no divorces." It's a lighthearted example of a serious issue any filmmaker dealing with archival materials has to contend with: what are the suppositions, representations, and biases inherent in the material itself, and how can these be overcome—or used to your advantage?
The use of archival materials is taking center stage at IDFA 2019. It's a staple technique for documentary filmmakers. In their most basic form, it's used to give information or illustrate events from the past, giving context to whatever is happening in the documentary proper. But the IDFA program offers a wide array of more imaginative and creative uses of archival footage. See, for instance, Lauren Greenfield's The Kingmaker, in which quick cuts to archival footage are one of the strategies to puncture the self-inflating lies and half-truths told by the film's subject, Imelda Marcos. "We needed to make clear that she's an unreliable narrator," Greenfield explains. "When there was too much space between her statements and the fact check, it didn't work. It had to be right on top of each other. We couldn't let her get away with the lie beyond the next shot."
It's also highlighted in the new IDFA Competition for Creative Use of Archive, for which nine new films from across the festival program have been nominated. The competition includes new works by such masters of archival films as Alan Berliner (Letter to the Editor) and Sergei Loznitsa (State Funeral). The latter is also one of the eleven titles, both classics and new works, screening in the focus program Re-releasing History, in which each and every film has been forged entirely out of pre-existing footage.
During Saturday's Industry Talk Who Owns History?, directors of three such found-footage films discussed their approaches to archival material. "The risk is always that we perpetuate the same representation," said director Susana de Sousa Dias, also one of the three jury members for the IDFA Competition for Creative Use of Archive. Her 2005 documentary Still Life, screening in the Re-releasing History program, was built entirely from footage shot under the Portuguese dictatorship—propaganda images giving a very one-sided and biased view of the period. "In making the film, I had to create a sort of counter-archive," De Sousa Dias explained. Her answer was to heavily process the footage, slow it down, and re-focus on details that tell a different story. "We had to open up the images to show things the dictatorship didn't want us to see."
Dutch director Sandra Beerends' documentary They Call Me Babu similarly attempts to lay bare a story that has been kept out of view. From a wealth of footage shot gathered in several different archives, she tells the story of babus, or nannies, of Dutch families during their colonial rule over the East Indies. Most of the footage she found was home movies, Beerends explained. "They were made to send to the family back home, to show how wonderful life in this paradise was. Most of it was shot by the white, Dutch fathers, who were mostly interested in their own children—so the babus were literally kept out of the picture."
Eventually, she did find footage from one family who more prominently featured the babu in their images, giving the film a visual spine. But more important in constructing the story that was absent in the archives was the voice over, giving voice to the point of view of babu Alima, a partly fictional amalgam of many real babus' stories. "All the people raised by a babu were very emotional about them in my interviews, talking about them as a second mother, or even their first mother. But visually they were in the shadows. By giving her a voice over, Alima becomes our guide."
Where Beerends had to deal with an absence of footage to illustrate the many words her research had unearthed, director David Shields faced the exact opposite in making his first film Marshawn Lynch: A History. There was an abundance of footage of American football star Lynch, but the common thread through that mountain of interviews and public appearances is Lynch's silence. In his enervating montage, Shields re-frames Lynch's refusal to talk to the media as an act of political rebellion. In doing so, it was not to paramount break that silence, Shields said. "That's why there is no overt commentary by me, although of course I am creating a lot of meaning through juxtaposition. It was crucial not to impose some culturally dominant vision."
( Press Release Image: https://photos.webwire.com/prmedia/7/250624/250624-1.png )
Related Links
WebWireID250624

This news content was configured by WebWire editorial staff. Linking is permitted.
News Release Distribution and Press Release Distribution Services Provided by WebWire.