Global Car HAVAL F7x Launched in Russia Formally
WEBWIRE
–
Thursday, November 21, 2019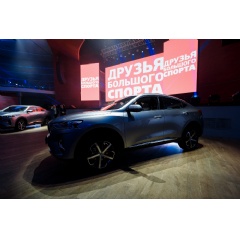 Taking the initiative in overseas development is an inevitable trend for Chinese auto brands to break through the fierce competition and broaden its development path. "Pilot" is the best word for HAVAL. In less than half a year, HAVAL has been frequently in spotlight overseas. From the completion of the first process-wide vehicle manufacturing factory of Chinese brand, to the launch of the first truly global car HAVAL F7, and to the top sales among Chinese auto brands for several months in Russia, HAVAL has been leading the independent overseas development as a pilot.
Today, HAVAL is still aiming for the international market. Just as people are proud of products intelligently made in China, HAVAL officially launched its coupe SUV model HAVAL F7x in Russia, aiming for the global market once again. On November 7, HAVAL brand and Russian media group Mediacrat held the launch event of the High-Energy Hero coupe SUV HAVAL F7x at the Peace Theater in Moscow. HAVAL F7x conquered the nation of warriors with its brilliant charm. With this launch, HAVAL F7x, the second global car of HAVAL, will compete for overseas market, so that Chinese coupe SUV makes its reputation abroad, and HAVAL brand further deepens its globalization.
In line with the local needs, HAVAL F7x was favored by the nation of warriors
To truly realize globalization, it must "go into" local markets. This means that to impress overseas consumers and gain a foothold in the market, it needs to really meet the local needs of overseas consumers. Instead of a whim, it's a premeditation. The launch of HAVAL F7x in Russia is an important decision based on the needs of the Russian market and consumers.
According to Russian media, Russian Internet users spend one-third of their time online on social networking sites, among which VK and Youtube are the most visited social networking sites by young users. In the context of socialization, the younger generation in Russia prefers smarter products with better appearance. They want to express themselves, and they like to follow trends. The sporty body and well-designed and sporty interior are the most appealing features of HAVAL F7x for the nation of warriors. The HAVAL F7x launched in Russia has four body colors, namely LabVader White, Space Black, Moon Shadow Grey and Deep-sea Blue. In terms of intelligence, HAVAL F7x is equipped with a powerful multimedia system with a 7-inch LCD dashboard and a 9-inch multimedia touch screen and supports Apple CarPlay and Android Auto. In addition, HAVAL F7x has a length, width and height of 4,620mm, 1,846mm and 1,660mm, and a wheelbase of 2,725mm. There is enough space in the car, even for users with tall and big figures.
Russia's complex road conditions, such as mountains and snowy and icy roads in cold weather, are very harsh tests for automobiles. As the SUV leader, HAVAL has a significant advantage in crossing performance. Equipped with intelligent real-time four-wheel drive system and all-terrain technology, HAVAL F7x has up to 6 driving modes, including Standard, Sport, Mud, Sand, Snow and ECO. No matter on rugged mountain or snow and ice road, it can move forward as easily as driving on flat ground. Meanwhile, in terms of safety, HAVAL F7x also satisfies the expectations of Russian consumers. HAVAL F7x protects the safety of users with a series of intelligent safety systems, such as HHC, HDC, ESP, FCW and other driving assistance systems, as well as six airbags.
In addition, HAVAL F7x has excellent power performance. Its 0-100km sprint is only 7.5 seconds, allowing the fighting nation to enjoy thrilling speed and passion. What's more, 2.0GDIT Engine under the bonnet of HAVAL F7x won the title of China Best Ten Engine 2019, providing a dynamic driving experience for Russian consumers.
HAVAL F7x won reputation through crossover marketing
To create a hot-selling new product in the overseas market, it needs a good marketing campaign based on the product power. As the trendiest model of HAVAL brand, HAVAL F7x takes the lead in overseas marketing and leads the new trend of crossover marketing.
This time, HAVAL took a different approach.  It launched HAVAL F7x at the Russian National Sports Champion Award Ceremony. With the influence of the top sports event, the flagship product was under the spotlight at its launch.
At the launch conference, after a futuristic poppin, Mr. Jerome Saigot, COO of HAVAL Russia, unveiled the new vehicle and released the price.
 
At a later award ceremony, HAVAL's customized "High-Energy Hero Award of the Year" was presented to Yana Egorian, a famous Russian Olympic fencing champion, together with a free vehicle.
Thus, the first Russian owner of HAVAL F7x was born, and that is the popular and influential Yana Egorian. Yana spoke highly of HAVAL F7x and expressed that she liked the dynamic coupe style of HAVAL F7x very much. Meanwhile, she appreciated HAVAL for its sponsorship. She will drive the High-Energy Hero HAVAL F7x, continue to work hard, and achieve better results on behalf of Russia in Tokyo 2020 Olympic Games!
 
After the award ceremony, the winners walked off the stage and took photos with F7x. Following the winners, the audience refocused their attention on HAVAL F7x.
All TV, newspaper and radio reporters and bloggers on the spot spoke highly of HAVAL. Among them, a representative from well-known auto media said: "I have experienced the product performance of HAVAL F7x during its test drive. I feel that the model carries the high expectations of the new generation of intelligent SUV of HAVAL brand. Integrating the appearance level and strength into one, it is worth recommending to the users! The launch event is very novel and exciting. So many sports stars gathered here for HAVAL. I look forward to the market performance of HAVAL F7x."
In addition, HAVAL has entered into the local market of Russia in a way of promoting the public welfare of sports and achieved considerable development in Russia. At the launch conference, HAVAL donated a F7x to the Football Country Foundation. Since Igor Akinfeev, the founder of the foundation, a world-renowned football star and the captain of the Russian national football team, was unable to attend the conference due to training, he recorded a video of himself thanking HAVAL for its generous donation for the public welfare of children's sports in Russia, and this will help the foundation to explore more future sports stars. Thanks to the public welfare event of the "Paying Tribute to High-Energy Hero", HAVAL has won recognition of users in the Russian market.
  
What's more, as a successful representative intelligently made in China with initiative overseas development, HAVAL once again teamed up with Xiaomi, a well-known Chinese mobile phone brand in Russia. The two companies will achieve mutual benefit and win-win situation through the integration of superior resources. At the launch conference, HAVAL and Xiaomi jointly launched the "Young Sage Scheme", offering discounts to users of both HAVAL and Xiaomi. HAVAL will take advantage of Xiaomi's popularity in Russia to boost its brand awareness.
Through crossover marketing with Russian top sports IP and Internet brand Xiaomi, as well as assistance to public welfare undertakings, HAVAL F7x has enhanced its image from "Made in China" to "Intelligently Made in China" overseas as an SUV leader through innovative marketing model.
With advanced overseas layout, HAVAL F7x has confidence in conquering the global market
HAVAL is heading for European market and aiming for the global market. Russia is the bridge for HAVAL brand to conquer the global market. In the future, HAVAL F7x will continue to open overseas markets so that Chinese auto brands can stand in the world.
HAVAL F7x's confidence in conquering the global market stems from its globalized strength. Since the beginning of R&D, HAVAL F7x has gathered the top resources of global design and R&D. In terms of R&D, HAVAL has built a global R&D layout covering Europe, Asia and North America with Baoding Headquarters as the core. It has built 8 R&D centers and 5 modeling centers in Japan, the United States, Germany, India, Austria and South Korea. In addition, HAVAL has more than 800 distributors around the world, which is a huge global sales network. Up to now, there are 70 HAVAL distributor centers and 3 authorized service centers throughout Russia. Undoubtedly, it provides a strong guarantee for the worldwide hot sale of HAVAL F7x.
As the second global car of HAVAL, HAVAL F7x took the lead in realizing the overseas localization production of Chinese coupe SUV. The launch of HAVAL F7x will break the inherent cognition of Chinese coupe SUV in the overseas market. Meanwhile, it will strengthen the globalization of HAVAL and accelerate the transition to the "Post 5-Million" era. Last year, HAVAL became the first Chinese SUV brand to join the Five-million-sales Club. With the acceleration of globalization, in September this year, the sales volume of HAVAL brand in Russia increased by 452% YOY, gaining high recognition from overseas consumers. The launch of HAVAL F7x adds another member to HAVAL's globalization camp. With the combination of HAVAL F7x and HAVAL F7, the first global car, HAVAL will have full confidence in conquer the global market and take up the challenge in the future.
With the launch of HAVAL F7x in Russia, HAVAL has full confidence in challenging the "Post 5-Million Era". It is also the first time that Chinese coupe SUV has been launched overseas, making Intelligently Made in China known far and wide. In the future, I believe that HAVAL F7x will become the next worldwide hot-selling product, and the sparkling business card of Chinese auto intelligent manufacturing!
( Press Release Image: https://photos.webwire.com/prmedia/5/250510/250510-1.jpg )
Related Links
WebWireID250510

This news content was configured by WebWire editorial staff. Linking is permitted.
News Release Distribution and Press Release Distribution Services Provided by WebWire.