First Graduates of the Borealis MORE Grant
WEBWIRE
–
Tuesday, November 19, 2019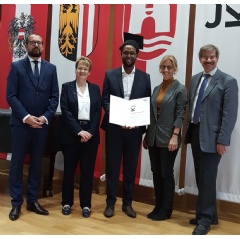 The Borealis MORE Grant was introduced at the Johannes Kepler University Linz two years ago. The grant provides financial support to qualified individuals holding official refugee status and higher education entrance qualifications, allowing them to study at the JKU. Two participants in the MORE program have now graduated.
When living in a new country, education and professional opportunities are key criteria to integrate rapidly and successfully. Students who have been granted asylum in Austria generally can apply for scholarships and grants but oftentimes, they do not fulfill the criteria at the start of their studies. Two years ago, Borealis recognized the disparity and responded by launching the Borealis MORE Grant. Since the start of the program, 41 students at the Johannes Kepler University Linz have received financial support, including two recent graduates, Endale Tenkir Geberesenbet and Alaa Mufleh.
Alfred Stern, CEO of Borealis, remarked: "There are many key factors when it comes to successful integration and access to education is one of them. The Borealis MORE Grant gives committed young people - who have had to flee their home country - an opportunity for a better future and, in keeping with our philosophy to 'Keep Discovering', support young scientists in academia. We would like to congratulate the first two program graduates and we wish them every success in their future education and career path."
Rudi Anschober, Commissioner for Integration, praised the program: "The Borealis MORE Grant has proven to be very successful, giving young asylum-seekers a unique opportunity to earn an academic degree and take part as full, long-term members of our society. Education and professional qualifications are key factors in the integration process and in turn, these benefit each individual, enrich our society, and - last but not least - our businesses. I would like to congratulate the two graduates on successfully completing their studies; they are role models for those who are currently on the same path."
Endale Tenkir Geberesenbet fled Ethiopia in 2015 during a time of massive state terror and a border conflicts with Eritrea. Despite improvements, recent demonstrations have included fatalities and show that Ethiopia is far from achieving political stability.
Endale had already completed a Bachelor's degree in business in Ethiopia. His Master's thesis titled "The Role of Religious Beliefs in the Formation of Entrepreneurial Intention" includes an extensive empirical study and focuses on the influence religious attitudes have on the willingness to start a business.
He got the idea for his unusual Master's thesis topic during a class taught by Prof. Matthias Fink (Institute for Innovation Management). Endale Tenkir Geberesenbet added: "There is more independence in terms of academics at the JKU than in Ethiopia. I was able to choose the thesis topic myself and I got the idea for it in Prof. Fink's class."
The JKU graduate completed the task brilliantly. Prof. Fink confirmed: "Endele is a creative and brilliant mind who has used his networks in both Ethiopia and Austria to conduct his research." Endele's findings proved that people who openly show their religious beliefs to the outside world are more willing to start a business.
Alaa MUFLEH fled Syria in 2014 to escape the turmoil of war. He had earned a Bachelor's degree in Computer Science at Damascus University. In March 2016, he was able to start a Master's degree in Computer Science at the JKU.
His Master's thesis titled "Bitcoin Eclipse Attack" focuses on the question of which algorithms are successful in defense against cyberattacks in systems that work with the blockchain technique. He carried out extensive statistical analyses and can offer calming advice. Alaa Mufleh summarized: "While we do not know how often cyberattacks occur, we do know that available defense algorithms work. We can trust them."
His thesis supervisor, Prof. Josef Scharinger (Department of Computational Perception), praised Mufleh's graduate thesis: "Mufleh has made a valuable contribution to increasing our understanding of the fraudulent potential these kinds of attacks have in a wide variety of configurations."
Alaa was granted asylum in 2016. Similar to Endale, he found there were big differences to his studies in Damascus: There are more diverse topics available at the JKU, students need to be disciplined to work independently as well as practice personally responsibility. The motivating feedback he received from professors was particularly positive for him, although occasionally he would have liked to have had more interaction with Austrian students. He has been employed on a full-time basis since June 2019 and can contribute his expertise in IT security to an internationally active company.
JKU Rector Meinhard Lukas praised the program and thanked all of those involved: "The JKU considers itself as a trend setter and social visionary. Whether it's about sustainability, environmental protection or integration, our goal is to not only find new solutions, but also walk the path and set an example. I would like to thank everyone who made this valuable initiative possible and I wish our first two graduates and grant recipients every success"
About Borealis:
Borealis is a leading provider of innovative solutions in polyolefins, basic chemicals and plant nutrients. Headquartered in Vienna, Austria, Borealis currently employs over 6,800 people and operates in over 120 countries around the world. In 2018, Borealis generated EUR 8.3 billion in sales and earned a net profit of EUR 906 million. 64% of Borealis is owned by Mubadala, through its holding company, and 36% by OMV, an integrated international oil and gas company based in Austria. Together with Borouge, a joint venture with Abu Dhabi National Oil Company (ADNOC), and Baystar™, a joint venture with Total and NOVA Chemicals in Texas, USA, Borealis provides products and services to customers around the world.
( Press Release Image: https://photos.webwire.com/prmedia/6/250381/250381-1.jpg )
Related Links
WebWireID250381

This news content was configured by WebWire editorial staff. Linking is permitted.
News Release Distribution and Press Release Distribution Services Provided by WebWire.