Race debut for the Mercedes-Benz EQ Formula E Team: The dawn of a new era
The Mercedes-Benz EQ Formula E Team embark on their first season in the ABB FIA Formula E Championship in the Diriyah E-Prix
Stuttgart –
WEBWIRE
–
Tuesday, November 19, 2019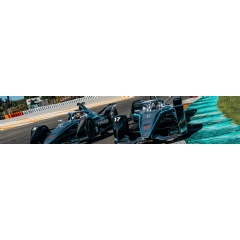 Ian James: "We are conscious of our status as beginners. We therefore have to learn quickly from errors as they occur and to continue developing as a team."
Stoffel Vandoorne: "Testing is very nice, but it's good to be switching back to race mode and see where we are compared to the other teams."
Nyck de Vries: "I'm very excited to be competing in Formula E as a team for the first time."
Further information, statistics and facts about the Diriyah E-Prix can be found in the Race Facts on our media site
An overview of the team and the most important of the Formula E regulations can be found in our press kit. Download here from our media site.
After 125 years of motorsport, Mercedes-Benz is about to open a new chapter in its successful racing history with the Diriyah E-Prix scheduled to take place this coming weekend.
As the 2019/20 ABB FIA Formula E Championship season gets underway, the two Mercedes-Benz EQ Silver Arrow 01s driven by Stoffel Vandoorne and Nyck de Vries will be competing in the electric racing series for the first time. It truly is the dawn of a new era.
What's new in season six?
For the Mercedes-Benz EQ Formula E Team, the electric racing series constitutes unfamiliar territory. But for the other teams too, this season brings a number of significant changes in the regulations. For every minute of interruption to normal racing (safety car, Full Course Yellow), each car will have 1 kWh deducted from its available energy reserves. This puts energy efficiency even more in the foreground. In addition, the clock will be stopped in the event of an interruption to proceedings, which will ensure that the E-Prix goes the full distance. The usual race duration in Formula E is 45 minutes plus one lap.
The so-called Attack Mode is also being slightly changed this season. If this overtaking aid is activated by the car driving over three detector strips located off the racing line, the driver benefits from a time-limited power boost. The maximum power of this boost after activation will be 235 kW instead of 225 kW. However, Attack Mode must not be used during a safety car deployment or a Full Course Yellow.
There is also an innovation in the scoring system: the fastest drivers in each qualifying group receive an extra point. The pole-sitter continues to benefit from the three bonus points. In the race itself, the points are awarded on the same basis as in Formula 1, i.e. from first to tenth place. There is another extra point for the fastest race lap, but only if the driver posting it has finished within the Top Ten.
What's so special about Formula E?
Formula E is more than exciting motorsport. Within a very short space of time, the electric racing series has become established as a pioneer as regards to technological innovation, sustainability and electro mobility. Racing takes place on specially designed street circuits in the centres of major cities. In this way, the race is brought directly to spectators – and not the other way around.
For the automotive industry, the electric racing series represents a huge testing ground, and for Mercedes in particular, it is an opportunity to showcase the performance of its battery-electric powertrains in motorsport and to enhance the EQ brand.
The action-packed races and event character directly address and involve spectators and at the same time, encourage future generations to live in a sustainable manner. In this way, the development of innovative technologies for electric vehicles and an improvement in urban air quality can both be promoted while actively combating climate change.
Why is Mercedes competing in both Formula 1 and Formula E?
Mercedes is the only car maker involved in both Formula 1 and Formula E. Is that a contradiction? Not for the brand with the three-pointed star, because the company does not see Formula 1 and Formula E as rivals but rather on the contrary, the two race series should go hand in hand, developing synergies with one another.
And so, in Formula E, the project builds on experience gained by Mercedes over the past couple of decades in Formula 1. The perfect example of this is the power unit of the Formula E car which, just like the hybrid power unit used in F1, was developed at Mercedes AMG High Performance Powertrains (HPP). In this area, a wealth of knowledge and expertise from Formula 1 can be transferred to the Formula E project.
Of course, know-how from the two mainstays of the racing programme will also be transferred back to the parent company, thereby influencing the design and manufacture of series production vehicles in future. For years, racing has been the perfect place to experiment with new technologies in a competitive environment, with batteries and energy management systems, for example, to ensure that electrical energy can be recovered and made available without the driver being distracted from his actual task of driving.
However, it's important to bear in mind that the transfer of knowledge and technology is not about installing a component from a racing car into a road-going vehicle without modification. It is the learning process, the methods and the insights that can be gained in Formula 1 and Formula E and how they can then be transferred to the world of road vehicles that are paramount.
Comments ahead of the Diriyah E-Prix 2019
Ian James (Team Principal):
"Finally, the day has come that everyone in the team has been working towards. Our two cars will make their first competitive outing this week. We've worked hard over the last twelve months to devise the best possible setup and achieve the necessary consistency for our race debut at Diriyah.
The season opener is not the end of this journey but rather the beginning. We are conscious of our status as beginners. We therefore have to learn quickly from errors as they occur and to continue developing as a team. Consequently, we will be aiming to make our learning curve as steep as possible.
We are, of course, really looking forward to competing against the other teams, and finishing the two races somewhere in the points would obviously be fantastic.
But no matter how this first race turns out for us, I would like to express my gratitude here and now to the entire team for their tireless efforts. What I've experienced over the past few months has been the epitome of commitment in terms of teamwork."
Stoffel Vandoorne:
"We're finally back in action. We have a long summer break behind us, during which time we had a lot to do. We did plenty of testing, and we got ourselves prepared as a team for the start of the season. I can hardly wait to get racing again. Testing is very nice, but it's good to be switching back to race mode and to see where we are compared to the other teams. It's not going to be easy, and it is hard to make any sort of forecast. We have to stay focused and try not to make mistakes. If we manage to do that, we should be in with a chance of a decent result."
Nyck de Vries:
"I'm very excited about competing in Formula E as a team for the first time and finding out how we shape up on our debut. After testing and the preparation time, I have the feeling that we have bonded together well as a team in the past few weeks. Now I'm ready to race again and to go up against our opponents on the track."
( Press Release Image: https://photos.webwire.com/prmedia/7/250341/250341-1.jpg )
Related Links
WebWireID250341

This news content was configured by WebWire editorial staff. Linking is permitted.
News Release Distribution and Press Release Distribution Services Provided by WebWire.