Can a Book Transform Your Life? Get a Free Book on Amazon for 2 Days Until November 19
Dasha Love's book is transforming lives, hitting the the #1 chart as the best new release in spiritual category.

You can get your free copy of this magical book. "The Girl With The Buddha Tattoo" is saving lives - http://bit.ly/GirlBuddhaTattooBookPromo
SAN JOSE –
WEBWIRE
–
Monday, November 18, 2019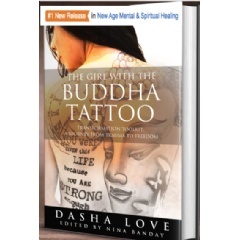 #1 SPIRITUAL HEALING on Amazon
What if the journey to success, to being happy, is not about "becoming someone," but instead returning home to being the authentic expressive playful version of who we are?
"What manifests in front of us is miraculous, it is the result of all the forces that have been interacting together for billions of years. Our universe has been around for 13.8 billion years, and the process that determines the flow of life was not determined overnight. It was not determined when we were born, nor will it end when we die. We are not responsible for the magic that is happening around us. We are part of the magic, but we didn't create it, nor should we try to control it. Just as our heartbeat, the most magical creation, an electromagnetic field 50,000 times stronger than the brain, beats on its own without any effort on our end, so does life, goes on perfectly fine when we let go of trying to control it."

From making six figures in Tech in San Francisco, to traveling to 47 countries, to caring for her terminally ill mother, Dasha awakens from her automated life and starts to question everything. She embarks on a journey into the Great Unknown. This journey was at times terrifying, at times beautiful, at times terrifyingly beautiful. On this journey, she faced the demons that have tormented her all her life, and instead of fighting, running, being terrified, she surrendered control.

As she transformed her past, she began to see the little girl, a happy, innocent child who just wanted to play and laugh. She fell in love with this little girl who she never knew existed. She let go of all the expectations, and found strength to be vulnerable. The very moment she surrendered to Hell, she found herself in Heaven. In Heaven she experienced the moment of complete and total Stillness that we all experience at least twice: when we take our first and our last breath.

This moment of complete Stillness, complete Nothingness, when the infinite energy of life crosses the boundaries of our finite bodies is what we all crave deep in our hearts but can't find. This little girl found it. She found Heaven on Earth walking the path of self-love and surrendering to the flow. She realized that she doesn't need to wait for her last breath to experience it. She is living it. Every day. Every hour.

You can get your free copy of this magical book. "The Girl With The Buddha Tattoo" at - http://bit.ly/GirlBuddhaTattooBookPromo
 
What Others Are Saying
"It's a great book, describing one's journey to enlightenment." ~ Anastasia
 
"Chock full of suggestions based on her experience and learning. One of my favorite involves asking re whom ever you meet "1. What do I love about this person? 2. Why have them been sent to me? 3. What can I do to help this person feel wonderful?." ~ Deepthi
 
"If you are lost in this life or continually ending up in the same situations, this book will give you some of the secrets to completely change your life and much more." ~ Nicholas Freedman
 
About The Author
Dasha worked for Silicon Valley's top tech companies and traveled to 47 countries. Her life transformed the moment her mom was diagnosed with Cancer. Dasha decided to take that leap of faith and embarked on her entrepreneurial self discovery journey five years ago and she never looked back. She found herself consulting startups, embarking on the path of real estate in Silicon Valley and eventually writing this very book and leading the path to love. She became a leader in the conscious community and now spreads the message of self-love through her books meditations and videos. She believes in her ability to transform billions of lives through her personal story of awakening.
 
If you want to know more about the process of transformation, the book, upcoming live events of meditations, checkout the authors website and community at https://dasha.love/

Meditations and Videos: https://www.youtube.com/channel/UCu0CnTCOVudw1_G0fruCxRA
( Press Release Image: https://photos.webwire.com/prmedia/68414/250230/250230-1.jpg )
Related Links
WebWireID250230
Contact Information

Dasha Shar
CEO of the Game of Life
Silicon Valley Wellness

This news content may be integrated into any legitimate news gathering and publishing effort. Linking is permitted.
News Release Distribution and Press Release Distribution Services Provided by WebWire.