Daimler cuts costs and sets course for the future
Stuttgart (Germany) –
WEBWIRE
–
Friday, November 15, 2019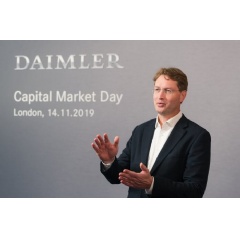 Automobile company focuses on sustainable business strategy
Long-term growth drivers for Daimler continue to be individual mobility and transport of goods and people
Profitability impacted by CO2 reduction and transformation of automotive industry
Comprehensive measures initiated to increase efficiency, streamline the Group and boost Free Cash Flow
Personnel costs to fall by end of 2022
Daimler presented a new sustainable business strategy at its Capital Market Day. With a clear commitment to CO2-neutral mobility, the company is setting its course for a successful future. "We are positioning the company for the transformation with a clear strategy for the future. The expenditure needed to achieve the CO2 targets require comprehensive measures to increase efficiency in all areas of our company. This also includes streamlining our processes and structures," said Ola Källenius, Chairman of the Board of Management of Daimler AG and Mercedes-Benz AG. "This will have a negative impact on our earnings in 2020 and 2021. To remain successful in the future, we must therefore act now and significantly increase our financial strength." 
Mercedes-Benz Cars & Vans 
The company assumes that the premium market for cars will continue to grow sustainably and faster than the volume market. Mercedes-Benz is well positioned to continue as the world's leading premium brand. Global CO2 regulations require ongoing high investment. The expanded range of plug-in hybrids and all-electric vehicles is leading to cost increases that will have a negative impact on Mercedes-Benz Cars' return on sales. A consistent product plan has been put in place to achieve the fleet targets in the European Union. 
Mercedes-Benz Cars has initiated systematic countermeasures to sustainably improve its cost structure and offset the expected margin erosion. Primarily, material cost reductions should support this compensation. By the end of 2022, Mercedes-Benz Cars plans to save more than €1 billion in personnel costs. To this end, jobs are to be reduced in both management and the indirect areas. The company is in close dialog with the employee representatives in order to make the measures as acceptable as possible. To strengthen the free cash flow, investment in property, plant and equipment and in research and development will be capped at the 2019 level and be reduced in the medium term. Strategically, Mercedes-Benz Cars aims to position itself as a pioneer of sustainable modern luxury and to develop the brand accordingly. The focus is in particular on the further development of higher-margin vehicles in the respective segment. 
Mercedes-Benz Vans is a growth sector, also supported by increasing urbanization and digitization of the retail business. In order to increase Mercedes-Benz Vans' competitiveness, material costs are to be reduced as well as personnel costs by €100 million. 
On this basis, the division Mercedes-Benz Cars & Vans expects to achieve a return on sales from operating activities of at least 4% in the year 2020 (before possible import tariffs) and at least 6% in 2022 (before possible import tariffs). 
Daimler Trucks & Buses 
In the short to medium term, Daimler Trucks expects demand to decrease in its core markets in Europe and the United States. This normalization has already begun and is expected to continue until 2021. Daimler Buses expects demand to rise. In the Daimler Trucks & Buses division, investment and cost pressure will continue in the coming years. Investment in new technologies is needed, also in the CO2 neutrality of the fleet through electric drive and in the automation and connectivity of trucks and buses. 
In terms of market share and profitability, the Daimler Buses and Daimler Trucks North America business units, which together account for 55% of revenue, are among the best in the industry. However, the profitability of Mercedes-Benz Trucks in Europe and Latin America– together accounting for 30% of global revenue – is currently unsatisfactory. Mercedes-Benz Trucks Europe has therefore started to reduce variable costs by €250 million as well as personnel costs by €300 million by the end of 2022. In addition, the sales organization is to be restructured. In Brazil, the number of platforms will be significantly reduced in order to return to profitability. In Japan, sales and the after-sales organization will be set up more efficiently. 
The market for heavy trucks, on which Daimler Trucks is increasingly focusing, offers good global growth and earnings prospects. In the long term, the truck manufacturer sees considerable business potential in highly automated trucks that travel between logistics hubs on highways. On this basis, the division Daimler Trucks & Buses anticipates a return on sales from operating activities of at least 5% in 2020 and at least 7% in 2022. 
Daimler Mobility 
Daimler Mobility will continue to support vehicle sales. In addition, the fleet-management business is to be further expanded. Through investments in urban mobility services, customers are to be offered flexible and attractive solutions for the mobility of the future. Furthermore, opportunities for future growth in this area are to be utilized. The division thus covers all customer needs from short-term vehicle use to multi-year sales financing. Higher regulatory capital requirements will adversely affect return on equity in the future. The division Daimler Mobility is countering this effect with efficiency measures and digitization. The aim is to grow profitably in all three core activities, to increase the value of the company and to pay a dividend to the parent company. On this basis, the division Daimler Mobility expects a return on equity of more than 12% in 2020 and of 14% in 2022. 
Focus on free cash flow and prioritization of expenditure 
In order to secure a solid financial position, Daimler intends to increase its free cash flow. The goal is to achieve stable net liquidity of more than €10 billion. To ensure that these targets are met, the Group will prioritize investment in all areas and thus achieve a more stringent allocation of capital.
Further information on the Daimler Capital Market Day is available at: 
www.daimler.com/press/cmd/2019/ 
( Press Release Image: https://photos.webwire.com/prmedia/6/250156/250156-1.jpg )
Related Links
WebWireID250156

This news content was configured by WebWire editorial staff. Linking is permitted.
News Release Distribution and Press Release Distribution Services Provided by WebWire.