GE's Haliade-X 12 MW nacelle, the world's most powerful offshore wind turbine, arrives in the UK for testing
- The nacelle of GE's Haliade-X 12 MW will undergo an advanced testing program at ORE Catapult in Blyth

- As part of the Haliade-X global testing program, Blyth has already taken delivery of one of the turbine's 107-metre long blades for testing

- Haliade-X has been announced as the preferred turbine for 4.8 GW at offshore wind farms in the US and UK
Blyth –
WEBWIRE
–
Wednesday, November 13, 2019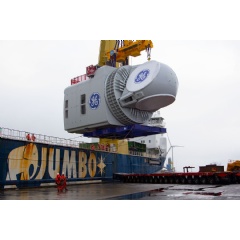 A nacelle from GE Renewable Energy's Haliade-X 12 MW offshore wind turbine has arrived at the Offshore Renewable Energy (ORE) Catapult's testing facility in Blyth, Northumberland, ahead of a rigorous testing programme designed to prepare it for years of operation at sea.
This nacelle, comparable in size to six double-decker London buses, will undergo full indoor testing as part of an advanced technology program that will replicate real-world operational conditions. This is the second Haliade-X nacelle to be assembled, with the first recently installed in Rotterdam which last week produced its first kWh.
John Lavelle, President & CEO of GE's Offshore Wind business, said: "GE's Haliade-X technology will have an important role to play in helping the UK to achieve its Offshore Wind Sector Deal goals of 30 GW by 2030, and UK Government's ambition to work for greenhouse emission reduction to "net-zero" by 2050. Our Haliade-X global testing program will allow us to put different components under controlled and extreme conditions in a faster way, to adapt our technology in a shortened time while introducing new features to meet customers' demands, and reduce the validation time before starting serial production in 2021."
Andrew Jamieson, Chief Executive of ORE Catapult, said: "Once again, the North East is playing a significant role in the UK offshore wind success story by welcoming another key component of the world's largest offshore wind turbine to date, following the arrival of the turbine's 107m blade for testing earlier this year. Our objective is to subject the turbine nacelle to an extremely rigorous testing program designed to make sure it can withstand years of operation at sea. Testing these world-leading technologies in the UK cements our position as a global leader in offshore wind and presents unparalleled opportunities for the UK supply chain to develop new products and services, creating jobs and generating economic benefit."
GE Renewable Energy is investing close to £15 million in testing and research and development activities on the Haliade-X in the UK. In addition to the nacelle and blade testing program, GE and ORE Catapult are also developing the "Stay Ashore!" program, which aims to reduce the time people spend at sea, increasing safety and contributing to energy cost reduction by focusing on developing technology in robotics, digital and remote operations.
The Haliade-X 12 MW is a multi-million investment and will contribute to reducing the cost of offshore wind energy in order to make it a more competitive source of clean and renewable energy. One Haliade-X 12 MW turbine can generate up to 67 GWh* of gross annual energy production, provide enough clean energy to power 16,000* European households and save up to 42,000 metric tons of CO2, the equivalent of the emissions generated by 9,000 vehicles** in one year.
* Based on wind conditions on a typical German North Sea site.
** According to EPA Greenhouse gas equivalencies calculator
###
NOTES TO THE EDITOR
As part of the Haliade-X global testing program, two 107-meter long LM Wind Power blades have already been delivered for testing: the first one this summer to UK's ORE Catapult facility in Blyth, and a second blade arrived last week at the Massachusetts' Wind Technology Testing Center (WTTC) in Boston, US. Both will undergo a full range of testing procedures (including static and fatigue) that will demonstrate the blades' ability to withstand the harsh conditions when operating at sea. In addition, a full Haliade-X 12 MW prototype unit installed in Rotterdam produced its first kWh last week.
A year and-a-half after being launched, Haliade-X has been awarded as the wind turbine preferred supplier for 4.8 GW of power including US's 120 MW Skip Jack and 1,100 MW Ocean Wind projects, as well as three Dogger Bank Offshore Wind Farm projects, with a combined capacity of 3.6 GW. When installed, Dogger Bank will be the world's largest offshore windfarm and will provide enough energy to power over 4.5 million homes annually, supplying the equivalent to around 5% of the UK's estimated electricity generation.
GE Renewable Energy is a member of the Offshore Wind Industry Council (OWIC), and actively supports Offshore Wind Growth Partnership (OWPG) initiative, which aims to increase UK local content and support the growth of UK businesses looking to capitalize on the opportunities offered by the expansion of offshore wind around the world.
About GE Renewable Energy
GE Renewable Energy is a $15 billion business which combines one of the broadest portfolios in the renewable energy industry to provide end-to-end solutions for our customers demanding reliable and affordable green power. Combining onshore and offshore wind, blades, hydro, storage, utility-scale solar, and grid solutions as well as hybrid renewables and digital services offerings, GE Renewable Energy has installed more than 400+ gigawatts of clean renewable energy and equipped more than 90 percent of utilities worldwide with its grid solutions. With nearly 40,000 employees present in more than 80 countries, GE Renewable Energy creates value for customers seeking to power the world with affordable, reliable and sustainable green electrons.
Follow us at www.ge.com/renewableenergy, on www.linkedin.com/company/gerenewableenergy, or on www.twitter.com/GErenewables
About ORE Catapult
ORE Catapult was established in 2013 by the UK Government and is part of a network of Catapults set up by Innovate UK in high growth industries. It is the UK's leading innovation centre for offshore renewable energy and helps to reduce the cost of offshore renewable energy, supporting the growth of the industry and creating UK benefit.
Follow us @ORECatapult and ore.catapult.org.uk
( Press Release Image: https://photos.webwire.com/prmedia/5/250022/250022-1.jpg )
Related Links
WebWireID250022

This news content was configured by WebWire editorial staff. Linking is permitted.
News Release Distribution and Press Release Distribution Services Provided by WebWire.